Reports: Trump Model Management Shutting Down
Trump Model Management is closing its doors after 18 years in the industry. The association with a controversial president seemed to seal the deal.
---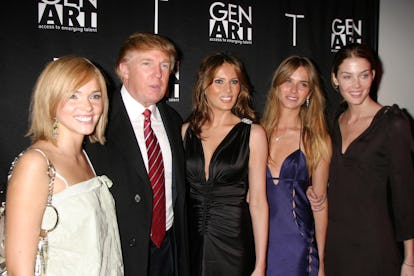 M. Von Holden
Trump Model Management, the modeling agency started by none other than our model-obsessed President Donald Trump, is reportedly shutting down. Mother Jones, a magazine not typically on the model gossip beat, has obtained leaked e-mails in which agency brass tells clients its preparing to wind down business. Meanwhile, a spokesperson for the Trump Organization confirms to the New York Post that indeed the conglomerate is "choosing to exit the modeling industry."
Started in 1999 not long after Trump's acquisition of the Miss Universe pageant, Trump models never quite launched a major star in the industry (unless one counts Paris Hilton, who was briefly signed to the agency at 19). Though, it did represent several former Miss Universe contestants and placed other models on their roster in major runway shows. The organization had perhaps become bast known for its Legends board. Specializing in repressing veterans of the industry, the division's clients included a who's who of supermodels from yesteryear including Carmen Dell'Orefice, Beverly Johnson, Pat Cleveland, Ali McGraw and Carol Alt, among others.
Questions over the agency's future first arose during New York Fashion Week in September when word spread that some in the fashion industry had decided to stop casting models from the agency. Those rumors only intensified during February's edition of NYFW.
Over the past few weeks, both models and agents seemed to be leaving the company in droves. Most notably, agency manager Gabriel Ruas Santos Rocha left the company to start his own agency, ANTI management. He took many of the agency's models along with him.
Many of those exits have been low key, but model Maggie Rizer, one of the first to leave, had announced her departure from the agency back in November on Instagram. "As a woman, a mother, an American and a human being, I cannot wake up Wednesday morning being the least bit related to the Trump brand; win or lose," she wrote. "I owe it to myself and to my children to proudly stand up for what I believe in and that is a world where Donald Trump has no voice for the future of our country."
The Trump family's varied business ventures into the fashion world have been some of their most vulnerable since Donald Trump assumed office on a platform that promised to erect a wall on the Mexican border and place a ban on Muslims entering the United States and a history of bragging about being able to sexually assault and grope women because of his stature. The Ivanka Trump brand, which specialized in clothing, accessories and shoes for women, has been pulled by several retailers. Though, fans of the president did end up rallying around the label, and the brand (no longer controlled directly by Ivanka) decided to refocus its offerings to make them more accessible.
Modeling agencies, however, are not consumer businesses, and rely on their reputation in the industry and the talent it can acquire. With a name sullied by a controversial president and both talent and employees jumping ship, it's of little surprise that the agency is closing its doors.
Related: Scarlett Johansson Says Ivanka Trump Isn't Just "Complicit," She's "Cowardly"
"Women's Rights Are Human Rights": 62 Fashion Insiders Speak Out in a Powerful Video for International Women's Day: