Tuinch Is the Ultra-Luxe Cashmere Line You'll Want to Live In All Winter
Meet Veronique Vermussche, the designer behind Tuinch, a line of high end cashmere produced by artisans in Nepal and Kashmir.
---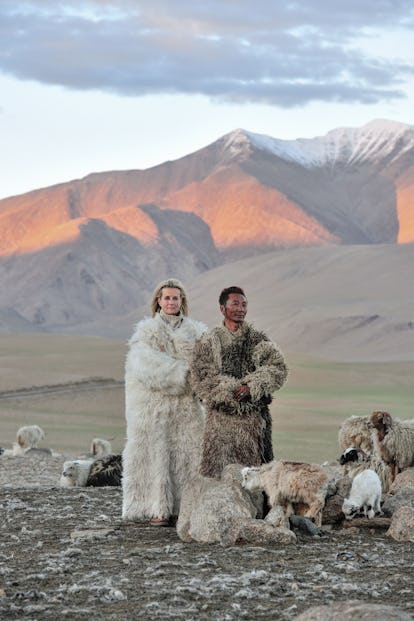 David De Vleeschauwer
It was a cashmere knit scarf in a Tibetan airport that inspired Veronique Vermussche to create her brand, Tuinch. After stumbling upon the can't-live-without-it material, it was then that Vermussche decided to launch the label. With a background in knitting, Vermussche touches every Tuinch sample herself to ensure she's putting out the richest cashmere imaginable. Here, the designer, who will be presenting the fall collection during New York Fashion Week, talks the importance of a good sweater and the power of an It-girl.
What made you decide to go into designing, and specifically knitwear? I discovered the true power of cashmere–the so-called "jewel of fibers"–by chance. During a trek through the Himalayas and India, I spent hours stuck at the Lhasa airport in Tibet. There, I bought a traditional scarf from a local, artisan workshop. The scarf was so incredibly nice and warm at the same time, that it gave me the idea of Tuinch. The label is one of the few fashion brands in the world using this purest form of cashmere, and moreover, using it in a sustainable way. After an intensive search for the finest cashmere of the highest quality, I presented my first collection for fall 2016. I use local artisans in Kashmir, who are trained by a local community which passes on expertise and techniques from generation to generation, to manufacture the collection.
What about this realm of design interests you? I've always been fond of opulent, rich materials. For that reason, I love luxurious knitwear and high-end cashmere. However, I believe cashmere is too often translated into hyper classical or conventional styling. With this collection, I want to close that gap. Tuinch combines rich materials, refined details, and timeless cuts with effortless chic, outspoken looks, and laid-back luxury. I want to liberate cashmere's contemporary potential by translating its supreme qualities into effortlessly chic and elegant silhouettes. I'd love to take everyday looks to a higher level.
What is your process to create every piece? Tuinch takes its inspiration from one of the major Asian traditions: cashmere in its purest form, combined with age-old craftsmanship. It's my aim to generate the power of understated grandeur in a contemporary collection. I always like to start from timeless finesse and try to merge it with the touch of feathery softness.
What was it like getting a business off the ground? It wasn't easy. Since I was eight-years-old, I've felt a bit like a fashion outsider. I've always been passionate about luxury clothing, but I never studied fashion. I started this adventure as a fashion autodidact. It took me four years of intensive research to produce the first collection. On top of that, Tuinch is one of the few labels in the world to source the purest cashmeres from the Himalayas, Kashmir, Tibet and Nepal. After a lengthy search, the first collection has been manufactured in Nepal and Kashmir by the same master craftsmen and women whose local community have worked with this material for years. It's a complex process, but the high-quality result is worth all the efforts.
What were the main pieces that you began with? I started with the shawls first, then I tried out some special capes. A cape is one of my favorite shapes because of it's eye-catching, yet laid back.
What style do you find is popular with your customer? This season it's all about hyper light cashmere knits, artful ruffles, and chunky knits. The capes and the XXL patchwork cardigans–Tuinch's signature pieces–are also doing very well again this season.
Look from Tuinch's Fall Winter 2017 Collection
What trends are you seeing among women right now that you're excited about? I just love the trend of deconstructed pieces. It's very much me. From the first collection and onwards, I've always integrated deconstructed elements in my designs. So, it's cool to see how the whole fashion and street style scene is picking up and interpreting this trend.
When did you feel, the label was on the right track? I was delighted when Tuinch garnered the attention of It-girl Pernille Teisbaek. She told me she loves the brand for its conscious ethos and effortless aesthetics, and wanted to collaborate for the spring campaign. It felt like the perfect kick-off for the brand. Afterwards, when ModaOperandi.com picked up the collection, it felt as very rewarding too. On top of that, the trunk show was a huge success and this opened doors to new high-end boutiques all over the world.
Watch Kate Moss, Jennifer Lopez, Taraji P. Henson and Jessica Chastain Sit for their Revealing Screen Tests