Tumblr's List of 2017's Most Popular Models Includes Bella Hadid, Barbara Palvin, and Some Very Revealing Insights About Fashion's Super Fans
Current it girls like Gigi and Bella Hadid, classics like Kate Moss and Naomi Campbell, and newcomers like Cindy Kimberly make Tumblr's list.
---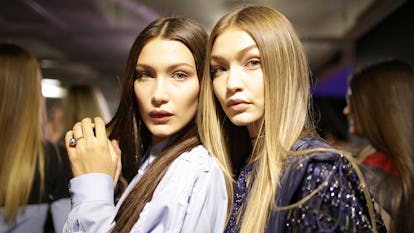 Victor Virgile/Gamma-Rapho/Getty Images
What can Tumblr's list of most popular models of 2017 tell us that other social media's ranking can't? Well, consider the medium. While Tumblr has some devoted celebrity users (including Taylor Swift and Frank Ocean), it's not a must-use platform for most stars. So popularity on the network isn't measure by follows (and it is rare that popular celebs ever lose massive amount of followers), but rather directly by how much buzz a model is generating among fans in that particular year. In turn, the microblogging service has become the internet's home for superfandom.
Tumblr's Fandometrics blog tallies up their year end lists by gauging the number of posts tagged with the models name, how often those posts are reblogged and liked, and how often that name was searched for. While Kendall Jenner remains at the top of the list this year (the same spot she holds on both Forbes' highest paid models list and Instagram's most followed list), the rest of the findings give us some interesting insight into which models seems to be losing steam, which classic supermodels are forever popular, and which up-and-coming models are truly on the rise.
Here's five take aways:
1. Gigi Hadid and Bella Hadid Switched Places
2017 was the year of Bella rising. The younger Hadid sister broke through in 2016, but really came into her own in 2017 (she was on more September issues around the globe than anyone else). She's now Tumblr's second most popular model up from fourth place last year. On the flipside, Gigi fell from second to fourth. Of course, at least some of Bella's buzz might have come from her much meme'd interview with Complex, but what was it that we're just going to assume Andy Warhol said about Tumblr buzz. "Don't pay attention to what the blog about, just print out the list of likes and measure it in inches?" Probably something like that.
2. Barbara Palvin Slides into the Top 5
Palvin, a 24-year-old Hungarian model, has been a high fashion mainstay since 2010, but really broke into the mainstream in 2016 as Sports Illustrated's "Rookie of the Year." This year she appeared in several advertisements for Armani fragrances and continued her work as one of L'Oreal's main girls.
3. Candice Swanepoel, Josephine Skriver, and Elsa Hosk are Tumblr's favorite Victoria's Secret Angels.
The trio takes up spots 6 through 8 on the list. While Swanepoel retains her spot form last year, Skriver and Hosk jetted seven and eight places up the list into the top ten respectively.
4. Justin Bieber's Influence Remains
Remember that time Justin Bieber posted a picture of a random girl and asked the internet who she was? Yeah, well, her name is Cindy Kimberly and she's since maintained a modeling career after going viral (she's also now dating Instagram It boy Neels Visser), and is number 15 on the list, one spot ahead of Miranda Kerr. Camille Rowe, who is rumored to be dating Harry Styles, makes her debut at number 12 on the list, while Kristen Stewart's girlfriend Stella Maxwell also debuts at number 18. Famous friends don't hurt.
Legends Are Forever
While most of the list may be a hodgepodge of current It girls, there is a side of Tumblr that appreciates the classics. So it's comforting to know that Naomi Campbell and Kate Moss close out the list at number 19 and 20.
Here's the top 20 in full:
Kendall Jenner
Bella Hadid +2
Emily Ratajkowski +2
Gigi Hadid −2
Barbara Palvin +3
Candice Swanepoel
Josephine Skriver +7
Elsa Hosk +8
Karlie Kloss −2
Adriana Lima
Hailey Baldwin
Camille Rowe
Ashley Graham
Dita Von Teese +3
Cindy Kimberly
Miranda Kerr −3
Sara Sampaio +2
Stella Maxwell
Naomi Campbell +1
Kate Moss
Related: 2017's 10 Most Followed Models on Instagram is a Mix of Angels, Instagirls and High Fashion Queens