Twenty Five Minutes with Salvatore Ferragamo Model James Rousseau
The 35-year-old actor, model, and singer took a break from his holiday in the south of France to discuss two decades of modeling and his grooming secrets.
---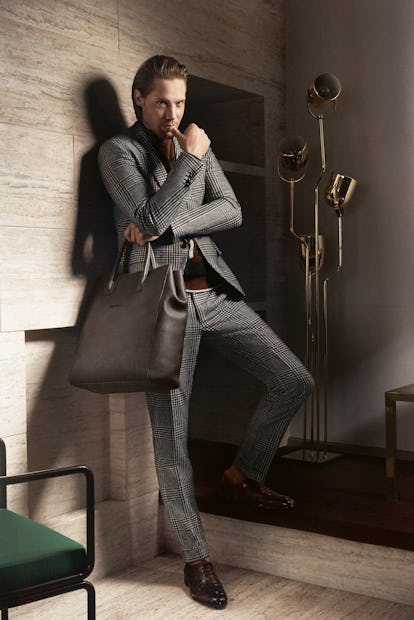 James Rousseau was interning at a music management firm when he was first scouted as a model at age 17 — by a musician, a client of the firm, for whom he was making a cup of tea. She phoned up Select Model Management, the London-based agency with whom he's still signed to this day. Select sent him out on a shoot in New York for Vogue with photographer Steven Meisel, renowned for his eye for new talent. Major houses soon came knocking; in 2001, he starred in a Burberry campaign alongside Jerry Hall, and he's worked on campaigns and on the runway for labels like Nina Ricci, Berluti, Paul Smith, and Brunello Cucinelli.
Rousseau, 35, was driving along the southern French coast towards St. Tropez when he pulled over to the side of the road to call me to discuss his nearly two decades in the business, which culminated lately in a new gig as the face of Salvatore Ferragamo in the Fall 2016 campaign photographed by Craig McDean. Having grown up between Worcestershire, England, New York, and Jeffersonville, Vermont, and now based in London, Rousseau has become the consummate traveler. Modeling has afforded him the opportunity to visit destinations that otherwise might not be on his radar — like a trip about 10 years ago to Kiruna, a town in northern Sweden that kisses the Arctic Circle and boasts an elaborate ice palace built each year.
"I must have been Marco Polo in a past life," he said, "because I really have a curious tenacity to travel."
Only recently has Rousseau begun documenting his travails on Instagram, though — he resisted the photo-sharing social network until just two months ago. He was traveling through the Aeolian Islands and photographing sights like still-active volcanoes Vulcano and Stromboli.
"I sort of bombarded Facebook with them," he said. "My friend just sort of jokingly told me that I really had to move this over to the Instagram machine rather than the Facebook machine." So he did — now, he posts images from his globetrotting to @james.rousseau, which he described as "another creative outlet."
For Rousseau has quite a few creative outlets — though modeling occupies much of his time, he's also an accomplished actor and musician. He acted in regional theater as a child, with Stella Adler in New York for two years, and entered a two-year acting conservatory program in his early twenties; last year, he earned his first major television credit with a recurring role on the now-cancelled Kurt Sutter show The Bastard Executioner with Katy Sagal and Stephen Moyer. He explained, ambiguously, that he has "some other bits and bobs lined up," including a workshop of playwright Lorien Haynes's latest, Good Grief, in Los Angeles, where he'll return at the end of August.
In the meantime, he's also focused increasingly on his musical career, which he's balanced alongside modeling and acting for much of his life. In 2012, he toured alongside musician (and eventual Bastard Executioner castmate) Ed Sheeran as an opening act for Snow Patrol on the band's west coast tour. He collaborated on, and sang, the music for the latest Ferragamo commercial. And he's writing every day — "Even when I'm on holiday, I still try to get some top line melody down or write some lyrics," he said.
Rousseau also took a moment while on holiday to share his beauty and fitness routine — a suitably minimalist set of tips, for a man who's always on the move.
What is your first memory of beauty or grooming? I think it was probably when I was a pageboy and I had to wear a kilt. I was in Scotland, and my mother telling me how important it was to look proper and correct, be groomed and whatnot for that. Must have been about six.
Do you have a go-to fragrance? I actually use — it doesn't really have a name, but I went to Morocco last year and I found this oil. It's sort of incense oil, and I just bought loads and loads of that, and I've stockpiled it. I've only got like 10 bottles left of it. But to be honest, I don't know what it's called, because it's a kind of tiny little boutique shop. He made it himself. So that's what I'm using at the moment.
How do you stay fit? I run a lot. Play football — or, as you guys like to call it, soccer — but running, really. Running and cycling.
What about diet-wise? To be completely honest, I just eat whatever I want, really. I'm not too fussy about what I eat. As long as I've got the cycling and the running. If I didn't have that, then maybe things would be different. I'm sure it would be. But generally, I like to be conscientious about what I eat.
What can't you travel without? A good book.
What are you reading right now? The Picture of Dorian Gray by Oscar Wilde.
What are your grooming essentials? Toothbrush. Toothpaste. Moisturizer.
Minimalist. Going back to the Aeolian Islands, someone was selling this volcanic moisturizing cream next to one of the mud baths on an island called Vulcano, and I bought some of that. It's pretty good. Feels nice. Again, I could find out the name and get back to you, but I don't know what the name of it is off the top of my head. It's something quite natural.
What's the best advice you've ever been given? I think it would be a poem that my father gave me by Rudyard Kipling called "If," and there's everything in there to help you get through life.
Watch W's most popular videos here: