Twin Peaks, Brad Pitt, and Everything Else You Need To Watch, Read and Listen to in May
From Twink Peaks to Perfume Genius's latest album, here's our breakdown of the cultural moments not to miss in May.
---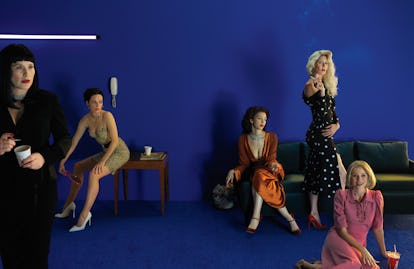 Photographs by Alex Prager, Styled by Patrick Mackie
In this special monthly edition of our In & Out newsletter, we're looking a full month ahead and sorting through the cultural calendar for you. Here's our picks for what you'll need to consume to keep up with polite dinner party conversation, what you'll be secretly binging late at night, and what's best to just avoid.
To sign up for this newsletter click here.
What You Need to Know:
Film: If you didn't get a chance to see Cate Blanchett delivering monologues as 13 different characters in Manifesto when it was touring around as an art exhibit, you'll get to see the movie theater version when it drops in art house cinemas on May 10 (mind you this isn't so much an artsy movie, as it is literally video art being played in a movie theater). In more traditional feature fare, perhaps check out the American premiere of lauded Australian psychological thriller Hounds of Love, which is set in the '80s and finds a teen girl trying to drive a wedge between the troubled couple who has kidnapped her. Also of note about girls in the '80s: Amber Tamblyn's directorial debut Paint It Black. It's winning raves for the lead performance of Alia Shawkat. She plays a girl in the L.A. punk scene whose boyfriend suddenly dies, and then navigates a complicated relationship with his mother. It hits limited release on May 19. Meanwhile, Brad Pitt makes his Netflix debut with military satire War Machine on May 26.
Television: For certain folks, May brings the television event of all of 2017: the return of Twin Peaks on Showtime on May 21. Little is known about what to expect, but most of the original cast returns along with a whole lot of A-list newcomers. Meanwhile, on May 12, Amazon premieres its second series from Transparent creator Jill Soloway. It's called I Love Dick, and it promises to be both as format-breaking, darkly hilarious and unapologetic about female sexuality as the 1997 novel of the same name it's based on. Of course, May also bring the return of two beloved Netflix series: Master of None on May 12 and House of Cards on May 30. On the TV movie front, HBO's Wizard of Lies, based on the Bernie Madoff saga, might be worth it alone for the beginning of Michelle Pfeiffer's return to acting full-time.
Music: If you haven't listened to Perfume Genius's latest No Shape since its release on Friday, please do so now. What started out less than a decade ago as Mike Hadreas' bedroom musical project has morphed into a continually sonically audacious output unlike much else out there. It may end up the best widely reviewed album of the month, although Mac Demarco's third album This Old Dog, also released Friday, might give it a run for its money.
What You'll Actually Enjoy:
Film: Both Baywatch (premiering May 25) and Snatched (May 12) have promised to be the big, silly crowd-pleasing comedies we need right now. Snatched, of course, marks Amy Schumer's first starring role since her breakthrough with Trainwreck, and this time finds her opposite Goldie Hawn as a mother and daughter on a vacation that goes very wrong. Baywatch, meanwhile, is a satirical reboot of everyone's favorite '90s lifeguard show, except with Dwayne "The Rock" Johnson in the David Hasselhoff role and Zac Efron subbing in for Pamela Anderson for the "I'm here to be objectified while wearing a tiny lycra swimsuit" duties. Meanwhile, for sci-fi horror aficionados, Alien: Covenant continues the Alien franchise prequel series started by 2012's Prometheus with a star-studded cast led once again by Michael Fassbender. Of course, it's not too early to put Wonder Woman on your calendar. Our first major female superhero film, starring cover subject Gal Gadot, is primed for a June 2 debut. ​ cover subject Gal Gadot, is primed for a June 2 debut. ​
Television: The most unapologetically delightful show on streaming services (or all of TV for that matter) The Unbreakable Kimmy Schmidt returns to Netflix on May 19 with promises of appearances by Laura Dern and Maya Rudolph. Meanwhile, Hulu counters with the third season of what is perhaps its best sitcom, Casual, on May 23. Meanwhile, cable television has a pair of must-see documentaries this month. Mommy Dead and Dearest, which tackles the bizarre tabloid-covered murder of Dee Dee Blanchard at the hands of her daughter's internet boyfriend, premieres on HBO on May 15, the day after Mother's Day. Two days later on May 17, Spike TV premieres its much buzzed about I Am Heath Ledger, which explores the life and last days of the brilliant but troubled actor. ​
Music: Lana Del Rey, once the queen of "Summertime Sadness" and forlorn thoughts about daddies, seems to be, suddenly, happy now. Indeed, the singer who once told us she was "born to die" has entitled her new record Lust For Life. In fact, she's actually smiling on an album cover for the first time. We'd smile, too, if our album promised collaborations with Stevie Nicks and The Weeknd. Of course, there's the matter of Harry Styles' debut self-titled solo album hitting on May 12. Buzzed about Brooklyn band Pwr Bttm's full-length debut Pageant, out May 1, offers an alternative to anyone who finds Perfume Genius too hard to grasp, but still wants something unapologetically queer. Also of note, classic bands Blondie and Erasure also have new albums out this month with Pollinator (released on Friday) and World Be Gone (May 19) respectively.
Literature: May is a time when you're no longer snowed in and likely to read 600-page tomes of literary significance, but not quite ready for breezy beach reading. Luckily this month offers a few options that are in between. Novelist Joshua Ferris, who is at once both creatively ambitious and deeply hilarious, released his first short story collection The Dinner Party on May 2, with stories centering on anything from the date night struggles of boring married couples to sex workers and the old men who hire them in Florida. David Sedaris meanwhile is finally just going to go ahead and release actual portions of his diary in Theft By Finding on May 30. Meanwhile, Lizzy Goodman's Meet Me in the Bathroom is an oral history of the New York City rock scene of the first decade of this century (i.e. the last time straight up rock 'n' roll even kind of mattered).
What You Can Ignore:
Film: Pirates of the Caribbean: Dead Men Tell No Tales arrives on May 26 at a very, very weird time for cotton ball-aficionado Johnny Depp. While the movie promises some sort of return of both Orlando Bloom and Keira Knightley, it remains to be seen if audiences are as eager to return.
Television: MTV revives two beloved reality shows from yore, except, unfortunately, neither of them are Cribs. Instead they're dusting off their old My Super Sweet Sixteen format on May 14 and reviving former network gross-out show Fear Factor for a new generation on May 30. We're not saying we'll judge you for tuning in, we're just saying there's no need to if you're not already predisposed to.
Music: TRL-era rap rockers Papa Roach and Linkin Park both have new albums out this month, which is something you probably wouldn't know otherwise.
Related: ****From a Dishy Fashion Memoir to a Delicious Startup Satire, Spring's Best Books Get Real
View W's Most Popular Videos: