From #WeAreNotAfraid to #PrayForLondon, How Twitter Is Showing Solidarity in the Wake of the London Terror Attack
Everyone from Tim Kaine to Zayn Malik's brother Rodger have taken to Twitter to express their outrage and solidarity with those affected by the violence in London.
---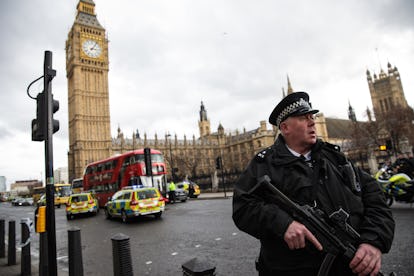 Jack Taylor/Getty Images
At least four are dead and 20 more wounded following an attack in London's Westminster neighborhood just outside the Parliament building on Wednesday. As police have begun to investigate the incident as an act of terror and friends and family continue to mark themselves "safe" on Facebook, Londoners and social media users around the world are already flocking to Twitter to show solidarity with the city. Using first the hashtag #WeAreNotAfraid and then #PrayForLondon, Twitter users have made it clear that they will not back down in the face of terror. Within hours, both topics were trending on Wednesday afternoon.
The impromptu symbol of resistance on Twitter is the London Underground logo—the famous red circle with the blue bar across it—but in lieu of "Underground," it now reads "We Are Not Afraid." Sharing images of Parliament, Union Jack flags, and other icons of London, everyone from Zayn Malik's brother Rodger and ex-bandmate Niall Horan to Luke Evans, Emeli Sandé, and U.S. senator Tim Kaine have also expressed their empathy and solidarity in various ways on Twitter.
It was early afternoon in London when the pandemonium broke out. A truck plowed into pedestrians on Westminster Bridge, killing two and crashing to a halt just outside the Parliament building. An attacker stepped out of the vehicle and stabbed a police officer before he was shot by police. Members of Parliament and Prime Minister Theresa May were spirited out of the building, and the Westminster Palace went on lockdown shortly after. May's office issued a statement: "The thoughts of the PM and the government are with those killed and injured in this appalling incident, and with their families."
Wednesday also marks the anniversary of the 2016 terror attack on Brussels, Belgium, in which 32 passersby died in a suicide bombing. According to the New York Times, the attack is the most significant to strike London since bombings targeted the Underground in July 2005, more than a decade ago.