Tyra Banks Is Launching Her Own Ice Cream Called Smize Cream
It's basically the opposite of what you'd think.
---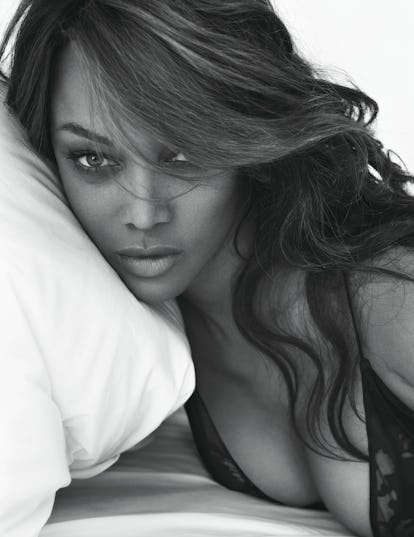 Mert Alas and Marcus Piggott
It's thanks to Tyra Banks that "smize" is an almost-household term. Soon, she'll be cashing in on that phrase, which means smiling with your eyes. The supermodel is launching something called "Smize Cream," only it's basically the opposite of what you'd expect.
Despite "Smize Cream" being an ideal opportunity for Banks to get into the skincare game with eye products, she's going in a totally different direction. Instead of "Smize Cream" being a vanity-based endeavor, it's going to be all about treating yourself in a different kind of way. Banks is launching her very own ice cream line under the name. Apparently, she just filed to trademark the company name, as TMZ notes.
As surprising as it is that Banks ended up taking advantage of "smizing" in a desserts capacity, the supermodel has been a vocal can of the treat for some time now. In May when she recreated her iconic 1996 Sports Illustrated cover, she opened up about how the only thing that stood in her way of doing it was ice cream.
"I thought I was gonna lose 30 pounds, and come back and look like that cover from 1997," she said to Yahoo Lifestyle. "I thought I had to look the same. Then the ice cream called my name. Yep, all flavors," she began. "From Butter Pecan to Matcha to Coffee. I love me some ice cream and I just couldn't say no to it when I heard it calling. 'TyTy, Come eat me…' from my mom's freezer."
"Yes, we should exercise. Stay healthy. Take our vitamins. But sometimes we can give ourselves permission to work out with a scoop of frozen deliciousness in our hands," she added.
Back in 2015, Banks spoke about her love of ice cream and how it plays into her health and wellness routine, telling The Cut, "When I was a model, I used to run six miles three times a week. But then I would also stop and get Häagen-Dazs cappuccino ice cream. I would be at the Reebok Sports Club in Central Park and the Häagen-Dazs was right there. I don't know what was wrong with me! But I was just fine."
If her trademark is approved, soon we'll all be able to pick up some Smize Cream on our runs, too — or, you know, just walk towards it slowly.
A Look Back at the Earliest Victoria's Secret Fashion Shows
Beverly Peele at the first Victoria's Secret Fashion Show, inside the Plaza Hotel in New York, 1995.

Getty Images
Natane Adcock at the first Victoria's Secret Fashion Show, inside the Plaza Hotel in New York, 1995.

Getty Images
Beverly Peele backstage at the first Victoria's Secret Fashion Show, inside the Plaza Hotel in New York, 1995.

Getty Images
Angelika Kallio at the first Victoria's Secret Fashion Show, inside the Plaza Hotel in New York, 1995.

Getty Images
Tyra Banks backstage at the 1996 Victoria's Secret Fashion Show, inside the Plaza Hotel in New York.

Getty Images
Heidi Klum backstage at the 1997 Victoria's Secret Fashion Show, inside the Plaza Hotel in New York.

Getty Images
Tyra Banks backstage at the 1996 Victoria's Secret Fashion Show, inside the Plaza Hotel in New York.

Richard Corkery/NY Daily News Archive/Getty Images
Stephanie Seymour at the 1996 Victoria's Secret Valentine Fashion Show, inside the Plaza Hotel in New York.

Getty Images
Naomi Campbell backstage at the 1998 Victoria's Secret Pre-Valentine's Day Fashion Show, with Jeff Probst, inside the Plaza Hotel in New York.

Getty Images
Claudia Schiffer backstage at the 1997 Victoria's Secret Fashion Show, inside the Plaza Hotel in New York.

Getty Images
Rebecca Romijn-Stamos at the 1997 Victoria's Secret Fashion Show, inside the Plaza Hotel in New York.

Getty Images
Naomi Campbell at the 1997 Victoria's Secret Fashion Show, inside the Plaza Hotel in New York.

Getty Images
Georgianna Robertson in a Valentine's Day ensemble at the 1997 Victoria's Secret Spring Revelations Fashion Show in New York.

Getty Images
Naomi Campbell at the 1997 Victoria's Secret Spring Revelations Fashion Show in New York.

Getty Images
A model wearing a black scuba-diving femme fatale corset at the 1997 Victoria's Secret Spring Revelations Fashion Show, inside the Plaza Hotel in New York.

Getty Images
Naomi Campbell on the runway of the 1998 Victoria's Secret Fashion Show at the Plaza Hotel in New York.

Getty Images
A model wearing a silk handkerchief and a satin thong at the 1999 Victoria's Secret Fashion Show in New York.

Getty Images
Heidi Klum, who wore that year's $10 million "millenium bra," and Karen Mulder backstage at the 1999 Victoria's Secret Fashion Show.

Getty Images
Gisele Bündchen at the 1999 Victoria Secret's Fashion Show in New York.

Getty Images
Tyra Banks at the 1999 Victoria's Secret Fashion Show in New York.

Getty Images
Stephanie Seymour at the 1999 Victoria's Secret Fashion Show in New York.

Getty Images
Gisele Bündchen at the 1999 Victoria's Secret Fashion Show in New York.

Getty Images
Heidi Klum in front of a Concorde jet after arriving for the 2000 Victoria's Secret Fashion Show and charity gala for amfAR during the Cannes Film Festival.

Getty Images
Adriana Lima at the 2000 Victoria's Secret Fashion Show and amfAR charity gala during the Cannes Film Festival.

Getty Images
Gisele Bündchen at the 2000 Victoria's Secret Fashion Show and amfAR charity gala during the Cannes Film Festival.

Getty Images
Alessandra Ambrosio backstage at the 2001 Victoria's Secret Fashion Show at Bryant Park in New York.

Getty Images
Karen Elson backstage at the 2001 Victoria's Secret Fashion Show fittings in New York.

Getty Images
Gisele Bündchen backstage at the 2002 Victoria's Secret Fashion Show, inside the Armory in New York.

Getty Images