The Uber Sexism Saga is Being Turned into a Very Timely Movie
The Social Network meets Erin Brockovich
---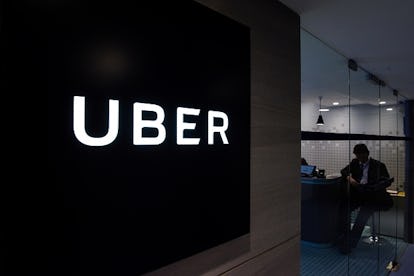 ANTHONY WALLACE
Silicon Valley is redefining and "disrupting" just about everything it can in society. It is also, unsurprisingly, starting to rival Wall Street in the back-stabbing, scandal and deceit departments. It follows then that Hollywood filmmakers are increasingly starting to mine the town's dark side for cinematic inspiration. First there was David Fincher's now classic The Social Network. That film's writer, Aaron Sorkin, followed up with director Danny Boyle's Steve Jobs, which was well reviewed if not as successful. Jennifer Lawrence has already called dibs to play scandal-plagued Theranos chief executive Elizabeth Holmes.
It only makes sense that someone would get around to tackling Uber, and the exact theme of the just announced project couldn't be more needed or timely.
According to The Hollywood Reporter, Hidden Figures screenwriter Allison Schroeder is at work on a screenplay that's said to mix The Social Network with Erin Brockovich. The inspiration: former employee Susan Fowler's blog post that exposed a culture of sexism at the techy transportation company that ultimately led to the resignation of CEO Travis Kalanick. Fowler has partnered with film company Good Universe to develop the project.
Fowler's personal blog post went viral after she detailed the alarming, and sometimes just "too dumb to believe" sexism at the company. When she brought the fact to a director that women were basically fleeing her particularly department, she was told "that the women of Uber just needed to step up and be better engineers."
On a dumber note, the department also promised employees custom leather jackets but only ordered them for men. The reasoning: they could get a good discount on a bulk mens order, but buying them for women was supposedly too expensive because there were so few of them (mind you, Uber is one of the most lucrative companies in the world right now).
"The director replied back, saying that if we women really wanted equality, then we should realize we were getting equality by not getting the leather jackets," wrote Fowler. "He argued, to give the women leather jackets that cost a little more than the men's jackets. We were told that if we wanted leather jackets, we women needed to find jackets that were the same price as the bulk-order price of the men's jackets."
Fowler says that when she joined her particular engineering department the team was 25 percent female. By the time she left, that number had dwindled to three percent.
The film could go in a lot of directions, but Schroeder certainly knows how to pen a tale of women up against tough odds in the tech sector thanks to her work on Figures.
We can only imagine that a lot of actresses are calling up their agents to make sure their considered for Fowler's part right now.
Related: Taraji P. Henson's Years of Hard Work Has Paid Off: Now She's Invited to the White House