Hey, United Airlines! Your Leggings "Dress Code" Is Not Only Offensive, But Also Not on Trend
Despite what United Airlines told two teenage girls on Sunday, wearing leggings is quite possibly the coolest thing you can do right now.
---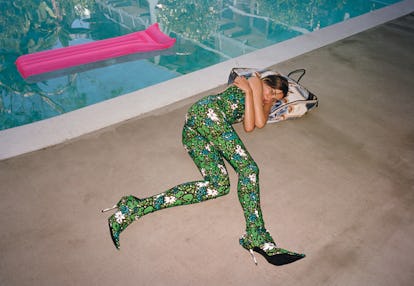 Photographs by Glen Luchford, Styled by Jane How
On Sunday morning, it was reported that a United Airlines gate agent barred two teenage girls from boarding a flight from the Denver International Airport to Minneapolis for wearing leggings, which allegedly didn't comply with the company's "dress code."
The gate agent reportedly told the girls to change into a dress, saying, "I don't make the rules, I just enforce them."
To make matters worse, United Airlines then took to Twitter to, in fact, enforce such a rule, writing: "The passengers this morning were United pass riders who were not in compliance with our dress code policy for company benefit travel."
Naturally, this caused an uproar on and offline, with many accusing United's policy of being sexist and infringing on the freedoms of the two passengers. Not only does it police two human beings, but also two teenage girls, who already have enough to deal with when it comes to what they feel they should and should not wear.
That same night, however, the company sent out another tweet that seemed to retract its first statement. It read: "To our customers…your leggings are welcome!" However, the tweet then linked to a longer statement, which explained that United "pass" customers, which the two teenagers apparently were, must adhere to the no-leggings dress code, as "pass riders are considered representatives of United." But "regular" customers are welcome to wear leggings whenever they want.
So, to summarize: Not only is the dress code sexist, but it is also classist. Great.
We'd also like to note that in addition to being overwhelmingly offensive, this dress code is also out of touch with current fashion trends. Along with the return of '80s style, which is one of the biggest trend of the year, (for better or for worse), leggings also stormed the runways on top models including Bella Hadid and Irina Shayk at major shows like Balenciaga, Louis Vuitton, and Versace. They're not only easy, relatively affordable in comparison to pants, and comfortable, but also look great on everyone. Is that not the American Dream?
So, United Airlines, if we may, we'd like to suggest you update your fancy-shmancy dress code policy if you want your passengers to "pass" in any major fashion cities like New York, London, Paris, and Milan. (Not to mention fly freely in comfort and style wherever they go.)
For now, there's always Delta. And in a time where politics and corporations are so woefully linked, this leggings debate might be the next Uber vs. Lyft.
Butterflies of Paris: How Street Style Stars Do Paris Fashion Week