Up-And-Coming Model Dilone Is a Girly Tomboy Who Loves Her Short Hair
Meet the breakout model of 2016, who is now starring in Bruce Weber's newest video for David Yurman.
---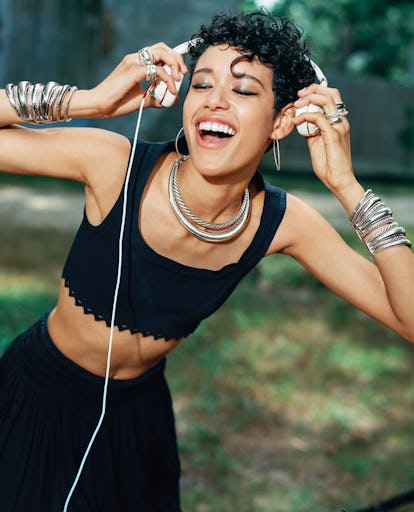 In one year, 22-year-old Dominican model Dilone has walked for designers like Marc Jacobs, Chloe, and Stella McCartney; appeared in campaigns for Balmain, Coach, and Versace; and appeared on the covers of several fashion magazines. Now, she's following in the footsteps of iconic supermodel Natalia Vodianova, as one of the stars of David Yurman's new ad campaign. Renowned photographer Bruce Weber shot the six videos, each of which feature a unique model and were styled by Carlyne Cerf de Dudzeele with the artistic direction led by Shahid & Company.
In Dilone's short film, titled "Dancethon," the model lets her goofy personality shine. "Bruce gives incredible direction and makes you confidently go for it, and it's fun!" she says. "To be able to jump and dance and scream or sing and trust that he will capture the most beautiful moments of it all is so spectacular. He's one of a kind!"
When did you realize you wanted to pursue a modeling career? Since I was an adolescent. I've always been very tall in my peer group and felt like an outcast because of it. I would look at magazines and modeling reality TV shows and connect with the other tall women who seemed different in similar ways. I lacked self-confidence in some fields but this is something I just knew I would be good at. I really pushed myself start modeling and my family did as well. I have a huge family, there's 10 of us (five sisters and four brothers).
How were you discovered? I moved to [New York City] and I put myself out there. It wasn't until I met Katie Grand that things really took off for me.
What models do you look up to? Linda Evangelista, because of her chameleon like abilities to just transform into any character really. And because I love her different short hairstyles.
You're know to have a "Bad Ass" tomboy sense of style. How do you differentiate yourself from other models? Although I have a tomboy sense of style I have a very girly personality. I think that alone makes me different.
This year alone you've been featured in huge ad campaigns like Balmain, Coach and Versace. How has being one of the faces for the David Yurman campaign been different? They're all so different you can't compare one to the other, but also this was my first time working for a jewelry brand. I love the simplicity that David Yurman masters. It was such a great experience.
How has your experience been working with Bruce Weber? OMG, a dream come true! Such an honor its been to work with such a talented being. There's a lot of trust that goes on when you walk onto a set. Bruce gives incredible direction and makes you confidently go for it, and it's fun! To be able to jump and dance and scream or sing and trust that he will capture the most beautiful moments of it all is so spectacular. He's one of a kind! You want to give everything you have to this man because you know he gives everything too!
David Yurman's campaigns captures the epitome of a woman who is self-confident, empowered and relatable. How do you identify with these characteristics? We all have our own quirks and we should embrace them rather than shame them. The confidence and empowerment comes from the joys of being true to myself which is the prancing, dancing, smiley goof ball that I am.
What was the first piece of jewelry you ever received? When I was baptized, I received the sweetest little gold bracelet with my name on it from my mom. I think she still has it somewhere.
What type of jewelry do you wear every day? I love simplicity and things I can't lose. Haha! I have little hoop earrings that I adore. They make me feel like a bad ass and complete every look.
As a newcomer you're on the path to reaching top model status quickly. What are your strategies for success in such a competitive industry? Well, I don't look at it as a competition. There's nobody else that can be me and I can't be anybody else. Remaining focused and humble is key but also enjoying yourself through the entire journey. All the ups and downs is a part of your story. Enjoy every second of it! I pride my self on my work ethic and focus. I'm very much a fun loving person and I don't take myself very seriously but I do with my work.
Already having an impressive modeling portfolio, what's next for you? I love writing. I'm taking my writing more seriously these days. I love writing poetry, music, stories of all kinds. But I am very passionate about Acting! I love it so much! I've taken a few workshops and classes the past few years but I want to really dedicate myself to it. I have such a respect for the acting industry and the craft itself. I want to dedicate a lot of time to learning and preparing for it. That being said I would have to take some time off modeling. Acting is next but modeling is my main focus for the time being.