Saving Grace
Maria Grazia Chiuri and Pierpaolo Piccioli are reinventing Valentino's legendary elegance for the next generation. Meet the keepers of the flame as they open the new Valentino flagship in New York.
---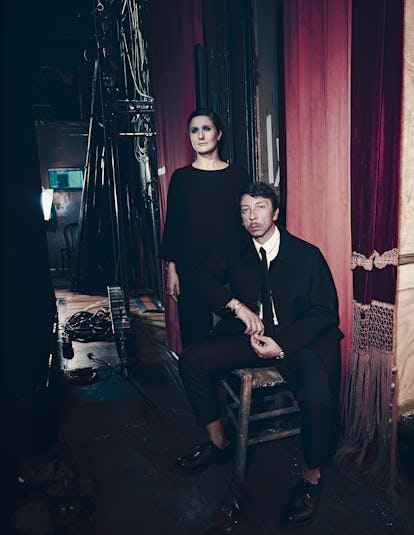 Photographed: Paolo Roversi
"Bello, bello, bellissimo!" cries Maria Grazia Chiuri as a model walks slowly toward a cluster of designers and stylists who are staring intently at what she is wearing: a geometrically shaped sheath dress made from latticed cream silk chiffon embellished with bold graphic floral symbols in chocolate brown satin. Seconds after the "bellissimo," a half-dozen people clad in crisp white cotton coats enter the room smiling bashfully as Chiuri and the man sitting beside her, Pierpaolo Piccioli, stand up and applaud them.
The dress is one of the works in progress designed by Valentino creative directors Chiuri and Piccioli for the fall haute couture collection. They are paying tribute to the recent recruits of the house's couture ateliers, who had sewn the satin motifs with such finesse that the stitches are barely visible. It is a long-standing tradition for trainees to be assigned such seemingly simple tasks, but the artisans themselves appear anything but traditional.
For starters, several of them are male—until recently, Valentino's couture workshops were staffed solely by women. The new arrivals are also surprisingly young for an industry dominated by older employees, but Valentino has had to expand its workforce to meet the soaring demand since Chiuri and Piccioli's appointment six years ago. Now, several dozen of the 67 couture employees are in their 20s, and the workshops are filled with fashionably bearded young men and young women shod in fluorescent sneakers.
Nor do their bosses seem out of place among them, because Chiuri, 50, and Piccioli, 48, look more like indie rockers than haute couturiers. The fittings take place beneath the frolicking cherubs painted on the ceiling of a particularly grand room in Palazzo Mignanelli, the imposing late-16th-century mansion beside the Spanish Steps in the heart of Rome that has been Valentino's headquarters since 1988, yet both creative directors seem dressed for the stage at Coachella. Her eyes ringed with kohl and short hair slicked back, Chiuri sports a dashingly cropped, dramatically fringed black suede cape dress. Knuckle-dusteresque rings ornamented with snakes and skulls gleam menacingly on her fingers, and a serpent bracelet coils around her wrist. "So elegant, so minimalist," teases Piccioli, who is wearing a white T-shirt beneath a soft denim pajama suit from Valentino's men's collection and a high-tech pair of black and white sneakers.
"Couture isn't something dusty that belongs to the past," Piccioli says. "Making something that is one of a kind, and making it with great care, feels very modern to us." So optimistic is the company about its future in couture that it has, in addition to hiring the 20-something ingénues, opened a third atelier for women's couture and a fourth to produce an experimental men's line. It is restoring many areas of Palazzo Mignanelli, which have been untouched since the late 1980s. And that's not the only evidence of Chiuri and Piccioli's success: There was Olivia Wilde at the Oscars, Amy Adams at the Golden Globes, Katy Perry at the Grammys, and a host of other celebrities who have chosen their graceful, gently sensual dresses for the year's biggest events. Then there are the Instagram snaps of Alexa Chung and Keira Knightley in Valentino's willowy frocks, and the counterfeit copies of Chiuri and Piccioli's gold-spike Rockstud shoes and bags piled up in flea markets everywhere. There is also the world's biggest Valentino store, which debuts on New York's Fifth Avenue this month. Designed by the British architect David Chipperfield, it features an extraordinary glass facade inspired by the Seagram Building on nearby Park Avenue. Chiuri and Piccioli will decamp to New York in December to celebrate the Fifth Avenue flagship with a couture show featuring pieces specially designed for the event.
At a time when so many fashion and luxury houses are striving to redefine their brands under new creative teams, Valentino is emerging as a role model of how to do so successfully. "If you look back to where Valentino was when Maria Grazia and Pierpaolo took the helm, it's clear that they've changed the clothes quite dramatically, and yet it has been a stealth job," says Lisa Armstrong, a fashion editor at the British newspaper the Daily Telegraph. "I can't imagine that they've alienated many of the faithful, but they've certainly acquired legions of new fans."
Even so, rebuilding Valentino without Mr. Valentino (as everyone at the company still calls its namesake, Valentino Garavani) has been an arduous endeavor. A towering force in fashion since 1960, when he started the house, until his retirement in 2008, the Sheikh of Chic, as Women's Wear Daily dubbed him, was as famous for his sybaritic lifestyle—the jets, the yacht, the pugs, the fabulous parties at magnificent homes like the 17th-century Château de Wideville near Paris—as for his beautifully feminine collections. The media mythology began early on, when Elizabeth Taylor ordered a white chiffon gown while shooting Cleopatra in Rome in 1961 and wore it to the Spartacus premiere. (The following day she helped herself to seven outfits as a quid pro quo for the publicity.) Valentino and his partner, Giancarlo Giammetti, subsequently proved to have a knack for wrangling favorable terms from retailers—and for discreetly rejuvenating their entourage, which has included everyone from Jackie Kennedy and Audrey Hepburn in the '60s to Gwyneth Paltrow and Anne Hathaway in recent years.
Valentino's first successor, the Italian designer Alessandra Facchinetti, garnered positive reviews—in 2008, Cathy Horyn hailed one couture collection as "gorgeous" in the New York Times—but was charged with veering too far from house tradition, not least by Valentino and Giammetti, and left after two seasons. Stefano Sassi, who had been appointed chief executive officer in 2006 with the unenviable challenge of orchestrating the succession, advocated for two insiders to replace her; Chiuri and Piccioli had worked for Valentino since 1999, designing shoes, bags, and other accessories.
Piccioli and Chiuri met by chance in the late '80s, when Piccioli, then studying in Rome, visited a mutual friend in Florence. As a favor to the friend, Chiuri, who was working as an assistant to a Florentine fashion designer, offered to meet Piccioli at the train station. Off she went, clutching a handwritten sign reading pierpaolo. They hit it off instantly, having lots in common: two Romans with a love of fashion, art, photography, and film. Whereas Chiuri, the daughter of a dressmaker, was "born into fashion," as she puts it, and spent her teens scouring flea markets for vintage bags, Piccioli developed his interest more discursively. "I always liked the idea of telling stories," he recalls. "As a teenager, I was more into movies and photography, but then I understood that I really liked what you could say with fashion."
After Chiuri was offered a job with Fendi's design team in Rome in 1989, she asked if Piccioli could join her, and he arrived two years later. "I like working with other people, spending time with them and talking through ideas," she explains. "I don't like working on my own." "I'm definitely the same," Piccioli chimes in. "It's so much better to share a vision in fashion. I think things through more with Maria Grazia than I would on my own. I hate—we both hate—the idea of a designer alone with just a pen, paper, flowers, and candles. It's such an old idea." "And so boring," adds Chiuri, rolling her eyes mock-theatrically.
They have been a professional couple ever since. She is the more instinctive of the two and he the more reflective, but they share every task, rather than dividing responsibilities, and are so at ease that they often finish each other's sentences. Having thrived at Fendi, where they helped design the house's blockbuster Baguette bag, they flourished in their discreet but increasingly profitable accessories niche at Valentino. By the time Facchinetti departed, they had worked there for almost a decade and had firmly established their family lives in Rome: Chiuri with her husband and two children in the city center, and Piccioli with his wife and their three kids in Nettuno, a small coastal town about 40 miles away
Even so, their early collections received lackluster, sometimes hostile reviews. "Frankly, I'd be worried about getting too close to one of those prickly, encrusted numbers," wrote Horyn in 2009 in the New York Times after their second couture show; Women's Wear Daily dismissed the following season's as "too desperate to be achingly cool." Giammetti grumbled publicly—the Los Angeles Times likened him and Valentino to "cantankerous grandparents"—yet Chiuri and Piccioli ploughed on.
"When Valentino was there as the figurehead, the company had the luxury of never having to think about what it stood for," observes Chipperfield, who started working with the house on the design of its stores the same year of Chiuri and Piccioli's appointment. "But when he left, everyone came out of the shadows trying to work out whether something was 'in the spirit of Valentino' or 'not very Valentino.' The same thing happens to every company in that position."
Whereas Valentino himself had relished leading the luxurious lifestyle of his super-rich clients, like other designers of his generation and, indeed, as had Giammetti, neither Chiuri nor Piccioli was inclined to do so. "Look, I live by the seaside, and the longer I work in fashion, the more I like being there," Piccioli declares. "I don't like parties. I don't like crowds. I like people to know me for myself, not for what I represent." Rather than define the brand through their personalities, Chiuri and Piccioli have articulated its new identity by reinterpreting its heritage in their work, much as Raf Simons is doing at Dior and Nicolas Ghesquière at Louis Vuitton. So uninterested are they in publicizing their private lives that they seem happy to allow Valentino and Giammetti to continue to act as unofficial social ambassadors for the house, sitting front row at the shows and sharing the spotlight at dinners and events.
The decor of Palazzo Mignanelli says it all. Valentino's portraits (Warhols included) still hang in pride of place, as do the shots of Jackie Kennedy and Audrey Hepburn in his '60s gowns. But the atelier walls are festooned with magazine tear sheets of Emma Stone and Michelle Williams in new looks, and outside the conference room is a series of team portraits of Chiuri, Piccioli, and the dozens of colleagues who contribute to each season's couture collection. Chiuri and Piccioli work from Valentino's old office, which is pretty much intact except for their two simple wooden desks, which sit side by side, in place of his Empire desk. As for the elevator once reserved only for Mr. Valentino, it is now accessible to everyone. It is as if, rather than trying to replace him, Chiuri and Piccioli have cast themselves as custodians of a resplendent family estate that they intend to cherish before handing it to the next generation, hopefully in better shape.
They began with the clothes: modernizing the elegant femininity of vintage Valentino by simplifying the styling, accentuating the craftsmanship, and adding an element they call "grace"—"like elegance but subtler and untouchable," Chiuri explains. At a time when many of their rivals seem hellbent on exposing as much female flesh as possible, Chiuri and Piccioli's new Valentino look of long, fluid dresses with high necks and slender sleeves has appeared fresh, distinctive, and easy to dress up or down, as the Alexas and Keiras have demonstrated so ably. "I think their vision is the same as Mr. V's—a deluxe princess with refined tastes and a leaning toward the demure," Armstrong notes. "He had a distinctive narrow torso and slightly-raised-waist silhouette. So do they, albeit more extreme and rooted in a mythical Guinevere era."
So pervasive has the Guinevere look become—not only within Valentino's collections but in the plethora of copycat pieces—that Chiuri and Piccioli are now refining it. The fall couture collection set the tone when it was unveiled in Paris in July, with Emma Watson in black lace and Kim Kardashian flanked by Valentino and Giammetti in the front row. Inspired by the paintings of figures in ancient Greece they saw in an exhibition of work by the Pre-Raphaelite artists who emerged in Britain during the mid-1800s, they designed a series of pleated silk chiffon dresses with (daringly for them) bare backs. "Normally, our women are very covered," Chiuri notes. "It was exciting for us to do dresses that revealed more but with the same grace, the same elegance."
Not that they intend to stray far from the script: One of their strengths is a shrewd understanding of contemporary fashion culture. "The Internet has changed the idea of fashion completely," Piccioli says. "There are a lot of clothes, a lot of accessories, and everyone sees them so fast that you have to be absolutely consistent by sending the same message with every single dress, every single bag. You can tell different stories each season, but only if they are in the same language or they won't be recognizable."
That language also defines Chipperfield's design of the stores, which reflects his contemporary idea of an exquisitely crafted Roman palazzo built as a sequence of subtly different rooms from traditional Italian materials, like marble and terrazzo. "David is an architect, not a decorator, and that's an important distinction," Piccioli says. "He has translated our vision of fashion with spaces, not furniture, using antique materials in a very modern way, which is just what we do in the couture." The resulting boutiques feel more luxurious than a typical fashion store—most of which are built as speedily as possible and not necessarily intended to last—and is more nuanced and refined. "The stores are put together very carefully, using the best materials by the best Italian craftsmen," Chipperfield says. "People can smell and feel the care and quality that have gone into them. It is interesting that Valentino has become successful in a noisy world by being subtler and quieter."
Chiuri sees the stores as the new Valentino equivalents of the glossy magazine shots of its founder's sumptuous homes. Just as she and Piccioli have become confident enough to be more experimental with their collections, they and Sassi are encouraging Chipperfield to do the same with the stores, starting with the facade of the Fifth Avenue boutique. "It's a very beautiful curtain wall, with extreme proportions of glass to remind you of that moment in New York when modern architecture was at its peak," Chipperfield explains. One thing that you won't see much of there, or in any other Valentino store, is the logo. "It's important to us, of course, but not as decoration," Chiuri says. "For us, the logo is a guarantee of good quality."
Both she and Piccioli have enjoyed discovering Chipperfield's other buildings and took a trip to Venice, when Chipperfield was curator of the 2012 Architecture Biennale, so he could treat them to a guided tour. They also relish the chance to get to know the photographers who work on Valentino's ads, and they traveled to Mexico in 2011 with Deborah Turbeville to shoot one of her campaigns. "We were in the middle of nowhere, starting very early in the morning because Deborah wanted a special quality of light," Piccioli recalls. "Then we'd stop for six hours and shelter in tents because the light was no good, before starting again." "We were so tired," Chiuri groans. "I've never worked so hard in my life, but Deborah, who must have been nearly 80, was running off, saying, 'I've got to capture the light.' " They chose another favorite photographer, David Bailey, for this season's campaign. "He's my new hero," says Piccioli, grinning. "So punk. So effortless. Hearing his stories about working with Diana Vreeland and Polly Mellen, well, it's just fantastic."
Similarly, they insisted on visiting the studio of the 81-year-old Italian Pop artist Giosetta Fioroni this spring, after choosing her early work—and that of her contemporaries Carol Rama and Carla Accardi—as an inspiration for this fall's ready-to-wear collection. "When they came here, I was astonished, because they knew everything about me," says Fioroni, who has since made a film for the Valentino website. "They'd say: 'You did this in 1970, and this one was 1979.' "
Now that the geometric prints and exotic bird embroideries sparked by Fioroni's paintings are in stores, Chiuri and Piccioli are putting the finishing touches on the spring ready-to-wear line they will show in Paris later in September and preparing the New York couture extravaganza. The next milestone in their custodianship will be back in Rome, where another boutique, which may even be a little bigger than Fifth Avenue's, is under construction in an old bank adjacent to Palazzo Mignanelli. Soon, they hope, it will be joined by a couture school to train more apprentices and a gallery where the public can see the collections.
"We're both obsessed with Rome, and it is Valentino's home, so we'd like to give something back to the city," Chiuri says. "We're thinking of having an exhibition space where we could show pieces from the archive with our new work: putting the past and the present together, as we've always done at Valentino, maintaining its incredible heritage and values but translating them for people like us, living in another moment."
Maria Grazia Chiuri and Pierpaolo Piccioli, backstage at the Teatro dell'Opera di Roma.

Photographed: Paolo Roversi
Model wearing Valentino at Fioroni's studio, Rome.

Photographed: Paolo Roversi
Chiuri and Piccioli, at the Teatro dell'Opera di Roma.

Photographed: Paolo Roversi
Model wearing Valentino at Fioroni's studio, Rome.

Photographed: Paolo Roversi
Chiuri and Piccioli's office in Rome. © Rich/Splash News/Corbis.
Another view of Chiuri and Piccioli's office in Rome. © Rich/Splash News/Corbis.
Valentino Garavani and Giancarlo Giammetti at the Palazzo Mignanelli, Rome, 2004. Photograph by Jonathan Becker.
Chiuri and Piccioli on the runway after the spring 2014 haute couture show, Paris. Courtesy of KCS Presse/Splash.
Garavani backstage after his final runway show, Paris. Courtesy of News/Newscom.
The Valentino store in Shanghai, designed by David Chipperfield. Courtesy of Valentino.
Interior of the Shanghai boutique. Courtesy of Valentino.
Another view of interior of the Shanghai boutique. Courtesy of Valentino.
Inside the Milan store. Courtesy of Valentino/Tullio M. Puglia/Stringer.
Chipperfield in his London office. Courtesy of David Chipperfield Architects.
Styled by Robbie Spencer. Chiuri's hair and makeup by Laura Stucchi at Close Up Milano. Models: Hair by Franco Gobbi for Streeters; makeup by Marie Duhart at Atomo Management. Models: Maja Salamon at Next Management; Ysaunny Brito at the Society Management. Production by Mascioni Associati International Ltd. Digital technician: Matteo Miani at DTouch. Photography assistants: Melanie Rey, Ivano Grasso; fashion assistant: MartinA Repetto; hair assistant: Giulio Ordonselli; makeup assistant: Francesca Petrangeli. Special thanks to Grand Hotel D'Inghilterra.