Valentino talks recession, buying ski jackets (on sale) and being called Emperor
This whole retirement thing appears to be working out quite well for Valentino. Right now, while Maria Grazia Chiuri and Pier Paolo Piccioli are undoubtedly scrambling with arrangements for the house's show on Tuesday in...
---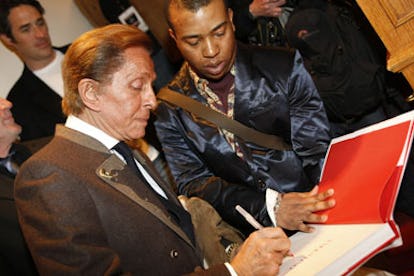 How's Aspen? It's very well. Well, not very well because I have a cold, but it's beautiful here. It was really terribly windy and cold while skiing yesterday but the snow is amazing.
You attended the screening there of Valentino: The Last Emperor. How many times have you seen the film by now? Almost 10 times now. Sometimes they tell me, "Oh just go to the beginning and the end like an actor does." But I find that so rude. It's not my style.
Have people taken to calling you "Emperor" yet? No, I hope not. That doesn't sound very young or fresh.
Given the global recession, do you feel like you retired just in time? I am very happy at this moment. I was lucky, probably, to decide to stop before this storm or whatever we want to call it. For me, the reviews or the runway was not the most important thing. My most important judgment of success was about how many pieces I sold. And today I know that I would be very unhappy.
Has the current economy made you think or act differently? Of course. I wouldn't be a human being if not. But it's not a question of being able to do things or not. It's a question of if you want to still do the same things. It's more about how you really feel. People aren't feeling anymore, and that's what really worries me — people don't feel like buying clothes.
The Valentino show is next week in Paris. Will you go? No. I don't do the shows anymore. On Saturday, we go to New York for the film's opening at MoMA.
The sun in Aspen is very strong. Are you wearing sunscreen? Yes, because we were burned on the first day. And Giancarlo [Giammetti] had a minor problem with his eyes because he was not wearing goggles. As you well know, I love to be tan but I didn't expect this kind of strong sun.
Tell me about your ski outfit. It's not one outfit; I think I have five here. And I bought a couple of jackets because everything is on sale now. The prices are quite amazing compared to where I buy in Gstaad, Switzerland. But I wear different things, a lot of Bogner and Moncler and Ralph Lauren, who is one of my favorite designers for myself. I like to wear different colors, but nothing too fancy. My fanciest outfit is red.
Valentino: The Last Emperor opens on March 17 at MoMA and starts a two-week run at Film Forum the next day.
Photos (from top) by Riccardo S. Savi/Getty Images; Aspenspin.com; Valentino: The Last Emperor