Former Balenciaga Intern Vanessa Schindler Is Now One of the Hottest Rising Fashion Designers In the World
Meet the winner of the grand prize at this year's Hyères Fashion Festival.
---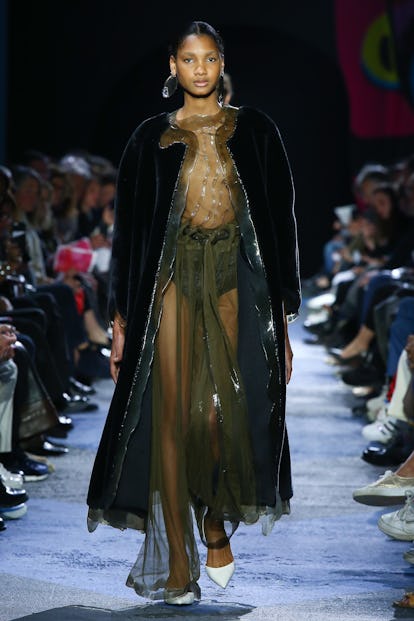 JEREMIE LECONTE
To break into fashion today, it helps to be something of an alchemist. That's the take away from the 32nd Hyères International Festival of Fashion and Photography competition where former Balenciaga intern Vanessa Schindler took home the grand prize thanks to her sci-fi collection "Urethane Pool, Chapter 2."
The Hyeres Prize has a reputation as a career builder, with a haute pedigree of past winners including Saint Laurent creative director Anthony Vaccarello and Lacoste's Felipe Olivera Baptista. It's also a substantial win: the prize includes a 15,000€ grant, an exhibition at French fabric fair Premiere Vision's New York event in July, the chance to work with Chanel's specialty atelier Lesage in Paris on an upcoming collection, and a job designing capsule pieces for France's Petit Bateau, which the brand will produce and sell inn its store for Spring 2018.
So it's safe to say that Schindler's future looks bright. Here, the up-and-coming designer opens up about her surprising approach to fashion, her inspiration, and more.
You were raised in Vevey, a little town on Lake Geneva near Lausanne, did the crystal clear water of Switzerland's largest lake inspire you?
My idea was frozen liquidity, but the problem was I didn't know how to achieve that until I discovered urethane, which is used in technical fashion for things like joining fabrics and hems. I used urethane to question how garments are constructed and to approach the idea of craft in a new way. After I discovered urethane, I began by putting it on fabrics just to see what the reaction would be. I became more exited with each experiment. The only drawback was the drying time. I'd work during the day, but I wouldn't be able to see the results until the next morning because urethane takes at least eight hours to dry.
How long did it take for you to master the materials?
I spent two years during my MA and I produced two collections. It was hard to predict the reactions at first and one idea kept leading to another.
So you approach fashion like an inventor ?
Yes, I'm fascinated by research and garment construction and the finishing process as well. It's also about the idea of functionality, the back and forth between functionality and embellishment.
The result looks very sci-fi in nature, with undersea creatures and wet shapes scattered over a sheath dress; holes outlined with urethane on a peek-a-boo top, and a urethane-edged fur. What inspired all this collection specifically?
My dad worked in automobile body repair, so I suppose I got something from his love of the flawlessly fluid lines of metal and industrial design, but I'm also interested in biomimicry like architect Bruce Goff's spiral Bavinger House and I like the mix of mysticism and chic in someone like actress turned yoga instructor Yvette Mimieux.
What other fashion designers do you admire ?
Henrik Vibskov from Denmark. As an undergraduate, I did internships at Balenciaga with Alexander Wang, but it was always my dream to work at Vibskov's studio. I simply kept sending my request until they accepted me. I love the project of these five guys behind that brand and arty spirit of invention. I'm also really into JW Anderson at Loewe, and young designers like London's Martine Rose and Craig Green.
Meet the 8 Finalists of the 2017 Hyères Fashion Festival
Hermione Flynn, 31, is from New Zealand but now lives in Berlin, where she produces a collection and incorporates performance art, installation and film with fashion. Her "C(ocktail dresses)+ B(allgowns for men)" are a mashup of workwear and cocktail regalia.
Danial Aitouganov, 24, lives in the Netherlands, but he was born and raised in Tartarstan, Russia. After interning with Alexander Wang, he launched his own brand. This collection, titled "The Second Sex, Vol. II," mixes bold graphics and voluminous shapes with utility details.
Hyunwoo Kim's unisex collection, "Stranger from the Garden," was inspired by Roger Corman's cult-classic film "The Little Shop of Horrors" (1960), and combined nightgowns, trench coats and strange detailing. The 25 year-old from South Korea explains, "In the film, there's a horticulturist who sells blood sucking plants. When the customer asks where he got them, he says 'from the Japanese gardener.' In this collection I'm trying to know all about the gardener his outfit, lifestyle and mood."
Gesine Försterling, 30, previously worked in an embroidery factory in Mumbai, India and did costume design in Berlin. Her new collection, titled "Work?!", transforms men's uniforms and tailoring into new shapes with oversized logo embroidery and hand weaving.
Finish designer Maria Korkeila, 24, previously interned with Rick Owens in Paris. Her clothes look like a glimpse of bodies behind a shower curtain in photo prints, jacquards and layers of torsos and portraits on easy shapes that look like a mix of pajamas and workwear.
Marianna Ladreyt, 27, who is Cypriot and French, studied philosophy at the Sorbonne in Paris before turning to fashion. Her clothes reflect a utilitarian sensibility, using materials like nylon and silhouettes inspired by overalls.
Vanessa Schindler, 28, is from Switzerland interned at Balenciaga. Her collection revolves around experiments with urethane, a synthetic material like Latex, which she sculpts into otherworldly shapes.
Marine Serre, 25, is from France, and has worked for both Demna Gvasalia at Balenciaga and Raf Simons at Christian Dior. Her collection, "Radical Call for Love," combines 19th century Arabic women's costumes and athletic wear from the 1990s/2000s for a volatile blend of street and haute.
How Trans Role Model Casil McArthur Learned to Express Himself Through Cosplay