What Happens in Vegas
Enormous and eye-poppingly opulent, Sin City spas are setting a new standard for indulgence.
---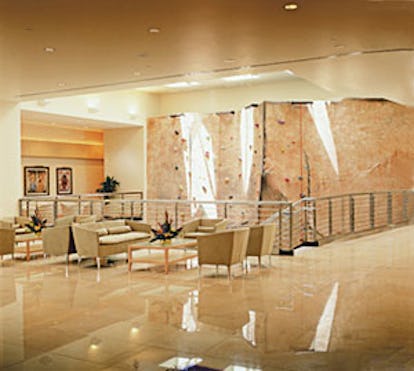 Las Vegas holds the "capital" title in so many arenas—gambling, conventions, bachelor parties, quickie weddings, quickie divorces—that it might seem tiresome to proclaim it a spa capital too. But this desert city, so parched that it's forced to pipe in every drop of water from more verdant regions, now rivals Baden-Baden or the Dead Sea as the world's favorite place to soak in a tub in the name of wellness. Who needs ancient healing waters when you've got millions of tourists intent on indulging themselves silly?
The Bathhouse at the Hotel at Mandalay Bay.
"People come to Las Vegas looking for over-the-top luxury with food and shopping and hotels," says Michael Garvey, president of the Las Vegas Spa Association. "It's no different for spas. They're still building them here, making them bigger and more opulent all the time."
The bar was set high back in 1999, when the Venetian opened its own branch of Canyon Ranch, the venerable healthy-living mecca founded in Tucson, Arizona. Previously, there were plenty of places in Vegas to get a massage, but this was the city's first world-class option. At a staggering 69,000 square feet with 73 treatment rooms, it forced the other casino resorts to get serious about their facials. The Bellagio, the other über luxury property at the time, responded with its own spa tricked out with what seemed like a quarry's worth of travertine. Today there are more than 40 hotel spas on and off the Strip. And this spring, the Venetian is aiming to re-establish its supremacy: A newly expanded, 134,000-square-foot Canyon Ranch SpaClub, which will stretch into the Palazzo hotel next door, is set to debut in early April. The renovations include the addition of "igloos" (dome-shaped cabins filled with cool mist and twinkling fiber optics) and "experiential rain showers" that mimic thunderstorms or tropical downpours with sound, scent and lighting effects.
Kim Vo Salon at the Mirage.
But beyond their size and extravagance, what really distinguishes Vegas spas from their counterparts elsewhere is their attitude. In general, these are not zen sanctuaries where guests come seeking peace and quiet. Instead, people-watching and even people-meeting share top billing with relaxation. "There's a voyeuristic aspect to it," says Anna Lempereur Moine, a branding and marketing consultant who specializes in spas. "It's a place to see and be seen."
Though spas have served as communal gathering spots since ancient Roman times, the Bathhouse at the Hotel at Mandalay Bay pioneered the trend in Vegas. The 20-foot-long Jacuzzi, lined with lipstick red chaise longues, is the focal point, and its oversize hot and cold tubs are designed for a crowd. Four years after the spa's opening, it's still one of the chicer spaces in town, with black-tiled walls and soaring ceilings that create a sexy, Batcave atmosphere. When I pay a visit on a Thursday morning in midwinter, it is largely unoccupied and has the feeling of a decadent party that has just disbanded; there are even some curious handprints on the sauna's glass walls. But the post-bacchanalia vibe is diminished somewhat when an elderly woman dressed only in a towel stumbles into the sweltering chamber in search of her lost locker key.
The Scents-of-You scrub is the signature service here. After filling out a deeply personal questionnaire that asks me to reveal my "most secret flaw," I put my faith in the hands of the therapist, who blends a custom mix of aromatherapeutic oils to address my "issues." What it does for my psyche is unclear, but after a gentle buffing and an invigorating massage, at least I can cross "nasty, flaky skin" off my list of deficiencies.
The Spa at Wynn Las Vegas clearly targets a less hip (but no less decadent) clientele. Every detail—from the art on the walls and the (not-so-stain-resistant) silk pillows in the lounge to the ultrathick towels in the locker room—seems designed to send the same message: This place is not cheap. The 45 treatment rooms line two long, dimly lit corridors with fabric-covered walls that lend an intimate feel. Spagoers are encouraged to bundle up in robes, sink into the comfy sofas in front of the fireplace and stay a while—which they do, making the place feel a little bit like a Tri-Delt house for over-40s. On a Friday afternoon, the steam room is packed to capacity. Neatly arranged women with impeccable highlights chat in hushed tones before their treatments; afterward, they stumble into the locker room, drenched in massage oil and looking disoriented. They've probably just emerged from the Good Luck Ritual, which is a bit like the Iron Chef of massage treatments: It's a big production with so much going on at once—chimes ringing, fragrant compresses being compressed, hot towels getting draped, scrubs getting scrubbed—that while it's hard to tell what's happening exactly, you trust that the results will be impressive. My therapist, Entity (her real name), explains that the treatment incorporates the concepts of feng shui, using all five elements to balance the body's energy. A bit much? Perhaps. Regardless, it's such a deliciously mind-erasing 80 minutes that I almost forget the way back to my room.
Across the street is the MGM Mirage, a 19-year-old Strip standby that still draws a crowd. Its spa, which reopened in December after a renovation, also encourages mingling, though not always in enjoyable ways. The changing area, which is lit like a surgical theater, offers as much privacy as the communal fitting room at Loehmann's. The spa is located within the hotel's in-house mini mall, across from a store selling Mirage hoodies; at one point, around happy hour, two shoppers wander into the locker room for a peek (they are promptly escorted out). Meanwhile, in the whirlpool tubs just off the main lounge, a couple of hung­over friends repeatedly announce, "I'm so relaxed!" at decidedly un-spalike volumes.
In preparation for a big night out, Vegas spa guests often tack on salon services to a day of pampering. At the Mirage, that means a visit to Los Angeles–based colorist Kim Vo's new outpost. Vo, who counts Goldie Hawn and Kate Hudson as clients, offers makeup services and eyebrow shaping, as well as cuts and color, in a dramatic black and white space behind a wall of glass that opens into the mall for all the world to see. Most intriguing of all is the wig bar, the first place in the country to stock a library of ready-made extensions in a palette of colors to match the hair of nearly any walk-in. "We call it razzle-dazzle," says Vo, who adds that passersby often stop in front of the glass to watch him work. "We want to show people what fashion is firsthand."
The Palms Casino Resort is also expecting a crowd to gather in its new spa, Drift, which is centered around a coed Turkish bath called a hammam. The main Palms casino and hotel has a distinct MySpace-generation appeal (a tattoo parlor opens directly onto the casino floor), but the spa, in the new Palms Place residential tower next door, is geared toward grown-ups. Many of the treatment rooms, outfitted in coppery mosaic tiles, have landscaped terraces (natural light and fresh air are rare commodities in this town). And then there's the womblike hammam, with heated surfaces and artful tile work. "This is a place where male and female guests can mingle," says Jennifer Noble, the spa director. Whether mingling will lead to canoodling will become clearer after Drift's spring opening.
Qua, the spa that opened at Caesars Palace in late 2006, also boasts a coed meet-up spot, a tiled circular sauna called the Laconium room that's maintained at a constant 140˚ and 35 percent humidity. (According to spa director Jennifer Lynn, these are the optimum conditions for relaxation.) But fraternizing with the opposite sex seems less of a priority at this place, which turns out to be the most luxurious spa in town. Both the men's and women's areas boast Arctic Ice rooms—heavily air-conditioned chambers in which snow falls from the ceiling and a machine produces giant ice shavings to rub on your overheated skin after you emerge from the sauna, Roman baths or herbal steam rooms. With dark wood accents and several tons of stone, a tea lounge with its own tea sommelier, and 51 treatment rooms, Qua is a surprisingly tasteful refuge within the 3,349-room behemoth that is Caesars. There are so many inviting spots that I find myself pinballing from one room to the next in a 20-minute, hot-cold-hot-cold-wet-dry six-towel frenzy.
Afterward, as I recuperate in the tea lounge, exhausted but thoroughly cleansed, it occurs to me that Qua handily encapsulates what Las Vegas spas are all about. In a city where 95˚ is considered temperate, five-figure bar bills are routine and bedtime is 6 a.m., even relaxing is an intense experience.
Canyon Ranch spaclub: courtesy of Canyon Ranch; bathhouse at the Hotel at Mandalay Bay: courtesy of MGM Mirage; Drift: courtesy of the Palms Casino Resort; Kim Vo Salon i: Courtesy of MGM MIRAGE