How Venice Museums and Galleries Are Reacting to Coronavirus
After closures, some reopen their doors this week. But is it too soon?
---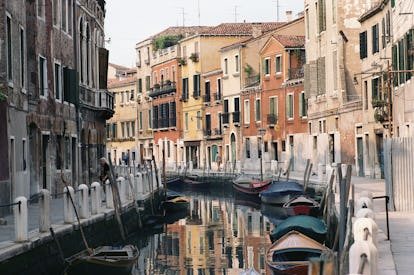 While the fashion world has been kept up to speed on coronavirus developments in Milan—where some events were canceled last week and masks were handed out at the entrances to runway shows—what's going on in Venice, a city that already suffered a substantial blow with exceptionally high tidal flooding in November, is less clear.
Museums and galleries that contribute significantly to the tourism industry and the local economy annually, typically plan for crowds to arrive in early spring, but the spread of the virus has emptied out hotels and created an overall sense of uncertainty.
Carnevale ended two days early, as costumed revelers mingled in piazzas next to policemen in surgical masks. And while the rate of infection rose in towns in the Veneto and Lombardy regions, many of the city's art institutions—including the Peggy Guggenheim Collection, the civic museums, and some private galleries—shut down based on government recommendations.
Many of those museums were scheduled to reopen today, but each institution seems to be taking a different approach to the evolving situation. Some took to Instagram to announce continued closures, while others have made a point of painting an insistently sunny picture even as the rate of infection continues to rise and the Centers for Disease Control and Prevention recommends avoiding all nonessential travel to the country.
On Monday morning, the Instagram account for the Gallerie dell'Accademia posted a story announcing that the museum would be open again on March 3: "We are waiting for you" it read, under a pair of dancing hearts against a rainbow background.
Others have opened their doors with caveats: At the Guggenheim, a notice on the museum's website states that "the museum will allow visitors to enter in stages or else implement measures in order to avoid large gatherings of people who must respect the distance of at least one meter between one another."
Alma Zevi Gallery in San Marco is open by appointment only, but Zevi says she plans to reopen next week with normal hours. Originally scheduled to open in mid-March, a solo show featuring the work of Katy Stubbs, a British–South African ceramic artist, has now been pushed to April.
According to the Art Newspaper, Venice's civic museums, including Palazzo Ducale and the glass museum, have opened their doors. The Pinault Collection, which exhibits artwork at Palazzo Grassi and the Punta della Dogana, has canceled all programming through March 8.
The Prada Foundation's Venice venue has no artwork currently on view, and will remain closed until later in the spring, as originally scheduled.
The architecture biennale, which was originally scheduled to open to the public on May 23, has postponed until August 29, cutting its usual six-month run to three.
As the situation evolves, larger questions arise not just about proper containment measures but about the future of a city so heavily dependent on tourism to function. According to reporting done by the New York Times, the city's annual $3.3 billion tourism industry may have lost almost $900 million since November, with a 35 percent drop in hotel reservations in that month alone. While fewer crowds might make life more pleasant for locals, the economic damage caused could end up being more serious than anyone predicted.