Michael Kors Is Reportedly Working on a Deal to Buy Versace for $2 Billion
The Versace family could soon be offloading their namesake brand.
---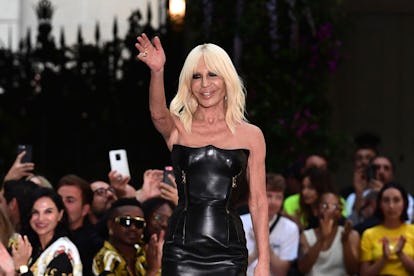 MIGUEL MEDINA/Getty Images
After 40 years with the Versace family at the helm, their namesake luxury brand could potentially have a new, non-family owner as early as this week. According to a Bloomberg report, Michael Kors is said to be nearing a deal to acquire Versace for around $2 billion.
Sources "familiar with the situation" say that Donatella Versace has reportedly called a staff meeting for Tuesday to discuss the sale of the company that she and her brother Santo have run since their other brother Gianni's infamous 1997 murder. The Italian family has owned at least 80 percent of the company since its 1978 founding, and, the sources say, would continue to have "a role" in its future in any purchase agreement; though private equity firm Blackstone Group LP currently has a 20 percent stake in Versace, Bloomberg reports that it would completely sell its shares in the Michael Kors deal.
WWD reports that Kors isn't the only fashion house to have eyed Versace in recent months. French conglomerates Kering and LVMH Moët Hennessy Louis Vuitton have reportedly also considered the purchase, as have American companies like PVH Corp. and Tapestry Inc.
The buy would make sense for the U.S.-based Michael Kors Holding Ltd., which in recent years has embarked on a plan to expand its offerings to become a "megabrand" to rival LVMH and others. Most recently, per WWD, Kors purchased the high-end Jimmy Choo brand for $1.2 billion in 2017. "We are creating a global luxury fashion group. Our focus is on international fashion luxury that are industry leaders," Kors CEO John D. Idol said at the time of that sale.
After operating at a loss in 2016, Versace is currently on the upswing. According to Bloomberg, the company took in 686 million euros and turned a profit in 2017, and has been especially prominent since Donatella dedicated the brand's September 2017 show at Milan Fashion Week to her late brother, bringing back not only his most iconic designs from the '90s, but also supermodels like Cindy Crawford and Naomi Campbell, who had modeled Gianni's clothes at the time.
Emily Ratajkowski, Shalom Harlow, and the Hadids All Walked the Versace Extravaganza
Emily Ratajkowski on the runway at the Versace SS19 show during Milan Fashion Week on Friday, September 21st, 2018. Photograph by Alessio Constantino for W Magazine.

Alessio Constantino
Bella Hadid on the runway at the Versace SS19 show during Milan Fashion Week on Friday, September 21st, 2018. Photograph by Alessio Constantino for W Magazine.

Alessio Constantino
Kaia Gerber on the runway at the Versace SS19 show during Milan Fashion Week on Friday, September 21st, 2018. Photograph by Alessio Constantino for W Magazine.

Alessio Constantino
On the runway at the Versace SS19 show during Milan Fashion Week on Friday, September 21st, 2018. Photograph by Alessio Constantino for W Magazine.

Alessio Constantino
On the runway at the Versace SS19 show during Milan Fashion Week on Friday, September 21st, 2018. Photograph by Alessio Constantino for W Magazine.

Alessio Constantino
On the runway at the Versace SS19 show during Milan Fashion Week on Friday, September 21st, 2018. Photograph by Alessio Constantino for W Magazine.

Alessio Constantino
Gigi Hadid on the runway at the Versace SS19 show during Milan Fashion Week on Friday, September 21st, 2018. Photograph by Alessio Constantino for W Magazine.

Alessio Constantino
Freja Beha Erichsen on the runway at the Versace SS19 show during Milan Fashion Week on Friday, September 21st, 2018. Photograph by Alessio Constantino for W Magazine.

Alessio Constantino
Kendall Jenner on the runway at the Versace SS19 show during Milan Fashion Week on Friday, September 21st, 2018. Photograph by Alessio Constantino for W Magazine.

Alessio Constantino
On the runway at the Versace SS19 show during Milan Fashion Week on Friday, September 21st, 2018. Photograph by Alessio Constantino for W Magazine.

Alessio Constantino
On the runway at the Versace SS19 show during Milan Fashion Week on Friday, September 21st, 2018. Photograph by Alessio Constantino for W Magazine.

Alessio Constantino
Stella Tennant on the runway at the Versace SS19 show during Milan Fashion Week on Friday, September 21st, 2018. Photograph by Alessio Constantino for W Magazine.

Alessio Constantino
On the runway at the Versace SS19 show during Milan Fashion Week on Friday, September 21st, 2018. Photograph by Alessio Constantino for W Magazine.

Alessio Constantino
On the runway at the Versace SS19 show during Milan Fashion Week on Friday, September 21st, 2018. Photograph by Alessio Constantino for W Magazine.

Alessio Constantino
Liya Kebede on the runway at the Versace SS19 show during Milan Fashion Week on Friday, September 21st, 2018. Photograph by Alessio Constantino for W Magazine.

Alessio Constantino
Lexi Boling on the runway at the Versace SS19 show during Milan Fashion Week on Friday, September 21st, 2018. Photograph by Alessio Constantino for W Magazine.

Alessio Constantino
On the runway at the Versace SS19 show during Milan Fashion Week on Friday, September 21st, 2018. Photograph by Alessio Constantino for W Magazine.

Alessio Constantino
Imaan Hammam on the runway at the Versace SS19 show during Milan Fashion Week on Friday, September 21st, 2018. Photograph by Alessio Constantino for W Magazine.

Alessio Constantino
On the runway at the Versace SS19 show during Milan Fashion Week on Friday, September 21st, 2018. Photograph by Alessio Constantino for W Magazine.

Alessio Constantino
On the runway at the Versace SS19 show during Milan Fashion Week on Friday, September 21st, 2018. Photograph by Alessio Constantino for W Magazine.

Alessio Constantino
On the runway at the Versace SS19 show during Milan Fashion Week on Friday, September 21st, 2018. Photograph by Alessio Constantino for W Magazine.

Alessio Constantino
Anna Ewers on the runway at the Versace SS19 show during Milan Fashion Week on Friday, September 21st, 2018. Photograph by Alessio Constantino for W Magazine.

Alessio Constantino
Kiki Willems on the runway at the Versace SS19 show during Milan Fashion Week on Friday, September 21st, 2018. Photograph by Alessio Constantino for W Magazine.

Alessio Constantino
Vittoria Ceretti on the runway at the Versace SS19 show during Milan Fashion Week on Friday, September 21st, 2018. Photograph by Alessio Constantino for W Magazine.

Alessio Constantino
Anja Rubik on the runway at the Versace SS19 show during Milan Fashion Week on Friday, September 21st, 2018. Photograph by Alessio Constantino for W Magazine.

Alessio Constantino