How the Assassination of Gianni Versace Turned Out the Lights on Miami's Moment in the Sun
In the 90's, Gianni Versace was a one-man Art Basel, bringing celebrity, sex, and fashion to South Beach. His murder ended all that.
---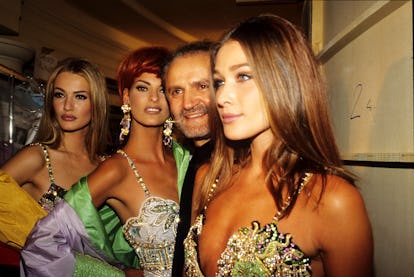 Foc Kan/WireImage
On July 15, 1997, Andrew Cunanan, a 27-year-old drug addict and hustler on the F.B.I.'s Most Wanted List for the murder of four other men, approached the fashion designer Gianni Versace on the steps of his villa on Miami's South Beach and fired two bullets at his face from point-blank range, before fleeing the scene on foot. After a nine-day, nationwide public manhunt, Cunanan was found dead, having taken his own life in the houseboat where he had been holed up, just a few miles from the murder scene on Ocean Drive.
The story's sensational brew of sex, death, and glamour has captivated the public imagination ever since, in much the same way as the death, a month later, of Versace's friend and client Diana, Princess of Wales. And it will only be reignited with the premiere Wednesday night of FX's The Assassination of Gianni Versace: American Crime Story, the latest installment of Ryan Murphy's hit limited series franchise.
Based on Maureen Orth's 1999 book Vulgar Favors: Andrew Cunanan, Gianni Versace, and the Largest Failed Manhunt in U.S. History, the nine-part series comes with a stellar cast—Édgar Ramírez as Versace, Darren Criss as Cunanan, Penélope Cruz as Donatella Versace, and Ricky Martin as Gianni's longtime boyfriend, Antonio D'Amico—and a built-in controversy, with the Versace family publicly attacking the veracity of the show's version of events. Among the sticking points are the suggestions that Versace and Cunanan had previously met in San Francisco and that Versace was HIV-positive at the time of his death, both of which the series recreates in detail over the course of the season.
It's perfectly understandable that the Versaces would be protective of their beloved Gianni, but if anything the series is at times too deferential to his legacy, like a fawning fashion editor proffering plaudits backstage at a Versace show. As much as the series is an investigation into the pathology of a deranged young man, The Assassination of Gianni Versace is also a respectful if grisly memorial to a brilliant fashion impresario and media visionary. And perhaps unwittingly, it's also an ode to a golden moment in Miami's history—before social media, table service, and paid influencers took over South Beach.
"When Gianni moved to Miami there was nowhere else to be," recalls Chris Paciello, who owned two of Miami's hottest clubs then, Risk and Liquid, and partied with the likes of Madonna and her gal pal Ingrid Casares. "Everyone, and I mean everyone, came to town and everyone was a VIP. His arrival just amplified everything."
"Gianni Versace buying the Versace mansion and the opening of the Delano [hotel] are the two seminal moments in transforming Miami Beach from a sleepy little retirement town with a sort of a cheeseball factor into a high-profile, glamorous destination," says Paul Wilmot, the New York PR powerhouse who started going to Miami in the early 90's. "Suddenly, Sly Stallone was down there. Mickey Rourke was there. Madonna was there. It was a whole moment. For a brief period there, there were so many movie stars there that there was talk that Miami was maybe going to become a film capital as well."
Look at the tropical prints and shout-outs to Miami that began to appear in his collections and in South Beach Stories, a coffee-table valentine to Miami that Gianni and Donatella produced with Bloomingdale's Kal Ruttenstein: Versace was clearly smitten with his adopted city. The talented costume designer Lou Eyrich had the unenviable task of recreating Versace's painstakingly crafted outfits for American Crime Story, with no access to the label's archives and next to no time, and it shows. As with most attempts to revisit the not too distant fashion past, it was always going to be near impossible to recreate the youthful brio and technical precision that lifted up his clothes from this era.
In 1992, Versace bought two adjoining nondescript properties on Ocean Drive which he remodeled into a campy palace fit for a Byzantine drag queen. Versace might have had homes all over the world, but his heart belonged to what he called Casa Casuarina, where he entertained an endless conga line of celebrities, models, editors, and the odd actual drag queen. "No one liked to entertain or spend money more than Gianni," Wilmot recalls. "Gianni was at the center of it all, and he loved it."
Versace, who took rock-and-roll-inflected body consciousness and elevated it to high fashion, also came into his own as a designer in Miami. Even his fledgling couture concern, which had previously been critically panned, was beginning to receive acclaim—"bold, sexy," gushed WWD of his showing just days before his death. There seemed to be no limit to how far the Versace business might grow, prompting talk of the family company being floated on the New York Stock Exchange.
Although he had become the most famous designer in the world, as recognizable as the celebrities to whom he shrewdly hitched his wagon, in South Beach Versace was free to roam the streets unaccompanied and unencumbered, and to sample its many delights.
"Miami was catnip for Versace," says Tara Solomon, the owner of Tara Ink., a prominent Miami PR firm, who in the 90's covered the emerging scene in her "Queen of the Night" column for the Miami Herald. "At the time there were all these eclectic subsections of people and he was fascinated by that. Add to that the nightclub scene, the celebrities, the natural beauty of the beach, and the fact that South Beach resembled one big runway filled with gorgeous people, particularly the Latino boys. You can see why he was attracted to the place."
On any given day he could be seen strolling down Ocean Drive or popping into the Versace boutique on nearby Washington Avenue; at night, it wasn't uncommon to bump into him and his retinue of hunks at gay bars such as Warsaw Ballroom or Barrio, or at the Mulberry St. Café, a lo-fi Italian restaurant that put on drag shows at night.
He was so much a part of the fiber of the colorful community that in time Versace and Miami became indissolubly fused in the public imagination, with images of palm trees and hunky male models in foulard-print shirts on South Beach, or paparazzi pics of Versace and his famous friends, appearing in every magazine of note.
"He was such a strong presence on the scene, so over-the-top that his death left a huge hole," says the hairdressing legend Oribe, who worked on many of the Versace campaigns and now resides in Miami. "Everything changed after he died."
Paciello, who now owns Rockwell, a popular South Beach club, concurs. "It was the end of the city's innocence," he explains. "It was like Studio 54 after it was raided. The whole thing began to fall apart."
Soon after Versace's death, Sly Stallone and Madonna, who had neighboring properties on the grounds of the Vizcaya Museum, pulled up stakes, as did Mickey Rourke; hot spots including Groove Jet, Bar None, and Prince's club Glam Slam closed; the European editors and photographers stopped coming in droves; and the tenor of the beach became more guarded, its inhabitants less socially mobile.
These days, of course, Miami is having another moment in the fashion sun, its year-round good weather and countless new hotels and real estate developments luring the well-heeled from New York, Latin America, and beyond.
But it's hard not to think that when Cunanan fired those two rounds he also laid to waste Miami's heyday. The disturbed young man prophesied many grand delusions for himself, but at least one of them was prescient, when he wrote in his high school yearbook, "Après moi, le déluge."
The Best, Most Supermodel-Filled Images from the Height of Gianni Versace's Reign
Linda Evangelista, Versace fashion show, Rock 'n' Rule Benefit after party, Park Avenue Armory, New York, New York, 1992.

Rose Hartman
Beverly Peele at the 1994 F/W Versace fashion show.

Getty Images
Acting MTV new anchor, Cindy Crawford, interviews Claudia Schiffer during the 1991 Versace fashion show in Los Angeles.

George Rose
Kate Moss struts down the runway during the 1995 S/S Versace fashion show.

Images Press
Cindy Crawford attends Versace's "Rock 'N Rule" Fashion Show Gala to Benefit amfAR in 1992 in New York City.

Ron Galella, Ltd.
Linda Evangelista at the Gianni Versace Spring 1993 show circa 1992 in Milan, Italy.

Images Press
Naomi Campbell wears Versace, in the 1991 Los Angeles, California, Versace fashion show.

George Rose
Cindy Crawford backstage at the 1993 s/s Versace fashion show.

Rose Hartman
(Original Caption) Kate Moss on the catwalk. (Photo by Stephane Cardinale/Sygma via Getty Images)

Stephane Cardinale – Corbis
Naomi Campbell walks during the Versace Fall 1992 RTW runway show.

Guy Marineau
Christy Turlington walks during the Versace Fall 1992 RTW runway show.

Guy Marineau
Helena Christensen walks the runway at the Versace Haute Couture S/S 1992-1993 fashion show in January, 1992 in Paris, France.

Victor VIRGILE
PARIS – (FILE) Model Carla Bruni walks the catwalk at Versace High Fashion show (circa 1996) in Paris, France. According to reports, December 18, 2007 French President Nicolas Sarkozy has asked the Italian model turned pop singer to marry him. (Photo by Michel Dufour/WireImage)

Michel Dufour
Supermodel Naomi Campbell Modeling Versace Jacket during the 1992 F/W Versace show.

Michel Arnaud
Cindy Crawford attends Versace's "Rock 'N Rule" Fashion Show Gala to Benefit amfAR on September 14, 1992 at Park Avenue Armory in New York City.

Ron Galella
Amber Valletta walks during the 1995 Versace haute couture show in Paris.

Thierry Orban
Kate Moss models Gianni Versace's spring collection again in 1995.

Mitchell Gerber
Shalom Harlow walks the runway at the Versace Haute Couture S/S 1992-1993 fashion show during the Paris Fashion Week in January, 1992 in Paris, France.

Victor VIRGILE
Gianni Versace, always innovating, blends transparent plastic and shimmering fabric for a futurist evening gown in his f/w 1995-1996 show.

GERARD JULIEN
Naomi Campbell during the 1991f/w Versace fashion show in Los Angeles.

Getty Images
A model presents an eclectic striped bodysuit and spencer jacket with a coordinated green-striped fantasy military cap during the S/S 1993 Versace fashion show.

PIERRE GUILLAUD
Kate Moss wears Gianni Versace's zippered bridal gown during the f/w 1995-1996 Versace fashion show.

GERARD JULIEN
Amber Valletta walking down the Runway at the 2000 Spring Fashion Week: Versace Fashion Show in New York City.

Ron Galella, Ltd.
Carla Bruni walks the catwalk at the Versace High Fashion show in Paris, France (1993)

Michel Dufour
Yet again: Naomi Campbell walks the runway at the Versace Haute Couture 1992-1993 fashion show in Paris.

Victor VIRGILE
Nadja Auermann, Carla Bruni, Amber Valletta, Linda Evangelista, Naomi Campbell, Shalom Harlow and Top Models wearing " Fashion Aid Clothing " Tee Shirts Pose at the Versace High Fashion Show at the Ritz Hotel on January 1,1994 in Paris.

Foc Kan
Gianni Versace, takes a bow at a 1991 Los Angeles, California, fashion show.

George Rose