The Fly Made It Official: There's Nothing Normal About This Election
With just 10 minutes to spare, a surprise guest emerged in the form of a common pest.
---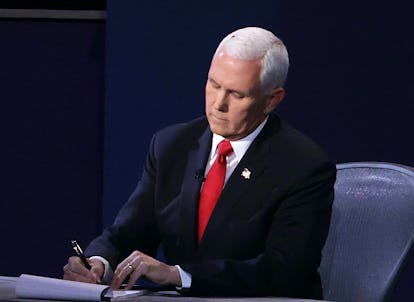 Alex Wong/Getty Images
No matter what turn it took, Wednesday night's vice presidential debate between Kamala Harris and Mike Pence was always going to seem professional in comparison to last week's face-off between Joe Biden and Donald Trump. And for the most part, it was. For starters, viewers could actually decipher what Harris, Pence and the moderator, USA Today's Susan Page, were saying. The plexiglass between the two candidates may have been almost entirely useless, but the risk of transmission was nowhere near as high as if they, like their running mates, had yelled.
Perhaps most importantly, Pence and Harris actually talked policy. And for the majority of the evening, it seemed indisputable that Harris came out on top. That's not to say her insistence that Biden didn't want to ban fracking wasn't painful to many in her own party. Though that wasn't nearly as painful as Pence's reaction when asked about the murder of Breonna Taylor—a topic that naturally led to the centuries-long phenomenon of police killing Black Americans. "This presumption that you hear consistently from Joe Biden and Kamala Harris, that America is systemically racist—that as Joe Biden said, he believes that America has an implicit bias against minorities—is a great insult," Pence stated.
And then, at the precise moment that some cheered and others bristled, a new star was born. For the next two minutes, a common, relatively large housefly rested atop Pence's meticulously firm white hair. No matter what side viewers were on, the unexpected visitor was more than welcome; after nearly 90 minutes, it was the closest they got to a commercial break. And the anti-Pence viewers in particular couldn't help but delight. Here, some of the best reactions to unfold on Twitter within minutes.
https://twitter.com/alifarhat79/status/1314033937019269120/
Related: The Best Tweets of Despair About the First Trump-Biden Debate