In Phantom Thread Star Vicky Krieps, Daniel Day-Lewis May Have Finally Met His Match in His Last Role
It's a shame the 35-year-old Luxembourgish newcomer won't be able to face off with her iconic costar for films to come.
---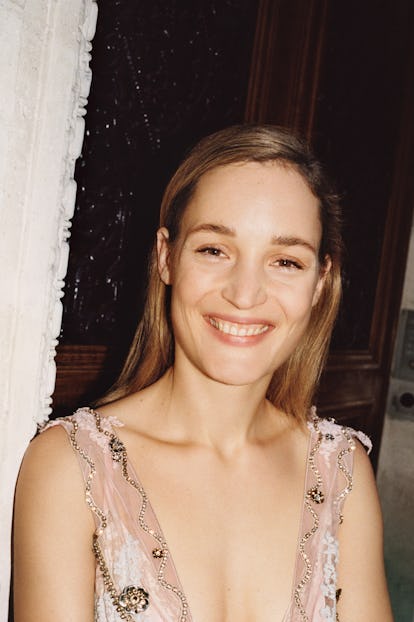 Photograph by Angelo Pennetta, Styled by Charlotte Collet; hair by Christian Eberhard at Management Artists; makeup by Christine Corbel for NARS Cosmetics at Management Artists; Production by MichaEl Lacomblez at LOUIS2; photography assistants: Roberty Willey and Peter Keyser; fashion assistant: Laetitia Leporcq; Special thanks to Grand Pigalle Hotel
When the actress Vicky Krieps got a call from her agent saying a director to whom she'd submitted an audition tape wanted to give her a ring, she responded at first with nonchalance. She had glossed over the names mentioned in her manager's email, and, because the audition sides were simply a block of text ("not a script," she emphasized), she even assumed it to be a student film. But the director, apparently, loved her tape, and wanted to talk.
"I said, 'Yeah, yeah, of course,'" Krieps recalled. "I hear silence on the other end, and I was wondering why, and then [my manager] said, 'Do you have any idea who we are talking about?'" They were talking about Paul Thomas Anderson, in fact, and the film, it turned out, was his much-anticipated new drama Phantom Thread. And during that same call, Krieps learned Daniel Day-Lewis, who won an Oscar for his performance in Anderson's 2007 film There Will Be Blood, had already signed on to play the film's subject, the fictional London couturier Reynolds Woodcock.
Phantom Thread is the first English-language starring role for the 35-year-old career actress. Born in Luxembourg, her resume comprises largely French- and German-language titles as well as supporting roles in films like A Most Wanted Man and Hanna. But Anderson has demonstrated a knack for setting such actresses free of obscurity; think, for example, of Katherine Waterston, whom he cast in Inherent Vice in 2014 and who has since gone on to star in Alien: Covenant and Fantastic Beasts and Where to Find Them. (When we spoke in November, Krieps, for her part, was just finishing up shooting Das Boot, an upcoming World War II-set miniseries in which she appears as Lizzy Caplan's romantic partner.)
Krieps had seen Phantom Thread twice already by that time—"but I think I still have to see it another five times to understand it," she added, laughing. "I knew it was philosophical," she said, "because what is love?"
In Phantom Thread, Krieps goes toe-to-toe with Day-Lewis as Alma, an ingenuous young waitress who becomes Woodcock's unlikely muse and romantic partner. Woodcock, it's alluded, has burned through a succession of such young women—but in Alma, he seems to have met his match, for the defiant young woman refuses to be simply his passing fancy. As the fate of the House of Woodcock and that of Reynolds and Alma's relationship become increasingly intertwined, she discovers an unexpected, decidedly kinky means of maintaining his interest. "I want you flat on your back," she says late in the film. "Helpless, tender, open."
As a result, Phantom Thread also offers a powerful discussion of gender and class in the mid-20th century. In order to become Woodcock's muse, for example, Alma must also submit to his aesthetic preferences. "You have no breasts," Woodcock says to her during a fitting in one early scene. She apologizes. "I know," she says. "No, no, you're perfect. It's my job to give you some," he assures her. He pauses. "If I choose."
For the society dressmaker Woodcock, who Krieps describe as "a monster," the thrill lies not just in his ability to transform a woman's appearance, but also in the range of choice in that transformation. But for Alma, survival is a matter not only of obeying the gendered logic of this system—she is caretaker, model, emotional support—but also subverting its reasoning to her own ends. She talks back—"Maybe I like my own taste," she snaps at him—and Krieps constructed her to "be almost free of gender."
"In some ways, she's very feminine and she's very sensitive and, you know, clichés of women," she said. "And on the other hand, she's not completely—she's somewhere in between."
Early on during the making of the film, many assumed Phantom Thread to be based on the life of British designer Charles James. But to prepare for the role, Day-Lewis studied the designs of Cristóbal Balenciaga, recreating a dress with his wife, the director Rebecca Miller, as a model. Woodcock embroiders secret messages and charms into the linings of his garments, as Alexander McQueen was rumored to have done for a jacket he made for Prince Charles (though his was reportedly a more profane memento). Krieps researched the house of Christian Dior (and, indeed, Woodcock's fashion show bears a marked resemblance to Raf Simons's Fall 2012 couture debut at Dior as depicted in the documentary Dior and I). Day-Lewis, whose notoriously method approach his roles is legend in Hollywood, was exacting when it came to the details of Woodcock's own wardrobe, his home, and even the looks he designed; the role, Krieps explained, "would not have allowed the person Daniel Day-Lewis to be seen."
But Krieps held her own opposite Day-Lewis, and, at times, Alma even emerges victorious from their confrontations, including maybe the movie's most memorable scene, a bitter argument over dinner. Much of Phantom Thread's drama lies in taut exchanges between Woodcock and Alma; in one breakfast scene, she dances along the fringes of his nerves by buttering her toast and stirring her tea just loud enough to grate on the highly irritable Woodcock's patience. "Whenever I could annoy, I was happy to," she told W at a screening of the film this week.
"What I do is similar to method acting, in a way," Krieps explained to me. "Very early, I start to think out the character. … I just dived into the world of Alma, and in diving into the world of Alma, suddenly, I was a part of the world of Reynolds. And it's only not that I think about it that I realize that it was all part of a very intense, very intelligent work of Daniel Day-Lewis." She may not have reconstructed a Balenciaga dress, but she did study sewing as well as vintage photographs, letters, and postcards dating to the mid-20th century, especially those of her grandparents and great-grandparents, as well as the poems of Emily Dickinson. ("I don't even know why," she said. "It came to me.")
Krieps is reluctant to use the word "naïve" to describe her Phantom Thread character, and yet there's something beguilingly artless about her approach and performance, right down to her lack of pretense about the circumstances of her audition. ("In that moment, I was kind of like Alma," she said, musing that this might have been why Anderson saw her for the role.) She tried to come to the project as "empty and new and curious" as possible—"almost like a meditation, you know?" she said. She avoided looking up her Oscar-winning co-star online; like a bride before her wedding day, she even tried to avoid wearing Alma's couture gowns, or, if she had to try them on, to avoid catching a glimpse of herself in the mirror, before a pivotal scene midway through the film when she poses as the model for the new House of Woodcock lookbook.
So when she did finally slip into the dresses—a gown in Woodcock's trademark lilac and embellished with lace dating to the 16th century was her favorite—it came as something of a relief: "I didn't know if it was going to happen. I had no idea if I would be able to be this person in this kind of dress and in this kind of fashion world," she said. "It went very fast, but I could just see how I could trust the dress." The scene was a breakthrough for Krieps, who became more confident in her work from that point forward. "It's the first time I really could release some tension," she said, "and I was like, 'Ouf, oh, my god, okay—I think, somehow, this is going to work.'"
Five of Daniel Day-Lewis's most transformative performances: