Victoria Beckham Says Wearing Color Instead of Her Usual Black "Feels Fresh"
She's opening up about her new approach to fashion.
---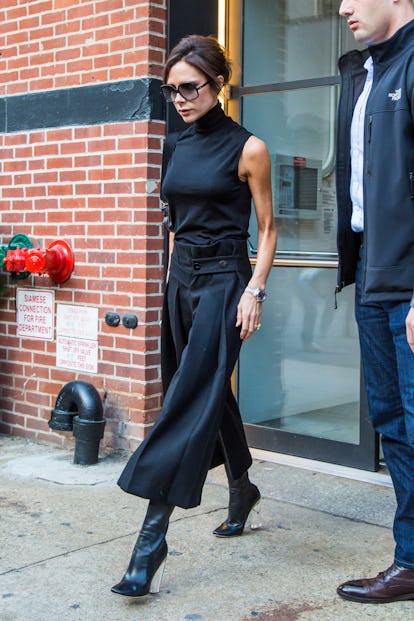 Alessio Botticelli
When you think of Victoria Beckham, you probably picture her wearing a form-fitting black dress and a scowl. And although the artist formerly known as Posh Spice undoubtedly still appreciates the power of a good LBD, she has since branched out from her alter ego's monochrome sense of style into the world of bright colors and playful prints.
In an interview with The Telegraph on Tuesday night at Mark's Club in London, where she presented the Spring 2018 collection of her Victoria Victoria Beckham line, the designer and former pop star discussed her new approach to fashion. "I used to wear a lot of black, so I would never understand why certain people used to say, 'You need to wear color.' I just thought black was great but now I really enjoy wearing color. When I see pictures of myself in color it feels fresh and more useful," she said, referring to the youth-bestowing powers of a bright hue. "I'm in a great position because I can see pictures of myself and learn from what I see."
Beckham, 43, who has recently posted pictures of herself on Instagram wearing out-of-character pieces like bright red and orange dresses, burnt orange wide-leg trousers and a white shirtdress covered in wavy navy stripes, said that she's switched up her wardrobe as a response to the world around her. "There's enough bad stuff going on in the world so we need to look at clothes and feel energized and happy," she told the British newspaper. And husband David Beckham apparently approves of his wife's new look. "A few months ago I was wearing blue trousers and a simple red jumper. David never really comments on pictures of me but he said, 'Those pictures look really great, it's great to see you in color.'"
But Beckham hasn't only infused her new love of color into her closet. Her latest Victoria Victoria Beckham collection is also full of splashy prints and tropical colors: Tuesday night's presentation featured a pink pinstriped suit, a bright turquoise turtleneck with matching pants, bubblegum pink pajama-inspired silk separates covered in amoeba-like splotches, a mustard yellow suede minidress, and a bright orange silk jumpsuit.
A Celebration of Victoria Beckham's Signature Beauty Through the Years
Beckham wears her brunette pixie with tousled bags and a light contour on the cheekbones with a nude glossy lip at the Spice Girls launch book "Forever Spice" event in London. (1999)

Photo by Getty.
Wearing her hair swept over in voluminous, tousled waves with a nude glossy lip, Beckham attends the Elle Style Awards in London. (2000)

Photo by Getty.
Beckham wears her tousled, highlighted locks in a loose, half up with with luminous skin at the Rock & Republic Spring 2005 fashion show.

Photo by Getty.
Beckham goes blonde with an ultra sleek pixie cut paired with a taupe smoky eye at the Graduate Fashion Week photo call. (2007)

Photo by Getty.
Beckham returns to her brunette locks wearing an asymmetrical bob with a brown smoky eye and a nude glossy lip. (2007)

Mike Marsland
Wearing her sleek pixie cut with an exaggerated dark smoky eye, Beckham arrives at the 17th Annual Elton John Aids Foundation Party. (2009)

Photo by Getty.
At the British Fashion Awards in 2010, Beckham wears a naturally tousled up do with a taupe smoky eye and a luminous skin.

Photo by Getty.
Victoria Beckham looked sleek with lots of black eyeliner and a teased up do at the British Fashion Awards 2011.

Photo by Getty.
Beckham let pieces loose out of a slightly voluminous pony tail at the Vanity Fair and Chrysler celebration of The Eva Longoria Foundation. (2013)

Photo by Getty.
Attending the 5th Global Gift Gala, Beckham wears her shiny, polished curls side-parted with a dark taupe eyeshadow and a matte nude lip.

Photo by Getty.
Attending the British Fashion Awards in 2015, Beckham wears an elegant up do with loose pieces framing her face, full brows and a grey smoky eye.

Photo by Getty.
Wearing her asymmetrical, long bob in tousled curls with a dark grey smokey eye, the fashion designer attends the launch of "Vogue: Voice Of A Century"book event. (2017)

Photo by Getty.
Watch: Nicole Kidman, James Franco, and Milo Ventimiglia Sing Spice Girls "Wannabe"