Victoria Beckham: If I Was as "Miserable" as I Look, I Wouldn't Still Be Married to David Beckham
"David and I have a lot of fun together."
---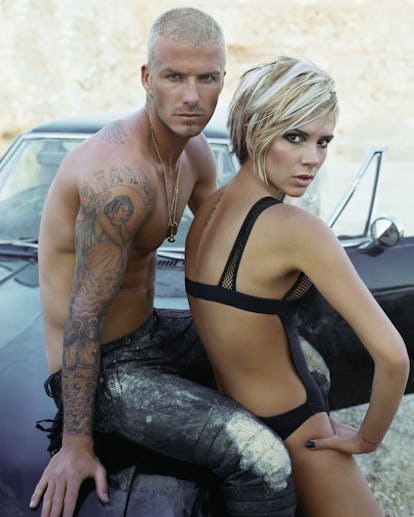 Victoria Beckham's famous fashionable frown has spanned decades, continents, and infinite red carpets, but don't be fooled—it's all an elaborate facade.
In a new interview with Vogue Netherlands, Beckham revealed that her oft-sullen outward expression is actually the complete opposite of the Beckham household's general mood. "David and I have a lot of fun together," she said. "If I really was as miserable as I look in some of those paparazzi pictures, my children wouldn't be as happy as they are. And I certainly wouldn't be married anymore."
The former Spice Girl's secret to a blissful marriage and family life all comes down to balance. She explained her daily routine to the magazine: "I go for a three-mile run every morning and I work out for an hour with a PT, which gives me just enough time to get to the kitchen to puree Romeo's avocados. His toast jumps out of the toaster the minute he comes down for breakfast."
Not part of this precise balance (and flawless early-morning timing), however, is anxiety about aging. "I'm not perfect, [I] don't have to look like I'm 25. I'm 43, that sounds worse than it feels," Beckham said. "I focus on what I've accomplished and I feel blessed."
Victoria Beckham has addressed her seemingly moody expressions in the past. Most recently, she stepped out in a T-shirt emblazoned with the phrase, "Fashion stole my smile" and explained the sartorial choice during an appearance on The Late Late Show in March. "This is me just sort of poking fun at myself," she told host James Corden. "The question I get asked almost all the time is 'Why don't you smile?' People think I'm so, you know, damn miserable. So this is me just having a bit of fun, laughing at myself." Touché.
Related: Victoria Beckham Just Made Carpool Karaoke with James Corden a Little Posher
A Celebration of Victoria Beckham's Signature Beauty Through the Years
Beckham wears her brunette pixie with tousled bags and a light contour on the cheekbones with a nude glossy lip at the Spice Girls launch book "Forever Spice" event in London. (1999)

Photo by Getty.
Wearing her hair swept over in voluminous, tousled waves with a nude glossy lip, Beckham attends the Elle Style Awards in London. (2000)

Photo by Getty.
Beckham wears her tousled, highlighted locks in a loose, half up with with luminous skin at the Rock & Republic Spring 2005 fashion show.

Photo by Getty.
Beckham goes blonde with an ultra sleek pixie cut paired with a taupe smoky eye at the Graduate Fashion Week photo call. (2007)

Photo by Getty.
Beckham returns to her brunette locks wearing an asymmetrical bob with a brown smoky eye and a nude glossy lip. (2007)

Mike Marsland
Wearing her sleek pixie cut with an exaggerated dark smoky eye, Beckham arrives at the 17th Annual Elton John Aids Foundation Party. (2009)

Photo by Getty.
At the British Fashion Awards in 2010, Beckham wears a naturally tousled up do with a taupe smoky eye and a luminous skin.

Photo by Getty.
Victoria Beckham looked sleek with lots of black eyeliner and a teased up do at the British Fashion Awards 2011.

Photo by Getty.
Beckham let pieces loose out of a slightly voluminous pony tail at the Vanity Fair and Chrysler celebration of The Eva Longoria Foundation. (2013)

Photo by Getty.
Attending the 5th Global Gift Gala, Beckham wears her shiny, polished curls side-parted with a dark taupe eyeshadow and a matte nude lip.

Photo by Getty.
Attending the British Fashion Awards in 2015, Beckham wears an elegant up do with loose pieces framing her face, full brows and a grey smoky eye.

Photo by Getty.
Wearing her asymmetrical, long bob in tousled curls with a dark grey smokey eye, the fashion designer attends the launch of "Vogue: Voice Of A Century"book event. (2017)

Photo by Getty.
Jourdan Dunn Thinks Victoria Beckham Is Fashion Royalty: