Victoria Beckham's New Reebok Collection Is Inspired by the '90s and Shaquille O'Neal
It's available for presale on July 26.
---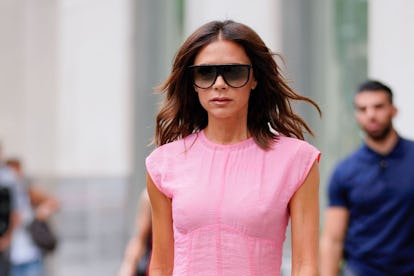 Gotham/Getty Images
When designing her first collection with Reebok, Victoria Beckham looked to the decade that launched her career. But rather than taking cues from her own '90s alter ego, Posh Spice, drew unexpected inspiration from another icon of the times: Shaquille O'Neal. On Friday, a few months after briefly teasing the collab, Beckham and Reebok unveiled the entire collection. It will be available for presale on both Beckham and Reebok's websites beginning July 26.
The unisex line includes streetwear-inspired T-shirts, pullover hooded sweatshirts, and socks, all of which keep to a basic color scheme of black and white, with the occasional bright red accent, though a press release notes that a limited-edition "sunset orange colorway" will be available exclusively on Beckham's website. In keeping with Beckham's signature minimalist style, all of the tees and hoodies feature almost the exact same design, but in different color combinations: Shaq's signature "dunkman" logo on the front, and his last name and jersey number (34) on the back, with a list of his impressive career achievements printed below. The hoodies differ slightly, with the dunkman logo moved to the chest pocket area and "Reebok" printed down the right sleeve. The socks are also printed with the dunkman, the number 34, and the Reebok name, as well as a pair of "VB" logos on the backs of the ankles.
"This capsule really began for me with a visit to the Reebok archives in Boston, back in November. When I think of Reebok, I think of the '90s and basketball—and therefore, of course, I think of Shaq! For me, this capsule really represents a celebration of that era, Reebok and Shaq's shared history in basketball, and the great heritage pieces I discovered in those archives," Beckham said in a statement. "The unisex approach and the nods to streetwear that are present in this capsule are important elements that I will take through to the full collection I am currently working on."
See Beckham model some of her pieces and step into Shaq's shoes on the basketball court in Reebok's promo video for the collection, below.
This, of course, is not the first team-up of a fashion icon and NBA legend this month. Nike and Vogue meanwhile released a special Air Jordan inspired by Anna Wintour.
Related: Victoria and David Beckham's Photos From Family Vacation in Croatia Are Envy-Inducing