Victoria Beckham Opens Up on Dover Street
The fashion designer offers a tour of her new London shop
---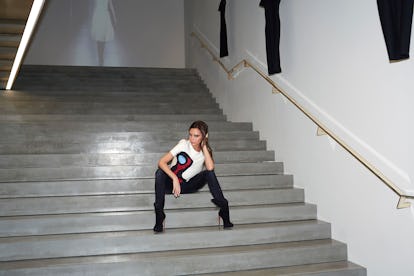 Although Victoria Beckham shows her collections during New York Fashion Week, she's a British designer at heart. And so, the former Spice Girl took to London's Mayfair, already home to Comme des Garçons's eclectic fashion fortress Dover Street Market, for her first boutique. "I'm so excited for us to be here!" the designer said. "I have loved the street for a long time." The 6,000-square-foot store—the first retail space designed by Iranian-born architect Farshid Moussavi, who is largely known for building colossal museums like Museum of Contemporary Art Cleveland—is perfectly at home on the fashion-forward street. It's bright and airy, punctuated by monumental, industrial details, such as a central concrete staircase. "I really wanted the store to feel like me, I want people to be able to walk in an immediately know that this is a Victoria Beckham store," Beckham explained. "The perfect way for me to do this was to bring elements from my collections, like the hexagonal hanging chains which use the blonde gold hardware I have always used in my accessories and that people are familiar with. I think a lot of my design handwriting translated seamlessly into various elements of the store design." Case in point: the latticed ceiling, which echoes the sweaters in Beckham's Fall 2013 collection, a wall-sized screen curated by Beckhamn herself, and a minimalist window display. Even the scent is posh, with Diptyque's Feu de Bois candles as the aroma of choice.
There is also, perhaps inevitably, something light and girly about it all. "Shopping should be fun!" the designer declared. "The store is very impactful, but I also wanted it to feel welcoming for everyone… and I feel like I've achieved that."
Victoria Beckham is now open at 36 Dover Street.
Photos: Victoria Beckham Opens Up on Dover Street
Victoria Beckham in her new Dover Street store. Courtesy of brand.