Victoria's Secret Issues an Apology for Anti-Trans Comments
The exec who gave a somewhat scattered Vogue interview has released an apology.
---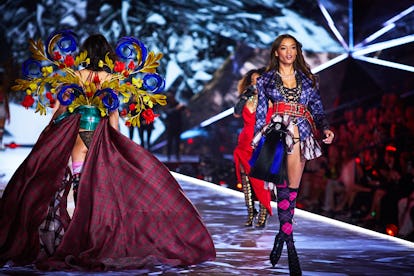 AMBRA VERNUCCIO
Yesterday, we reported on an interview between Vogue and Ed Razek, the chief marketing officer of Victoria's Secret's parent company and "the man behind the show" when it comes to the Victoria's Secret Fashion Show. Razek told the fashion outlet that although the company has considered hiring trans and plus-size models for the annual event, those aspects of diversity aren't a priority. "Shouldn't you have transsexuals in the show? No. No, I don't think we should," he said at the time, adding, "Well, why not? Because the show is a fantasy. It's a 42-minute entertainment special. That's what it is. It is the only one of its kind in the world, and any other fashion brand in the world would take it in a minute, including the competitors that are carping at us. And they carp at us because we're the leader.… We attempted to do a television special for plus-sizes [in 2000]. No one had any interest in it, still don't." (Please note that "transsexual" is a direct quote from Razek; the terms "trans" and "transgender" are more commonly preferred by the community.)
Following backlash online, including a statement from the trans model and actress Andreja Pejic, Victoria's Secret has released a statement from Razek apologizing for how his comments "came across." On Twitter, the brand posted the following message: "My remark regarding the inclusion of transgender models in the Victoria's Secret Fashion Show came across as insensitive. I apologize. To be clear, we absolutely would cast a transgender model for the show. We've had transgender models come to castings.… And like many others, they didn't make it.… But it was never about gender. I admire and respect their journey to embrace who they really are."
As for his dismissal of the plus-size lingerie market…no response just yet.
Related: Victoria's Secret Exec Explains Why They Don't Use Trans or Plus-Size Models
Victoria's Secret Fashion Show 2018: See Adriana Lima, Kendall Jenner, Bella Hadid, And All the Other Models That Hit the Runway
Kendall Jenner on the runway at the 2018 Victoria Secret Fashion Show on November 8th, 2018 in New York City. Photograph by Ambra Vernuccio for W Magazine.

AMBRA VERNUCCIO
Bella Hadid on the runway at the 2018 Victoria Secret Fashion Show on November 8th, 2018 in New York City. Photograph by Ambra Vernuccio for W Magazine.

AMBRA VERNUCCIO
On the runway at the 2018 Victoria Secret Fashion Show on November 8th, 2018 in New York City. Photograph by Ambra Vernuccio for W Magazine.

AMBRA VERNUCCIO
Kendall Jenner on the runway at the 2018 Victoria Secret Fashion Show on November 8th, 2018 in New York City. Photograph by Ambra Vernuccio for W Magazine.

AMBRA VERNUCCIO
On the runway at the 2018 Victoria Secret Fashion Show on November 8th, 2018 in New York City. Photograph by Ambra Vernuccio for W Magazine.

AMBRA VERNUCCIO
On the runway at the 2018 Victoria Secret Fashion Show on November 8th, 2018 in New York City. Photograph by Ambra Vernuccio for W Magazine.

AMBRA VERNUCCIO
Winnie Harlow on the runway at the 2018 Victoria Secret Fashion Show on November 8th, 2018 in New York City. Photograph by Ambra Vernuccio for W Magazine.

AMBRA VERNUCCIO
On the runway at the 2018 Victoria Secret Fashion Show on November 8th, 2018 in New York City. Photograph by Ambra Vernuccio for W Magazine.

AMBRA VERNUCCIO
Devon Windsor on the runway at the 2018 Victoria Secret Fashion Show on November 8th, 2018 in New York City. Photograph by Ambra Vernuccio for W Magazine.

AMBRA VERNUCCIO
On the runway at the 2018 Victoria Secret Fashion Show on November 8th, 2018 in New York City. Photograph by Ambra Vernuccio for W Magazine.

AMBRA VERNUCCIO
On the runway at the 2018 Victoria Secret Fashion Show on November 8th, 2018 in New York City. Photograph by Ambra Vernuccio for W Magazine.

AMBRA VERNUCCIO
On the runway at the 2018 Victoria Secret Fashion Show on November 8th, 2018 in New York City. Photograph by Ambra Vernuccio for W Magazine.

AMBRA VERNUCCIO
On the runway at the 2018 Victoria Secret Fashion Show on November 8th, 2018 in New York City. Photograph by Ambra Vernuccio for W Magazine.

AMBRA VERNUCCIO
On the runway at the 2018 Victoria Secret Fashion Show on November 8th, 2018 in New York City. Photograph by Ambra Vernuccio for W Magazine.

AMBRA VERNUCCIO
On the runway at the 2018 Victoria Secret Fashion Show on November 8th, 2018 in New York City. Photograph by Ambra Vernuccio for W Magazine.

AMBRA VERNUCCIO
On the runway at the 2018 Victoria Secret Fashion Show on November 8th, 2018 in New York City. Photograph by Ambra Vernuccio for W Magazine.

AMBRA VERNUCCIO
Gigi Hadid on the runway at the 2018 Victoria Secret Fashion Show on November 8th, 2018 in New York City. Photograph by Ambra Vernuccio for W Magazine.

AMBRA VERNUCCIO
On the runway at the 2018 Victoria Secret Fashion Show on November 8th, 2018 in New York City. Photograph by Ambra Vernuccio for W Magazine.

AMBRA VERNUCCIO
On the runway at the 2018 Victoria Secret Fashion Show on November 8th, 2018 in New York City. Photograph by Ambra Vernuccio for W Magazine.

AMBRA VERNUCCIO
On the runway at the 2018 Victoria Secret Fashion Show on November 8th, 2018 in New York City. Photograph by Ambra Vernuccio for W Magazine.

Ambra Vernuccio
On the runway at the 2018 Victoria Secret Fashion Show on November 8th, 2018 in New York City. Photograph by Ambra Vernuccio for W Magazine.

AMBRA VERNUCCIO
On the runway at the 2018 Victoria Secret Fashion Show on November 8th, 2018 in New York City. Photograph by Ambra Vernuccio for W Magazine.

AMBRA VERNUCCIO
On the runway at the 2018 Victoria Secret Fashion Show on November 8th, 2018 in New York City. Photograph by Ambra Vernuccio for W Magazine.

AMBRA VERNUCCIO
On the runway at the 2018 Victoria Secret Fashion Show on November 8th, 2018 in New York City. Photograph by Ambra Vernuccio for W Magazine.

AMBRA VERNUCCIO
On the runway at the 2018 Victoria Secret Fashion Show on November 8th, 2018 in New York City. Photograph by Ambra Vernuccio for W Magazine.

AMBRA VERNUCCIO
On the runway at the 2018 Victoria Secret Fashion Show on November 8th, 2018 in New York City. Photograph by Ambra Vernuccio for W Magazine.

AMBRA VERNUCCIO
On the runway at the 2018 Victoria Secret Fashion Show on November 8th, 2018 in New York City. Photograph by Ambra Vernuccio for W Magazine.

AMBRA VERNUCCIO
On the runway at the 2018 Victoria Secret Fashion Show on November 8th, 2018 in New York City. Photograph by Ambra Vernuccio for W Magazine.

AMBRA VERNUCCIO
On the runway at the 2018 Victoria Secret Fashion Show on November 8th, 2018 in New York City. Photograph by Ambra Vernuccio for W Magazine.

AMBRA VERNUCCIO
On the runway at the 2018 Victoria Secret Fashion Show on November 8th, 2018 in New York City. Photograph by Ambra Vernuccio for W Magazine.

AMBRA VERNUCCIO