Victoria's Secret Exec Explains Why They Don't Use Trans or Plus-Size Models
"Because the show is a fantasy."
---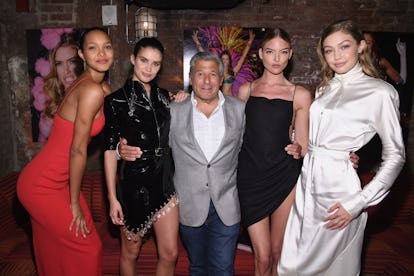 Dimitrios Kambouris
The Victoria's Secret runway may not be the most important in high fashion, but given the fact it's the only fashion show regularly broadcast around the world, it may be the most important to the popular culture at large. The company has found a formula it finds winning with its parade of taut and toned glamazons sauntering down the runway in over-the-top but barely there ensembles even as some of the oldest legacy brands in fashion have begun to include more models of different shapes, sizes, gender identities, and ages down their runways. Changing cultural mores and an increased recognition of the power of representation coupled with sharply declining ratings for the VS extravaganza has led to a steady drumbeat online asking why the lingerie chain doesn't include plus-size or transgender models in its productions.
The company has never directly responded and instead just kept doing what it's always done. Well, in an interview with Vogue, Ed Razek, the chief marketing officer of VS's parent company and the man behind the show, finally explained why you won't see any plus-size or transgender models as long as he has a job.
At first, Razek notes that he has thought about the issues before, telling Vogue, "If you're asking if we've considered putting a transgender model in the show or looked at putting a plus-size model in the show, we have."
But later, when asked whether he sees any changes in what the "Instagram generation" desires to see on the VS runway, Razek first says he stopped using Instagram months ago before going on to list all the criticism of the brand he sees online.
"Shouldn't you have transsexuals in the show? No. No, I don't think we should," he says. "Well, why not? Because the show is a fantasy. It's a 42-minute entertainment special. That's what it is. It is the only one of its kind in the world, and any other fashion brand in the world would take it in a minute, including the competitors that are carping at us. And they carp at us because we're the leader."
(According to GLAAD, while some people do identify as transexual, transgender or trans are considered the preferred umbrella terms for the community.)
"We attempted to do a television special for plus sizes [in 2000]. No one had any interest in it. Still don't," he also says bluntly.
Razek spends much of the rest of the long interview pointing to the unparalleled cultural success of the show, the work Victoria's Secret does behind the scenes that he thinks doesn't get enough attention, and taking swipes at competitive upstarts who do employ more inclusive casting, particularly Rihanna's Savage x Fenty. ("Everybody keeps talking about Rihanna's show. If we had done Rihanna's show, we would be accused of pandering without question.")
Undoubtedly, because of its position in the culture, the VS show does attract a fair amount of criticism. But in this Trumpian age, those at the top complaining about online criticism from the bottom is a bit, well, tiring. If you look hard enough, you'll find hatred and criticism of just about anything online. There's an entire movement dedicated to hating the humble summer BBQ side dish of coleslaw, after all. You better believe people have found the time to criticize Victoria and her televised angels. There's going to be little sympathy for a multinational brand simply because its marketing efforts aren't beloved by all.
Of course, the fact that Victoria's Secret is a pop cultural leader is the exact reason why so many believe it has a duty to at least attempt to get with the times and show some support for diversity. And, hopefully, to do it in a way that isn't about tokenism, pandering, or simply marketing. After all, not only do all different types of women buy lingerie, but many different women, plus-size and trans included, have successful modeling careers with dedicated fan bases who very much would like to see those models reach what they perceive to be the pinnacle of the industry. To imply that using a trans model or a plus-size model would ruin a "fantasy" and then to expect to get no criticism for it is its own kind of twisted fantasy.
One such model, Andreja Pejic, responded to the interview on Instagram: