Victoria's Secret Has Been Sold to a New Owner
Its parent company has sold the brand, and its CEO has resigned.
---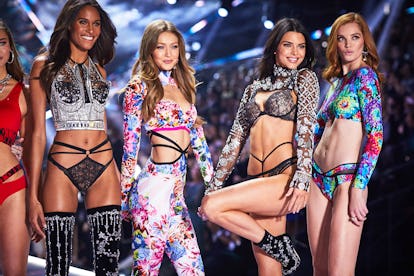 Ambra Vernuccio
After nearly a year and a half of turmoil, it seems that Victoria's Secret as we knew it has finally met its downfall. Late on Wednesday, the New York Times reported that the company plans to go private, and will soon be sold to an equity firm. Less than 12 hours later, even more major news broke: Leslie Wexner will step down from his post as CEO of Victoria's Secret's longtime parent company, L Brands. Meanwhile, L Brands confirmed that it is indeed selling a majority stake in the brand, which Sycamore Partners will purchase for $525 million.
In many ways, it's something of an accomplishment that Wexner and the company managed to hold on for this long. Victoria's Secret has been under intense scrutiny since November 2018, when Ed Razek, then chief marketing officer of L Brands, gave an unabashedly discriminatory interview about why Victoria's Secret doesn't work with "transexuals" or plus-size models. Shortly afterward, ratings of the company's longtime crown jewel, the Victoria's Secret Fashion Show, plunged to a record low.
Razek, who joined the company in 1983, eventually retired in August 2019. At that point, attention had already shifted to another scandal: the brand's ties to the late sex offender Jeffrey Epstein, who used to pose as a Victoria's Secret scout to prey on women as young as 14 years old. What's more, Epstein had quite the history with Wexner. Wexner employed Epstein as his personal adviser, allowing him to make hires and borrow significant amounts of money. He also may have given Epstein his Upper East Side townhouse, where much of the abuse allegedly took place. (The FBI and NYPD raided it in July, and discovered hundreds of nude photos of underage girls.)
All that has opened up the opportunity for former allies like Karlie Kloss, a one-time Victoria's Secret Angel, to candidly criticize the brand, which was attempting (and failing) to rethink its traditional Angels ethos. (For the first time in more than two decades, there was no Victoria's Secret Fashion Show in 2019.)
A Look Back at the Earliest Victoria's Secret Fashion Shows
Beverly Peele at the first Victoria's Secret Fashion Show, inside the Plaza Hotel in New York, 1995.

Getty Images
Natane Adcock at the first Victoria's Secret Fashion Show, inside the Plaza Hotel in New York, 1995.

Getty Images
Beverly Peele backstage at the first Victoria's Secret Fashion Show, inside the Plaza Hotel in New York, 1995.

Getty Images
Angelika Kallio at the first Victoria's Secret Fashion Show, inside the Plaza Hotel in New York, 1995.

Getty Images
Tyra Banks backstage at the 1996 Victoria's Secret Fashion Show, inside the Plaza Hotel in New York.

Getty Images
Heidi Klum backstage at the 1997 Victoria's Secret Fashion Show, inside the Plaza Hotel in New York.

Getty Images
Tyra Banks backstage at the 1996 Victoria's Secret Fashion Show, inside the Plaza Hotel in New York.

Richard Corkery/NY Daily News Archive/Getty Images
Stephanie Seymour at the 1996 Victoria's Secret Valentine Fashion Show, inside the Plaza Hotel in New York.

Getty Images
Naomi Campbell backstage at the 1998 Victoria's Secret Pre-Valentine's Day Fashion Show, with Jeff Probst, inside the Plaza Hotel in New York.

Getty Images
Claudia Schiffer backstage at the 1997 Victoria's Secret Fashion Show, inside the Plaza Hotel in New York.

Getty Images
Rebecca Romijn-Stamos at the 1997 Victoria's Secret Fashion Show, inside the Plaza Hotel in New York.

Getty Images
Naomi Campbell at the 1997 Victoria's Secret Fashion Show, inside the Plaza Hotel in New York.

Getty Images
Georgianna Robertson in a Valentine's Day ensemble at the 1997 Victoria's Secret Spring Revelations Fashion Show in New York.

Getty Images
Naomi Campbell at the 1997 Victoria's Secret Spring Revelations Fashion Show in New York.

Getty Images
A model wearing a black scuba-diving femme fatale corset at the 1997 Victoria's Secret Spring Revelations Fashion Show, inside the Plaza Hotel in New York.

Getty Images
Naomi Campbell on the runway of the 1998 Victoria's Secret Fashion Show at the Plaza Hotel in New York.

Getty Images
A model wearing a silk handkerchief and a satin thong at the 1999 Victoria's Secret Fashion Show in New York.

Getty Images
Heidi Klum, who wore that year's $10 million "millenium bra," and Karen Mulder backstage at the 1999 Victoria's Secret Fashion Show.

Getty Images
Gisele Bündchen at the 1999 Victoria Secret's Fashion Show in New York.

Getty Images
Tyra Banks at the 1999 Victoria's Secret Fashion Show in New York.

Getty Images
Stephanie Seymour at the 1999 Victoria's Secret Fashion Show in New York.

Getty Images
Gisele Bündchen at the 1999 Victoria's Secret Fashion Show in New York.

Getty Images
Heidi Klum in front of a Concorde jet after arriving for the 2000 Victoria's Secret Fashion Show and charity gala for amfAR during the Cannes Film Festival.

Getty Images
Adriana Lima at the 2000 Victoria's Secret Fashion Show and amfAR charity gala during the Cannes Film Festival.

Getty Images
Gisele Bündchen at the 2000 Victoria's Secret Fashion Show and amfAR charity gala during the Cannes Film Festival.

Getty Images
Alessandra Ambrosio backstage at the 2001 Victoria's Secret Fashion Show at Bryant Park in New York.

Getty Images
Karen Elson backstage at the 2001 Victoria's Secret Fashion Show fittings in New York.

Getty Images
Gisele Bündchen backstage at the 2002 Victoria's Secret Fashion Show, inside the Armory in New York.

Getty Images
When it comes to his own future, though, Wexner seems to remain optimistic. "Today feels very similar to the day that my aunt offered me a new start," the 82-year-old wrote in an email to employees on Thursday, February 20, referencing how he started L Brands with a $5,000 loan with his aunt. "Today is the beginning of an important new chapter in the evolution of the enterprise."
Related: Victoria's Secret Exec Explains Why They Don't Use Trans or Plus-Size Models