Victoria's Secret Fashion Show Ratings Plunge to Historic Low
More people watched an 'NCIS: Los Angeles' repeat last night.
---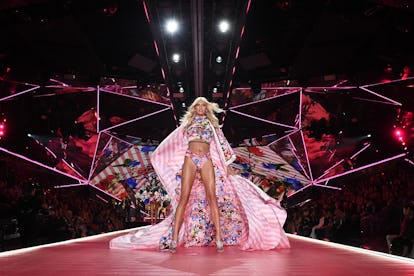 Dimitrios Kambouris
More people tuned into the 648th episode of The Simpsons last night than deigned to watch the 20th annual broadcast of the Victoria's Secret Fashion Show. Once a ratings' juggernaut, the show plunged to its lowest viewership ever amid controversial remarks from brand CMO Ed Razek, a changing broadcast landscape, and the shifting tastes of consumers.
According to early figures from TV by the Numbers, the Victoria's Secret show, broadcast at 10 p.m. on ABC, notched just a 0.9 rating within the the target demo of viewers between 18 and 49 years of age, and had a total viewing audience of 3.27 million. That's down from a 1.5 in the demographic and 4.98 million total viewers last year, and continues a steady decline in interest in the show. At its peak in 2001, 12.4 million tuned in.
This year's show may ultimately be remembered more for comments Razek made during an interview with Vogue before the event's taping than anything that actually happened on the relatively expected runway. Razek claimed that the reason the show didn't use either plus-size or transgender models is because the show represents a "fantasy." Those remarks were met with both uproar (including from Halsey, who had performed on the show and posted last night that she would donate to GLSEN), befuddlement, and criticism. In any event, apparently few people share the same fantasy as Razek, a 70-year-old straight white man, these days.
While Victoria's Secret still remains the lingerie industry leader in the United States, start-up brands like ThirdLove and Rihanna's Savage x Fenty have attracted attention thanks to their inclusive stance on model casting and fordelivering on comfort. They recognize too that when women do want fantasy, they want their fantasy, not some man's (the sex toys and handcuffs included in Rihanna's range certainly would not be seen in your local VS).
Notably, the show switched this year from CBS to ABC and aired on a Sunday night. That put it up against NBC's Sunday Night Football. Still, the show could barely hold its own against the remaining competition. A repeat of NCIS: Los Angeles aired directly opposite the special on CBS. While Victoria's Secret managed to garner slightly more eyeballs belonging to advertisers' preferred demo, the NCIS repeat still beat the show in total viewers by 1.2 million.
Related: Victoria's Secret CEO Jan Singer Has Reportedly Resigned