VICTORIA'S SECRET FASHION SHOW
Halsey Responds to Victoria's Secret's Transphobic Remarks on Instagram
The singer graciously took down Victoria's Secret's transphobic and size-exclusive remarks, without disparaging the models who walked the runway during the fashion show.
---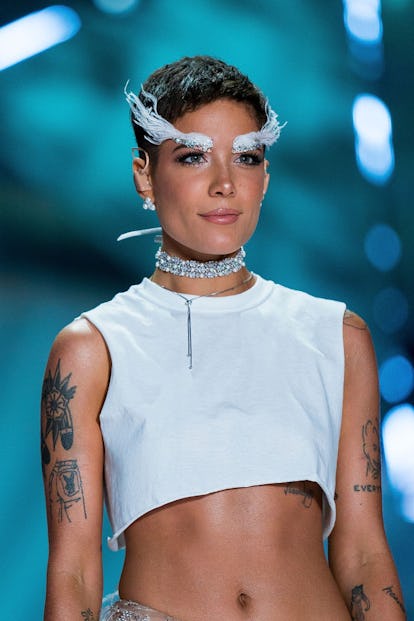 Michael Stewart/Getty Images
The 2018 Victoria's Secret Fashion Show, which was filmed last month and aired on December 2, should have been a fun Sunday-night fashion extravaganza for viewers to tune into from their couches, just like its previous iterations. The big difference this year—besides the million-dollar Swarovski-crystal fantasy-bra reveal, and a final walk from Adriana Lima—was that the brand has invited some major backlash from across the globe, and made enemies of some of its participants, including the performer Halsey.
Just after the show was filmed, the brand's chief marketing officer, Ed Razek, made derogatory comments about transgender and plus-size models. "Shouldn't you have transsexuals in the show? No. No, I don't think we should," Razek told Vogue. "Well, why not? Because the show is a fantasy. It's a 42-minute entertainment special. That's what it is. It is the only one of its kind in the world, and any other fashion brand in the world would take it in a minute, including the competitors that are carping at us. And they carp at us because we're the leader," he said. The statement provoked much-deserved backlash from trans models such as Andreja Pejic and Teddy Quinlivan, as well as allies and rival lingerie companies like ThirdLove, all of whom are now essentially boycotting the brand.
The lingerie company's nightmarish publicity moment might leave some fans to wonder why the models and performers—who included radio-friendly artists like Rita Ora, Bebe Rexha, Halsey, and Shawn Mendes—would promote the VS Fashion Show after the dust from Razek's tirade had barely even settled. Presumably, many of the VS Angels such as Kendall Jenner and Josephine Skriver could have been contractually obligated to share photos and videos from the night on their Instagram accounts, and the same might be said for the musical acts such as Rita Ora and Bebe Rexha (both of whom promoted their appearances at the show), but performers like Halsey and Mendes did not follow suit. Mendes noticeably did not promote the show or his performance at all on Instagram, while Halsey took a stab at the brand on social media.
The singer graciously took down Victoria's Secret's transphobic and size-exclusive remarks, without disparaging the models who walked the runway during the fashion show. In a text-based Instagram post, the pop star explained her position on the inflammatory comments from Razek, and why she was not happy with the company, noting that she had performed before that incendiary interview with Victoria's Secret's chief marketing officer went live. "After I filmed the performance, some comments were made regarding the show that I simply cannot ignore," Halsey wrote. "As a member of the LGBTQ+ community, I have no tolerance for a lack of inclusivity. Especially not one motivated by stereotype," she continued, before redirecting her fans' attention toward GLSEN, an organization that works to create safe spaces at schools for LGBTQ youth. "If you are a trans person reading this, and these comments have made you feel alienated or invalidated please know that you have allies. We stand in solidarity, and complete and total acceptance is the only 'fantasy' that I support," the singer concluded.
The post was then re-shared on Instagram Stories by none other than Bella Hadid, who tagged Halsey and added a heart emoji in solidarity.
Related: How ThirdLove Responded to That Incendiary Victoria's Secret Interview