How ThirdLove Responded to That Incendiary Victoria's Secret Interview
"We've gotten under their skin," Heidi Zak says in a new interview.
---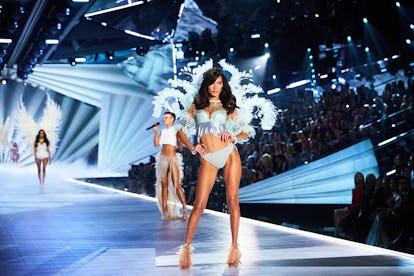 AMBRA VERNUCCIO
Victoria's Secret has made quite a few enemies—particularly among trans women and their allies—in the wake of the infamous interview Ed Razek, the mastermind of the Victoria's Secret Fashion Show, conducted with Vogue earlier this month. In the midst of his many incendiary comments objectifying women and essentially describing the brand and the fashion show as a male fantasy, Razek also seemed to single out the upstart lingerie brand ThirdLove—dismissively—as the counterpoint to Victoria's Secret.
"We're nobody's third love," Razek said. "We're their first love." This comment was widely—and fairly—interpreted as a jab at ThirdLove, which, as Vogue added in an aside in their interview, has gotten an investment from a former Victoria's Secret CEO. Ahead of the annual VS Fashion Show, model Robyn Lawley started a Change.org petition encouraging a boycott of the show due to its lack of size diversity, according to Teen Vogue; she partnered with ThirdLove, who donated a bra to the Support the Girls organization for every Instagram post hashtagged #weareallangels.
ThirdLove, whose advertisements you've probably heard on whatever podcasts you listen to, has built a brand out of supplying an impressive number of sizes and colors of bras for women of varied body types—an obvious counterpoint to the homogeneous "glamazon" look championed by Victoria's Secret—and ensuring they actually fit. (They even come in half-sizes, as the podcast advertisement is keen to note.) Heidi Zak, the chief executive of ThirdLove, has responded to Razek's comments in several interviews, and her brand has also chimed in on its social media channels. Here, a few of the best reactions: To Victoria's Secret, with all their love, ThirdLove.
On the discomfort of shopping at Victoria's Secret: "I came out and I took the pink striped bag and stuffed it in my bag because I was embarrassed I'd been shopping there," Zak told The New York Times. "Nothing about the brand—the aesthetic, the product—nothing really resonated with me."
On, you know, the bras themselves: "There were the angels and the feathers and the smell," Zak said at a Women's Wear Daily panel, according to Quartz. "And I found myself with a bra that didn't really fit."
On the fashion show: "Yeah…we're less about the 42-minute fantasy and more about the lifelong self-love journey," ThirdLove wrote on Twitter.
https://twitter.com/ThirdLove/status/1061053591442513920
https://twitter.com/ThirdLove/status/1062131895465472000
On actually getting a response from Razek after the boycott: "We've gotten under their skin," Zak told Teen Vogue. "It says that we're a growing contender and they're worried about us."
On why any of it matters: "We wanted to impact change; we wanted them to see that other people and women care about the diversity in the fashion show and what that fashion show looks like," Zak told Teen Vogue. "We are witnessing first-hand how women have collectively embraced brands that stand for something, that try to make the world a better place and that focus on inclusivity instead of exclusivity."