Victoria's Secret CEO Jan Singer Has Reportedly Resigned
It's been a controversial week—and a challenging few years—for the brand.
---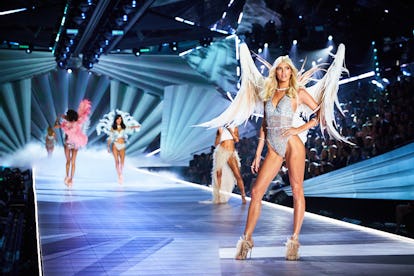 Ambra Vernuccio
Change is coming one way or another to Victoria's Secret. The brand's CEO, Jan Singer, has reportedly resigned after two years in the top spot, according to The Wall Street Journal. VS's parent company, L Brands, will reportedly provide more information along with its quarterly earnings report next Monday. Singer's departure not only comes amid recent controversy regarding the brand's resistance to inclusive model casting (and it is not clear if the news is directly related), but also the backdrop of dropping stock prices of L Brands and other business struggles for your local mall's marquee lingerie chain.
The news comes less than a week after the taping of the brand's annual televised fashion-show spectacular, though this year the show will air under a cloud of controversy. In the lead-up to the taping, the brand's senior creative director, Ed Razek, the architect of the fashion show, whose stint at VS started decades before Singer's, gave a blunt interview to Vogue in which he said that plus-size and transgender models don't mesh with the "fantasy" the show is supposed to represent. Razek later apologized and walked those statements back, claiming that trans and curve models had been invited to audition before but hadn't made the cut.
Whatever the case, business analysts have long connected Victoria's Secret's struggles to its reticence to embrace both inclusivity and practicality in favor of sticking to its traditionally "sexy" image. L Brand's stock is down 39 percent in total this year. (VS is by far the company's biggest brand, though the company also owns Bath & Body Works and the recently shuttered Henri Bendel.) In another telling measure, last year's ratings for the fashion show sunk 30 percent among viewers 18 to 45 from the year before, continuing a recent trend of flagging ratings.
The rise of competitors that emphasize either comfort, inclusivity, or both, like American Eagle's Aerie and Rihanna's Savage x Fenty, has been in part blamed for Victoria's Secret's slump. Though other business factors, like the ending of the brand's iconic catalog and a decision to cease production of swimwear and other clothing, may also be part of the problem. Online, many loyal consumers have also complained about what they perceive as a drop-off in quality among the brand's products as well. Meanwhile, even in the midst of his Vogue interview, Razek noted that the brand has missed the mark on consumers' shift from padded bras to simpler bralettes. "We were late to the party on bralettes; we were late to the party on downtown influences in our looks," he said. Despite all of this, VS remains far and away the leader in the American lingerie market, and whoever takes Singer's old office will be charged with keeping that place.
Related: Victoria's Secret Issues an Apology for Anti-Trans Comments