Vincent van Gogh's "Olive Trees" Painting Has a Grasshopper Stuck Inside of It
It's been there for over a century.
---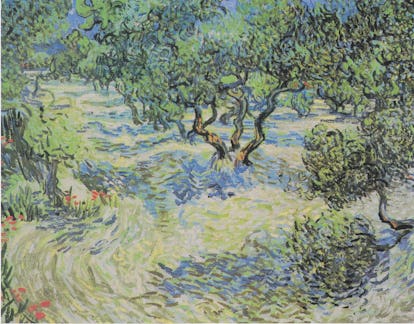 The Nelson-Atkins Museum of Art
While many art buffs travel at length to see Vincent van Gogh's paintings up close, one grasshopper got a front row seat — for over a century. This week it was revealed by Kansas City's Nelson-Atkins Museum of Art that an unlucky one has been trapped inside of the paint of the master artist's 1889 work from his "Olive Trees" series. Perhaps even more impressively than the fact that a grasshopper is lodged in the painting is how long it took for anyone to notice.
In part, that's because most viewers would never get close enough to see it. It was conservator Mary Schafer who first made the discovery as the museum revealed in a press release. Lodged in the foreground of the landscape, the grasshopper nearly blends in with Van Gogh's textured paint. While it might seem surprising that this kind of creature could be unearthed within a painting, it makes sense since van Gogh was known to paint outside. "It is not unusual to find insects or plant material in a painting that was completed outdoors," Schafer said in a statement. "But in this case, we were curious if the grasshopper could be used to identify the particular season in which this work was painted."
Unfortunately, upon consulting a paleo-entomologist, the conservator was unable to deduce the exact timing of the painting. That is largely due to the fact that the grasshopper died before it became immortalized in van Gogh's work, which makes its appearance even more mysterious. No doubt, though, the grasshopper's presence would have been something van Gogh would have embraced as the painter had spoken before about other insects collecting on his canvas.
"But just go and sit outdoors, painting on the spot itself!," he wrote to his brother Theo in a letter dating from 1885, as the museum points out. "Then all sorts of things like the following happen – I must have picked up a good hundred flies and more off the 4 canvases that you'll be getting, not to mention dust and sand…when one carries them across the heath and through hedgerows for a few hours, the odd branch or two scrapes across them…" Consider van Gogh's extreme dedication to authenticity one more of his quirks.
Related: Leonardo da Vinci's Lost Painting Salvator Mundi to Be Auctioned Off By Christie's
See What's Trending in W Video: