Second Life
Designers are creating flashback fashion moments with re-editions of vintage looks.
---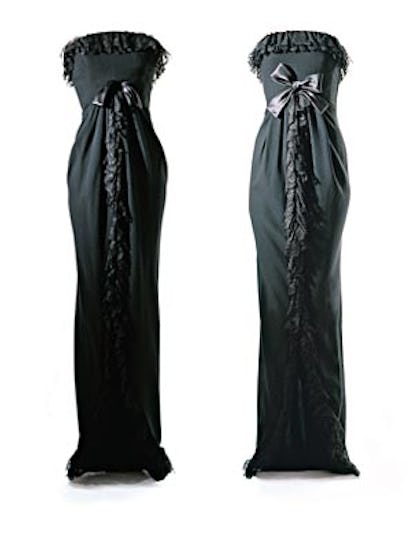 Newness is a precious ingredient in fashion's crowded and competitive marketplace. But some houses are finding that select morsels from the past can be equally enticing to women on the hunt for the unusual from their favorite labels. Vintage re-editions offer such clients something special and rare: a dress with both a past and a future. Balenciaga, Yves Saint Laurent, Jil Sander and Emilio Pucci are among those presenting such looks, which range from relatively recent styles tweaked for modern times to meticulously faithful replicas.
A current version of a vintage Pucci dress.
Two of the earliest adopters of the replica trend were Miuccia Prada, who created a one-time-only group of vintage re-editions when she opened Prada's Epicenter in New York's SoHo in 2001, and Martin Margiela, who in 2003 introduced Replicas—line-for-line copies of clothes sourced from thrift shops. For spring, look for a silk georgette tulip skirt from Berlin in 1985.
"It's absolutely antifashion, which makes it fashion," says Balenciaga's Nicolas Ghesquière, savoring one of the industry's succulent oxymorons as if it were a butterscotch. His Edition line also helped set the trend in motion. "There's something very confident about those lines, because [the clothes] existed before, and they will exist again. It's clean, new, never-worn vintage. It makes you more secure, because you have the feeling this is a classic. It's something that is not related to a season."
The impetus for Edition, introduced in 2004, came when Ghesquière was preparing for a Balenciaga retrospective at the Musée des Arts Décoratifs in Paris, and he plunged into an archive containing more than 500 outfits and scores of accessories, from groovy bottom-hinged sunglasses to chunky crystal chokers. "When I looked at those pieces, I thought, My God, they're so timeless," he recalls. "It's really a treasure."
For the current spring season, Ghesquière selected 26 looks from couture collections spanning the years 1932 to 1967, replicating them with exacting attention to fabrics and construction. One of the gems is an ingeniously simple strapless column gown from 1962 gathered at the bosom like a bath towel. Every season Ghesquière lets instinct guide him: "I just go there as if I were going to the most beautiful vintage store, and I pick what I think is right for the moment."
Last fall Jil Sander's Raf Simons quietly introduced an Iconic Items collection into Sander boutiques, bringing back coats, pants, skirts and other pieces that exemplify the tailor-made quality of the label, which Jil Sander founded in Hamburg, Germany, in 1973. "Ms. Sander was strictly against archiving the past," the Belgian designer explains in his no-nonsense way. "She only wanted to look forward, something I share with her. So the selection was made based on photos and not real garments. But all the paper patterns were kept."
Some of the choices for spring are a car coat and a loose pantsuit, which Simons recut in cotton twill "to give it a new and crisp touch." Double-breasted jackets, three-button jackets and haberdashery pants are recurrent styles from the late Eighties and Nineties that Simons relates to, applying small modifications to cut and fabric, as he puts it, "to bring them into the 21st century, as we did not want to have a vintage feeling for the Iconic capsule."
Observers credit the long-running vintage trend in fashion—which was amped up when Julia Roberts collected a best actress Oscar while wearing vintage Valentino in 2001—for the rash of re-editions from fashion and accessories firms. For Azzaro designer Vanessa Seward, reissuing a key but forgotten style by the late Loris Azzaro—the three-ring jersey dress with circular cutouts—was the springboard to rejuvenating the Paris house in 2004, which is a kind of French Halston. "I loved, loved, loved the dresses he had done in the Seventies," says Seward, her dark glossy curls moving as she talks. "Now it's practically a logo." Seward herself has a closet loaded with choice vintage pieces by Yves Saint Laurent, Ossie Clark and Geoffrey Beene. "I think people like to have a story behind their clothes," she says with a shrug, noting that Brigitte Bardot and Marisa Berenson are two of the famous women who have worn Azzaro in the past.
Ghesquière agrees that the red-carpet impact of yore must be reassuring for women today. "If it was already worn by Marlene Dietrich or Grace Kelly, it must be right," he deadpans. "They have the feeling they're buying something timeless."
While it might seem that it would be simple to re-create designs from the past, realizing them can be a headache. "It seems very easy, but actually it's an enormous challenge," says Laudomia Pucci, image director at Emilio Pucci, which marked its 60th anniversary in 2007 and chose the milestone to launch its Vintage Classics collection. "There's a lot of technical work that goes into it."
Pucci contacted old fabric mills that once supplied the Florentine house and mimicked her late father's techniques for placing his signature prints, then called in a retired seamstress to demonstrate how to position them. The reproductions also include the constricting armholes and narrow shoulders of yesteryear. Indeed, in 2001 when the firm reproduced a Marilyn Monroe look—a blouse and capris—"the pants were so tight around the calves, some clients couldn't put their feet through," the designer says. "But if it was different, it wouldn't have been the real thing. I think that's one of the reasons girls find it fashionable, because the proportions are a little distorted. The idea of having real vintage collections, not only vintage-inspired, makes it really unique. It gives you a taste of what you can't find today."
Some more recent recruits to the vintage redux game suggest that it's never too early to look to the past. For instance, in his Edition 24 collection for Yves Saint Laurent, introduced in 2007 and billed as a seasonless range of wardrobe staples for traveling, Stefano Pilati revisited some of his first collections for the house, which he has helmed since 2004, and even re-created a silk T-shirt he had designed when he worked there under Tom Ford. (There are also interpretations of classic pieces by Saint Laurent himself, such as tuxedos and safari jackets.)
New this season is the Marni Summer Edition 2009 range, an amalgam of Consuela Castiglioni's design signatures, including voluminous cuts and color blocks. "I am fascinated by the concept of clothes with a story, a memory, which makes them timeless and not necessarily pinned down to a specific style period or a single source of inspiration," she says.
In accessories re-editions, Chanel re-created a classic Chanel bag from 1955 in 2005, and choices these days include Chanel's Vintage bag, based on one Karl Lagerfeld did in the Nineties, and Nina Ricci's oversize square sunglasses, which reinvent a style famously worn by Jackie Onassis to a tennis tournament in 1978.
Perhaps because fashion spins ever faster, designers often cite freedom as an aspect of re-editions they cherish, liberating them from the hamster wheel of constant change. "I'm a big believer in comfort not being the fit of a garment, but the familiarity," says Marc Jacobs, whose one-shot Stephen Sprouse collection for Louis Vuitton this season, while consisting of all new designs, still speaks to the power of past styles. "Stephen did create some things that were very iconic. It reminds me of a moment in New York that, you know, I haven't seen one like since."
Ghesquière stresses that the pursuit of newness drives designers forward—and just might put them in the history books. "It's a challenge for invention and creativity," he says, "but everyone has the hope that a few of those things will last forever."