Virgil Abloh, Renaissance Man, Is Now Designing Sunglasses for Warby Parker
The Off-White designer has teamed with the eyewear brand on a limited-edition collection.
---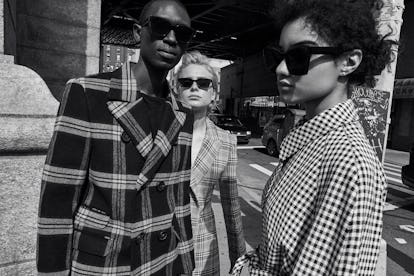 Virgil Abloh is building out his resume once again. To date, it's a lengthy CV that includes co-founding a popular Chicago store, working as Kanye West's creative director, founding his own popular fashion label Off-White, and somehow still maintaining a career as a DJ. Today, Abloh is adding sunglasses designer to the list, with the release of Off-White's new collaboration with eyewear powerhouse Warby Parker.
Beginning today, a limited-edition range of styles co-designed by Abloh will be available in Warby Parker stores, as well as in Off-White's own Toronto and New York stores. The range includes three styles ranging in size, and appropriately named "Small Sunglasses," "Medium Sunglasses," and "Large Sunglasses." All three styles feature a angular, rectangular style done in black acetate with blue anti-reflective coatings on the inside. Each pair will be available for a very Warby Parker standard cost of $95, in keeping with the brand's low price model.
The partnership marks one of Warby Parker's first major collaborations with a designer, having focused primarily on partnering with personalities like writer Amanda de Cadenet and YouTube star Tyler Oakley in the past. This is, after all, a man who arrived at the 2017 CFDA Awards with Bella Hadid on his arm, meaning it is only a matter of days until a Hadid or Jenner is seen sporting a pair. What's more, the small style fits in perfectly with this summer's Matrix-inspired glasses that has been a favorite of the Millennial set.
This is not Abloh's first foray into the collaboration world, however—that resume is no joke. Last year, he teamed with Levi's to co-design a collection of jeans and outerwear. And just a few days prior, the designer teased his forthcoming collaboration with Nike, posting a picture of none of than Hadid, of course, wearing a pair of black-and-white kicks while out and about.
Related: Virgil Abloh and His Army of Disruptors: How He Became the King of Social Media Superinfluencers
Kanye West Just Wants to Bring Joy to the World Like Will Ferrell in 'Elf'
Here Are the Most Instagram-worthy New Sunglasses to Buy For Summer