Revisiting Vito Acconci's 5 Most Infamous—and Transgressive—Performance Art Works
The radical and highly influential artist died today at 77.
---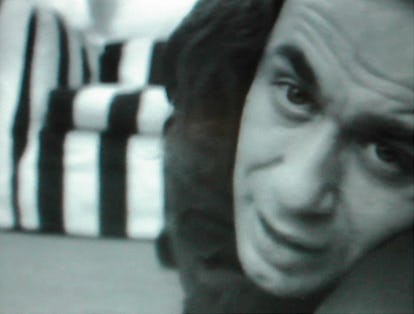 When I visited Vito Acconci last year at his studio in Dumbo, Brooklyn, the artist known as the Godfather of Transgression lamented that his legacy would be the breakthrough performance art works, completed in the late 60's to the mid-70's, that shocked the art world and made his name, rather than the design and architecture upon which he trained his restless energies for much of the rest of his life.
Today, it was announced that Acconci died at the age of 77 (according to Artnet News, due to a stroke), and it turns out he was not deluding himself: his obituaries so far have focused largely on the early years of his very long career, which were also the subject of a recent survey at MoMA PS1. His frustration last June was understandable—his talents were endlessly protean (he was also an accomplished poet and fiction writer)—but it is for good reason that Acconci will remembered for his prodigious work during these few years. His performance pieces, most of which involved his own lithe body, were radical, discomfiting, and cracked open the art scene of the day, influencing generations of artists to come. As he told me, "I didn't like art. I wanted stuff to be alive." Here, five of his most (in)famous works that will continue to live on.
Seedbed, 1972
Far and away his most famous work, Acconci lay beneath the angled, raised ramp in Illeana Sonnabend's New York gallery, masturbating while staring up through the floorboards. Speakers broadcasted his autoerotic fantasies about each gallery visitor as they walked overhead. It was in part an early theoretical inquiry into the nature of architecture—what does it mean to become part of the gallery?—but, as always, sex overshadows everything else. It's the type of gonzo provocation that has made misled fans out of the likes of Shia Laboeuf, who has called Acconci an influence.
_Followi_ng Piece, 1969
Among his first breakthroughs, Following Piece is a New Yorker's nightmare. Acconci stalked pedestrians around Manhattan—following one random stranger for an entire day—and only letting up his stealthy pursuit after they've entered a private building. The work is outright uncomfortable, but also served to bring the artist out of his enclosed studio and into the world.
Conversions, 1971
In this haunting video, Acconci takes a match to his chest hair, singeing it off in an attempt to make his body more like that of a woman's. He then tried to push his own chest together to resemble breasts in an early exploration of transgender art.
Trademarks, 1970
Here, Acconci bites his own body so hard, so violently, that he broke the skin, leaving teeth marks as a kind of semi-permanent scar/tattoo. As he says in the instructions for the performance, he was "biting as much of my body as I can reach."
Turn-On, 1974
Acconci spends the majority of this 22-minute video, which is mostly a close-up of his own head, in verbal self-flagellation: "It's me. I have no conviction anymore. It's me. It's all in me now. I can't believe it … I can't find any more reason to do art. I don't understand it anymore. I have no idea what I'm doing anymore." It was yet another example of how he really used himself as raw material, without pity.
See Kendall Jenner channel iconic performance artists: