Vivienne Westwood Has Made Her Rap Debut
And starts a rap beef with the modern world.
---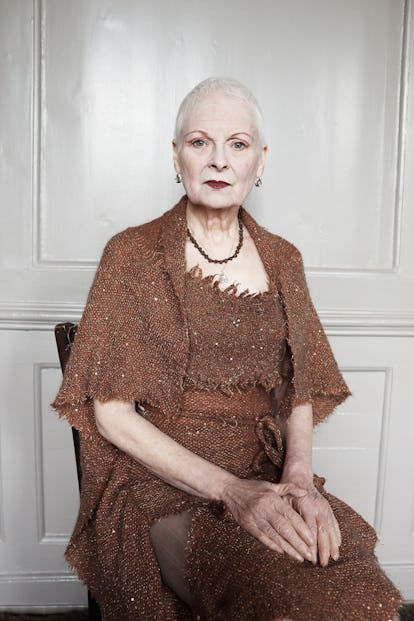 © 2014 Juergen Teller, All rights Reserved
For rappers, trying your hand at designing fashion is basically a requirement of the game at the moment. Ascend to a certain level of stardom and it seems like someone will let you start a fashion line.
But established designers trying their hand at rap? Not so much. Sure, there was that time we got Givenchy's Riccardo Tisci to do a spoken word rendition of "Purple Rain," but that's about the closest anyone's gotten.
Then again, Vivienne Westwood has never been afraid to forge her own path, so maybe it's not so much of a surprise that she's dipping her toes into the rap game. Now, the designer who has been synonymous with punk rock is now a rapper. Sort of.
What happened is that the British rapper Mic Righteous recruited Westwood to provide a spoken-word intro to his latest song "Be There."
"When I thought of collaborations, Vivienne wasn't the first rapper that came to mind," Righteous tells i-D.
This seems like a given. Vivienne Westwood has assuredly never been the first rapper to come to anyone's mind when considering lyrical collaborators. However, Westwood attended a performance of Righteous's own spoken word poetry and casually mentioned she'd written her own verse. Thus the collab was born.
"She mentioned she written a rap/poem and I didn't even need to hear it," Righteous continued in i-D. "I knew it would be perfect for this project. It wasn't something I planned, it happened organically and I couldn't be happier."
Westwood's verse is dubbed "Intellectuals Unite," and the designer unleashes a fury of disses aimed at the modern world.
"Intellectuals tell the truth," Westwood raps. "You, give us the picture / You know the past, the present and the future / Speak with one voice / Culture not consumption."
Apparently she laid the whole thing down in a single take.
Sounds like Westwood could have a promising career in hip-hop. Keep it up, and maybe she'll even get her own merch line. Oh, wait …
Watch W's most popular videos here: