Why the Reports of Fashion's Death Have Been Greatly Exaggerated: Stefano Tonchi on W's Fall Fashion Issue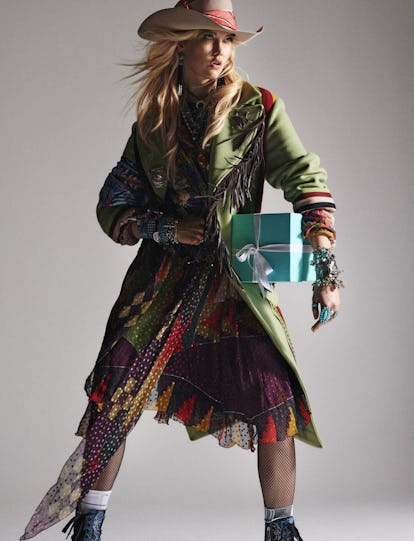 Photograph by Theo Sion; Styled by Max Pearmain
These days, anywhere the fashion pack gathers—whether it's at the collections in Europe, on the red carpet during awards season in Hollywood, or at the Met Gala in New York—you constantly hear the same refrain: No one has style anymore, today's designers have no new ideas, and fashion, as we know it, is over. There is truth, of course, to the notion that the tightly controlled, elite fashion club dictating what to wear is a thing of the past, but for each of those Cassandras predicting the sudden demise of the whole fabled order, there are thousands of new acolytes from the most remote corners of the globe obsessed by the new designer handbag, the latest sneaker, or the of-the-moment beauty gadget.
Nowadays, fashion is everywhere: in the pages of magazines and in the vast digital universe, on screens big and handheld. Fashion has become the ultimate tool to construct and broadcast our identities—whether it's a celebrity making a statement for the paparazzi or a ­teenager discovering the power of an Instagram selfie. It has never been more pervasive, nor its ambassadors more numerous.
More than 60 years ago, the advent of ready-to-wear brought industrial production and international distribution to the rarefied world of couture. Designers abandoned the privacy of their ateliers, where they had created one-of-a-kind clothes, to work with factories and build commercial labels that reached previously untapped audiences. Today, those logoed brands, many of them owned by powerful financial conglomerates, are in need of constant renewal—chasing profit and forever fulfilling a seemingly endless demand for new products. The obsession with the global market and the pace of the fashion cycle are changing all the rules, and the designers who are thriving are those who have embraced this reality. It is too early to know how these disruptions will play out over time: We are only catching glimpses of what's to come, as if we were waiting in line at a pop-up store for the next drop.
If history and my personal experience are any guides, fashion will become more and more democratic as well-designed, high-quality products continue to become available and affordable to a much wider public. In recent decades, luxury has had to be redefined in order to maintain its aspirational allure. For some time now, making beautiful clothes has not been enough for most brands to survive. They've needed to enhance their appeal through associations with artificial added values. At first, designers turned to celebrities from every field, using public endorsements to give their work some extra luster. Next came collaborations with artists or art institutions that you could literally wear on your sleeve—or on your bag—as a way of flaunting cultural cachet. Today, social and political messages are becoming part of the branding of luxury, whether it's a ­commitment to ecology, equality, or gender fluidity. These values are perceived as the ultimate luxury by millennial consumers, and the most successful fashion ideas now are not just about design and quality but about the subliminal messages they convey. That makes our relationship with clothes more personal than ever. At its best, fashion allows us to communicate our ­priorities and allegiances, signaling both what makes us unique as individuals and what we have in common with like-minded others.
The digital revolution has brought not uniformity, as many had predicted, but instead a multiplicity of opinions and visions. Every fashion season seems more confusing and eclectic than the previous one, but also increasingly in pursuit of the authentic. This was the simple idea behind this big fall fashion issue: to showcase the unique personal vision of creative talents and to celebrate the iconic power of designers.
Case in point is Natacha Ramsay-Levi, Chloé's boldly chic new creative director, who is known for her eclectic style—"a little boyish, a little eccentric, tough but not butch, a slightly hippie-roots thing, but refined" is how her friend the stylist Camille Bidault-Waddington describes it. To explain how clothes have a deeply transformative effect, Ramsay-Levi went through her personal wardrobe and modeled some of her favorite looks—including pieces she designed for Chloé and others she didn't—for the photographer Paolo Roversi. "I come from a bourgeois family, but I wanted to be with other people, listen to other music," she tells the writer Alexandra Marshall of her early days experimenting with crazy looks. "Through fashion, personalities can multiply. Through clothes, it's like I had a mosaic of possibilities."
Sara Moonves, our style director, was excited about the most fearless statements that she saw on the fall runways—especially the ­dramatic layering of oversize garments and the use of protective gear. She initially thought of shooting a dressing-for-the-end-of-the-world story, but after discussing the concept with the visionary photographer Tim Walker, it grew to include the beginning of a new era as well. Moonves and Walker mixed Middle Ages iconography and space-age imagery to create a portfolio that is, for sure, out of this world.
At the other end of the spectrum, Marie-Amélie Sauvé, a longtime creative partner of the Louis Vuitton designer Nicolas Ghesquière and the editor of the cult magazine Mastermind, collaborated with the ­photographer Craig McDean on a story about bourgeois chic peppered with bohemian naughtiness. Sauvé is ineffably French, and her point of view is always clear and precise; no one else could have tweaked the femme fatale and Belle de Jour fall references in the collections with a ­­free-spirited 1970s twist in the way that she did.
We also asked the all-American model Karlie Kloss to take a page out of the iconic Sam Haskins photo book Cowboy Kate & Other Stories and partner with the stylist Max Pearmain and the photographer Theo Sion to bring to life a new kind of Western heroine—one who, judging by the mysterious boxes she carries in the resulting images, is out to discover new shopping frontiers.
With so much spam polluting our in-boxes, sometimes we need to make a statement and declare who we are and what we stand for, clearly and loudly. At the collections, brand statements were everywhere, and some labels showed how they have become synonymous with a certain set of codes: Black nylon equals Prada equals urban sophistication, colorful knits equals Missoni equals artsy bohemianism, tweed tailleurs equals Chanel equals rarefied elegance, and so on. The fashion story "Legends of the Fall" shows just how iconic these labels have become. And it's not just establishment brands that understand how to craft a signature identity. As "Uniform Appeal" proves, stealthy labels such as the Row, Undercover, and Junya Watanabe have engendered a cultlike devotion, thanks to their commitment to a distinct point of view.
End-of-the-world survivalist, prim and proper sophisticate, bohemian princess… today more than ever, fashion allows us to create any persona we could possibly dream of. Make fashion your messaging service, and tell the world who you are!