W Movie Club: Cathartic Queer Classics and an Underrated Diane Keaton Moment
Visuals editor Michael Beckert shares his favorite films to watch this weekend, from the sad but empowering 'Pariah' to Alice Wu's 'Saving Face.'
---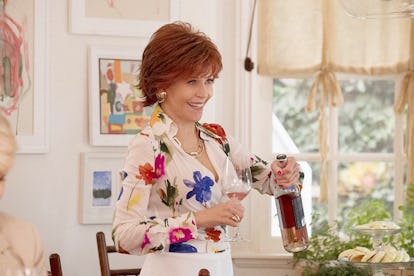 Jane Fonda in Book Club (2018). Photo courtesy of IMDB.
Welcome to the W Movie Club, a new series in which W magazine's editors pick five iconic films to watch while in quarantine. This week, visuals editor Michael Beckert shares a few of his favorite queer classics, an underrated Diane Keaton moment and a groundbreaking Alice Wu rom com.
Pariah
My first pick is Pariah, written and directed by Dee Rees. The film sheds a unique light on the plight of queer women, whose stories are often overlooked by Hollywood. The movie, released in 2011, follows a young girl growing up in New York City whose choice to be herself costs her a normal relationship with her mother. Real talk: this movie is more likely to make you cry than laugh, but it'll leave you feeling empowered.
Book Club
This 2018 movie is about four women over the age of 50 who love drinking, reading books, and complaining about men. Somehow I've never felt more seen by a single piece of art. I'm a total slut for Diane Keaton, so her involvement in this very-serious-not-funny-at-all film is particularly clutch in my book. 5/5 stars.
Practical Magic
This 90's classic is about the magic of sisterhood, and I used to watch it every summer with my older sisters! Shoutout to casting directors Cathy Sandrich and Amanda Johnson who made the bold choice of casting Sandra Bullock and Nicole Kidman as sisters—that's some real witchcraft if you ask me!
Mommy
Am I even a white gay millennial if I didn't include a film by Xavier Dolan? I'm such a cliche it hurts. That said, any film that can justify the inclusion of Oasis's Wonderwall (1995), Dido's White Flag (2003), and Lana Del Rey's Born To Die (2012,) on a single soundtrack is worth rewatching!
Saving Face
Long before writer and director Alice Wu conceived Netflix's Summer 2020 hit, The Half Of It (which almost made this list,) she made her first film, Saving Face, a rom com about two Chinese-American women falling into forbidden love. The movie is equal parts hilarious and historic—it was only Hollywood's second feature film to focus on Chinese-Americans (the first was The Joy Luck Club made in 1993).
Craving more movie recommendations? Check out the previous editions of W Movie Club:
The Films that Remind Sara Moonves of Her Favorite Shoots
Maxine Wally's Serious Drama Lineup (Plus Legally Blonde)
The Best New York Movies, According to Lynn Hirschberg
Brooke Marine's Nostalgia-Heavy List
Andrea Whittle's Favorite 90s Rom Coms and Artsy European Classics