Africa's Out! Let's Celebrate
Artist Wangechi Mutu and friends like Kehinde Wiley, Janelle Monae, and Solange Knowles support gay rights in Africa.
---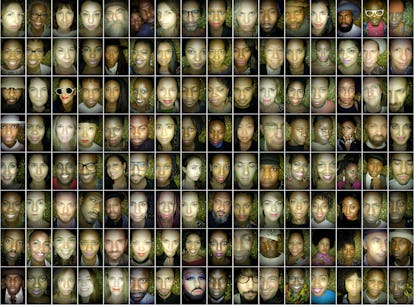 On Friday night, a cross section of the fashion, art, and music worlds came together at Barbara Gladstone Gallery to support the artist Wangechi Mutu's new initiative Africa's Out! "When I put out a call to my friends and fellow rebel-rousers to support me in a celebration for queer Africans through this fundraiser for UHAI-EASHRI, the response was seriously awe inspiring," said Mutu who was dressed for the occasion in an immaculate Mimi Plange tuxedo dress and cape. The goal of the evening was to ask the questions, "How could we make art speak out for the communities we love, and how can we generate awareness about human rights and the effort to eliminate intolerance and violence towards women and queer Africans?" explained the artist, whose work often speaks to issues surrounding representation of women in African culture.
Guests that evening included Studio Museum director Thelma Golden and her British fashion designer husband Duro Olowu, MoMA PS1 director Klaus Bisenbach, well-dressed curator Stacy Engman, artists Kehinde Wiley, Hank Willis Thomas, Zoe Buckman—who were among a group of artists who donated work to the fundraising auction— and actor David Schwimmer. Singers Janelle Monae—who was wearing a Tattly temporary tattoo on her neck that depicted a painting by artist Hank Willis Thomas' that states, "After Identity, What?,"—and Solange Knowles performed. "I'm glad Wangechi Mutu brought me out to support such a necessary cause," Knowles said from the stage right before she told the crowd, "this last song is going to require some major dance moves," as she ended her soulful set with her breezy electronic pop hit "Losing You."
Being honored that night was Mutu's friend the Kenyan writer and one of Time Magazine's 2014 "Most Influential People in the World," Binyavanga Wainaina. Wainaina who publicly came out in a symbolic letter published online last year inspired Mutu to take action. "When certain things reach a tipping point, and you know people's lives are in danger you have to decide that it's time to speak up, and you have to say something loud and clear. This celebration said, living and loving is everyone's right!" noted Mutu who presented Wainaina with the first Africa's Out! award for his bravery.
Photos: Africa's Out! Let's Celebrate
Guests at Africa's Out! Portraits by Barron Claiborne.
Wangechi Mutu. Photo by BFAnyc.com.
Solange Knowles. Photo by BFAnyc.com.
Ayo Jackson. Photo by BFAnyc.com.
David Schwimmer, Zoe Buckman, Sangeetha Ramaswamy, and Joey Lico
Janelle Monae. Photo by BFAnyc.com.
Africa's Out! Photo by BFAnyc.com.
Sarah Arson and Klaus Biesenbach. Photo by BFAnyc.com.
Duroiowu Lavey. Photo by BFAnyc.com.
Stacy Engman. Photo by BFAnyc.com.
Binyavanga Wainaina. Photo by BFAnyc.com.
Africa's Out! Photo by BFAnyc.com.