Avenue doorman Wass Stevens can see right through you
If you frequent nightclubs in New York, chances are you've encountered (and been rejected by) doorman Wass Stevens at one point or another. The former boxer and assistant district attorney ruled the left side of...
---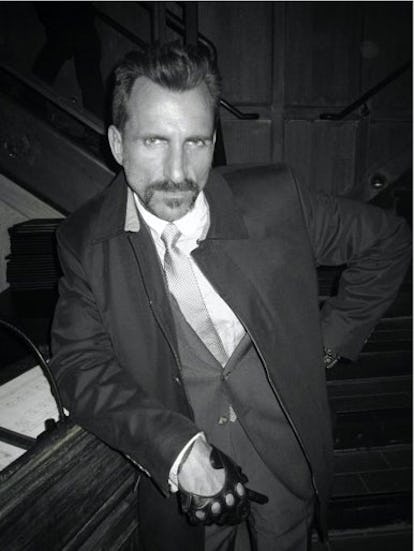 If you frequent nightclubs in New York, chances are you've encountered (and been rejected by) doorman Wass Stevens at one point or another. The former boxer and assistant district attorney ruled the left side of Marquee's door with an iron fist until this past May, when he decamped to Noah Tepperberg's hot new boite, Avenue. Last week, we got a chance to interview Stevens (he's also a film and television actor whose credits include The Wrestler and World Trade Center) about his door strategies, movie roles and more. Little did we know that this morning, he'd make the local tabloids for allegedly slamming a belligerent prospective patron in the face with, interestingly enough, the metal end of his velvet rope. (He was charged for assault and possession of a weapon.) When we followed up with him today on the incident, we received a not unexpected "no comment."
How many times a night does someone say, "Do you know who I am?" Enough times for me to have developed total immunity to the obnoxiousness of that statement.
How do you know who's bluffing and who's actually important? Fortunately, I was born with an acute ability to read and ultimately see through people, and have honed that skill as an actor. Very little gets by me. And of course, I've been around for a few minutes, so there are very few "important" people who I have not met at one time or another.
How do you decide who to let in? There is no one thing that you look for. What works on a Tuesday may be inappropriate for the room on a Thursday. And, stylistically speaking, what works for one person may absolutely not work for another. Skater gear works for skaters, not Wall Streeters attempting to let loose. And ladies, just because a particular item of clothing is featured in a magazine, that does not mean it's meant to be worn by everyone who buys that magazine. Don't try too hard; there is nothing more obvious.
How does Avenue compare to other places where you've worked the door? Avenue integrates all of what I believe is the best in NYC nightlife. It's small enough to be considered intimate, does not require a lot of people to keep the energy high, but is large enough to be comfortable on busy nights. The food is amazing and the team behind Avenue is the best in the business.
How did you first get into bouncing? While in law school, I needed a night gig so that I could pay my way through school and still go to class, work at a law firm and study during the day. Needless to say, that was the beginning of a life of sleep deprivation.
Law school is an interesting choice — does your legal background help you to be a better doorman? I went to Brooklyn Law School and practiced for several years, both as an Assistant D.A. in the Bronx, and privately as a commercial litigator. Of course, the study and practice of law benefits me on a daily basis. The ability to analyze, negotiate and cross-examine is priceless, whether it be at the ropes, as an actor or in my personal life.
How can an ordinary guy/girl maximize their chances of getting past you? Be yourself, be honest, be nice. Don't try to be something you're not, but try to be a better version of yourself. And know walking up that your chances are slim at best. That way, if you make it past the rope, it's a pleasant surprise. If you don't, you just regroup and go on with your evening.
What is the worst reason someone's ever given you when asking to come in? These are stories that I don't like to tell. An accurate interpretation of "worst" would be the sympathy card some people attempted to use right after 9/11. "I lost so and so, can I come in?" kind of thing. It still makes me sick to think people actually said that — a lot of people by the way — to get into a club.
You're an actor as well — are you working on anything now? Right now I have a regular gig on ABC's Ugly Betty — my character was introduced in last season's finale — and have several movies being released in the next few months. I have a great role in Antoine Fuqua's Brooklyn's Finest with Richard Gere, Ethan Hawke, Don Cheadle, amongst others.
What character do you play in Brooklyn's Finest? I play Patrick Leary, a rogue, wise-ass undercover cop in Ethan Hawke's NYPD Narcotics crew. The guy with who actually says and does what everybody else is thinking. Typecasting? Maybe a little. Except for the badge, of course.
How do you unwind? I go to dinner, love getting dressed and sitting down for epic meals. Or, I get on my motorcycle and disappear.
For even more on the man, see "Who is Wass Stevens?" on Guest of a Guest.