Watch Mariah Carey Sing 'Touch My Body' to Karl Lagerfeld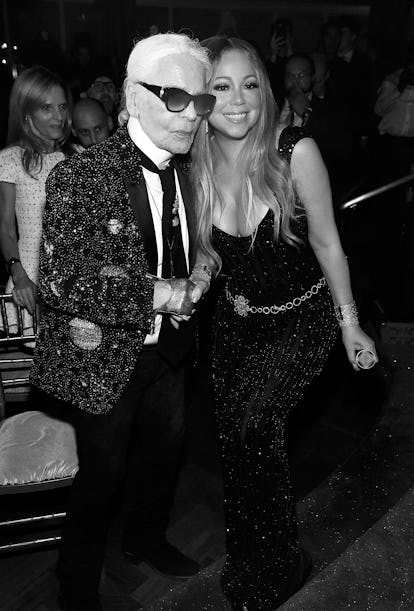 Kevin Mazur/Getty Images for V Magazine
Karl Lagerfeld is notoriously difficult to impress but, last night, Mariah Carey managed to do the near-impossible when she served as the main entertainment for a party being thrown in his honor by V Magazine. Carey took the stage in a celeb-filled room — Naomi Campbell, Gigi and Bella Hadid, Yolanda Foster, Kris Jenner, Martha Stewart, and Joan Smalls were also in attendance — to perform her sultry 2008 lead single from her E=MC² album, "Touch My Body."
She nailed it, too, as evidenced by the stream of videos posted to Instagram afterwards. Backed by three singers, Carey hit every note of the melisma-filled song as the Chanel creative head watched on from a front row seat at his table. While Lagerfeld didn't bop along exactly, he seemingly never broke his gaze while watching the singer belt out the song in a black floor-length gown, which means he wasn't bored — a rare feat considering the designer finds boredom in everything including his work. "Work is making a living out of being bored," he once famously said. Apparently, one exception to that is being serenaded by Mariah Carey.
Carey also dazzled Lagerfeld with her 1993 ballad Hero, from her third album Music Box, although videos capturing her performance lack the audio quality of "Touch My Body."
Testament to how not bored Lagerfeld was, he even got out of his seat at one point when Carey took his hand while crouching on the stage mid-song.
The two later posed for a photo together, which will surely go down in the history books.
Outside of serenading Karl Lagerfeld, Mariah Carey has also been working on starting a new venture: a beauty line. The artist, who gained experience in the cosmetics realm as an ambassador for M.A.C., is partnering with her manager Stella Bulochnikov on the project. "The color palette is a range of pinks, lots of gold and corals along with deeper tones, too," she told Allure of it last year. "I put a lot of what I like, because I know these colors really work. I'm a beauty-school dropout, but I learned some things. I chose the shades and products that I would wear not necessarily just for stage. You can definitely wear it all in your regular life."