Ja Rule Instead of Kanye at the Watermill Center Benefit 2016
Kanye West may have bailed on his last-minute performance piece, but Ja Rule, Caroline Vreeland, Constance Jablonski and Maxwell Osborne attended the 23rd annual Watermill Center benefit.
---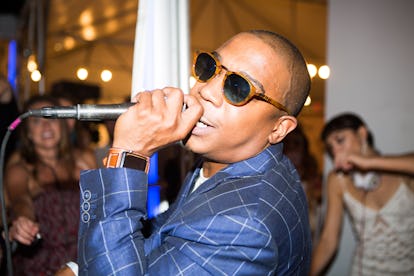 Carl Timpone/BFA.com
It may have been the most well-attended benefit in The Watermill Center's 23-year history, but there was one guest who was conspicuously absent: Kanye West. His collaboration with Watermill's artistic director Robert Wilson was only announced a little over a week ago, and apparently the not-so-odd couple had in fact started working on a performance piece together. "Kanye West has been here for a few days and we're developing a new piece, and we were hoping to perform it tonight," said Wilson. "It's so elaborate that we're going to hold off. He called me two days ago and said 'tell everyone we're gonna do it next year.' So come back next year and get your tickets now!"
Instead, the likes of Caroline Vreeland, Constance Jablonski, Maxwell Osborne, Kate Foley and Amanda Hearst took in a forest of golden trees by Mexican artist Marie de Testa, a water installation by John Margaritis, written text on long black walls from the artist collective Bruce High Quality Foundation, and a Trump-themed installation by Pussy Riot (a wall graffitied with "Make America Great Again" set in the background of an electric chair). "I had a concept in mind, a kind of megastructure, but it was an open book that people could fill in," said Wilson of this year's theme "Fada: House of Madness."
Without West, people latched onto the next best thing: Ja Rule, who's set to release his fourth and final album, Coup de Grace, "soon." "I love art," said Rule, who was out-bid during the live auction led by Simon de Pury on a circular piece from the artist Max Gimblett (the evening raised a total of $2 million for the Watermill Center). He didn't let that get him down though; around 12:30 a.m., he took over the microphone for an impromptu performance of his 2001 hit "Always on Time." The only thing missing was Ashanti.
Watermill Center Benefit 2016
Amanda Hearst, Hassan Pierre, Kate Foley, Max Osterweis

Carl Timpone/BFA.com
Di Mondo, Polina Proshkina

Zach Hilty/BFA.com
Maxwell Osborne, Alex Soros, Adam Spoont

Zach Hilty/BFA.com