Weird Retro Recipes to Try Now That You're Basically a Chef
Very little has unified the world as much as cooking has lately. It's time to level up.
---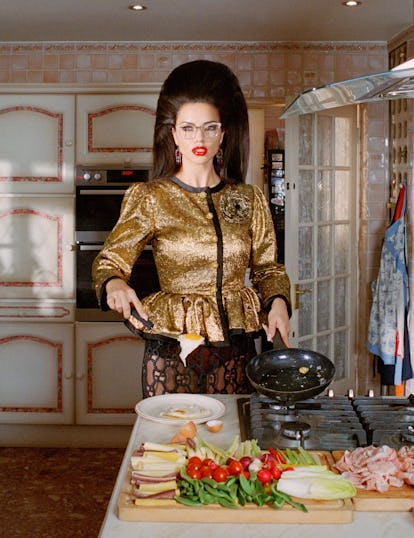 Photograph by Charlotte Wales for W Magazine.
We've learned a lot since beginning this quarantine lifestyle: how to make a mask out of a bra, exactly what six feet looks like, the various interior details of celebrities' homes. One skill that most everyone has honed in these times is cooking. Suddenly, you're seeing more loaves of bread than ever on your feed. Alison Roman is your new best friend. You've mastered Ina Garten's cocktail recipe, and adopted her mantra that during a crisis, it can be 5 o'clock at any time. Maybe things got out of hand and you made the equivalent of a Thanksgiving dinner on a Tuesday night.
Now's the moment to level up.
Challenge yourself with these wonderfully zany recipes from the 1950s, '60s, and '70s—which call for such antiquated ingredients as aspic, and turn basically any dish into some molded version of a salad. When all this is over, invite your friends over for some nice, cold glazed ox tongue.
Frankfurters en Croute
Many of the mid-century recipes we found featured hot dogs, refashioned in some new, creative way. There were hot dogs in macaroni salad, shaped into a loaf; hot dogs between two slices of zucchini instead of a bun, and this—hot dogs in a pastry crust. It's basically a giant, glorified pig in a blanket.
Ingredients
8-ounce package refrigerated quick crescent rolls1/3 cup mustard-pickle relish6 hot dogs2 tablespoons evaporated milk1 tablespoon sesame seeds
Directions
Preheat the oven to 375 degrees. Unroll the crescents into a rectangle, pressing the seams together. Spread relish over the pastry, leaving a 1-inch border all around. Place the hot dogs in rows of three down the center of the pastry; bring up the sides of dough together over the hot dogs. Press to seal. Place seam side down on an ungreased baking pan. Perforate the top of crust closed with a fork; brush with evaporated milk; sprinkle with sesame seeds. Bake 15 to 20 minutes, until golden brown. Slice crosswise to serve. Serves 3 to 4.
Cucumber Mousse
When company comes over—wait, actually, no one's coming over. Showing this cucumber mousse appetizer off to a crowd will have to hold until we're post-quarantine. Get a head start on nailing cucumber + mayonnaise + Worcestershire sauce, and practice now.
Stuffed Savoy Cabbage
Have you ever looked at a cabbage and thought to yourself, "This needs a mix of veal and pork distributed throughout its leaves?" Neither have we, but according to the 1950 edition of The Gourmet Cookbook, this was a much-loved dish from the era. The recipe calls for you to "remove the imperfect leaves from the outside of a large Savoy cabbage," because keeping up appearances is what's important.
Chicken With Pineapple
In 1972, people combined chicken, pineapple, and peas as a meal. It is now up to you to figure out whether this is actually delicious. Godspeed.
Ingredients
4 lbs. chicken parts1/2 cup flour1-1/2 teaspoons salt12 teaspoon pepper1 14-1/2 oz. canned sliced pineapple2 tablespoons butter2 tablespoon oil1 large onion, sliced in rings1 10-oz. package frozen peasChicken bouillonSalt and pepper, to tastePreheat the oven to 350 degrees. Cut chicken into serving pieces and coat with a mixture of flour, salt and pepper. Drain the pineapple slices from the can, reserving the juice. Heat butter in a heavy skillet and brown pineapple lightly on both sides. Remove from skillet. Add oil and cook onion rings until golden. Remove onion, then brown chicken in the same fat. Place chicken and onion in a casserole dish. Measure pineapple juice and add enough chicken bouillon to make 2 cups. Pour the mixture over the chicken, season with salt and pepper, and bake for about 30 minutes. Twenty minutes before serving, add defrosted peas and garnish with pineapple slices. Makes 4-5 servings.
Molded Ham Salad
The Molded Ham Salad is a double-whammy of incredulity. On the bottom, there are boiled vegetables, molded together by mayonnaise chaud-froid—which means mixing the mayo with aspic jelly. Up top, there are slices of deli ham formed into cones and filled with foie gras, butter, and cream cheese. No better pairing has been seen since peanut butter and jelly.
Mock Steak
Who needs a real, live T-bone steak when you can just form ground pork (why not beef, you ask? Don't ask questions.) into the shape of one? Note the carrot strips as a stand-in for the bone—a key component in fooling whoever's lucky enough to eat this.
Filet of Beef in Aspic Strasbourgeoise
Be advised: this dish is not for the novice, nor for the faint of heart. It involves strips of pork fat wrapped around a filet of beef, plus truffle, browned in hot butter, with aspic spooned all over so it's fully coated.
Cold Glazed Ox Tongue
Another appetizer you can use to wow your guests once they're allowed back into your home. Make sure you are able to actually secure a bag of ox tongues from the butcher before you embark on this culinary journey.
Related: Dimes' New Cookbook Teaches You to Be Fluid in the Kitchen