Wait, When Did Wendy Williams Become a Style Icon?
In February, Wendy kept turning up in looks by black designers, even causing a Telfar turtleneck to sell out online. Meet the stylist who made it all happen.
---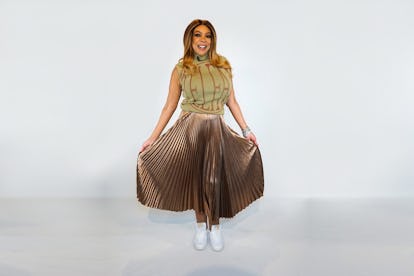 Photo courtesy of The Wendy Williams Show.
She's got a point, she's an icon, she's a legend, and she is the moment. I'm talking about Wendy Williams, the longtime radio personality and daytime talk show provocateur.
Perhaps you've noticed that this year, Williams appeared to step up her style game. Not that it's exactly a new thing for her to serve a look on her talk show—but when she stepped out wearing looks by designers Pyer Moss, Wales Bonner, and Telfar last month, the Internet came to a grinding halt. (Telfar even went so far as to post Williams in one of their turtlenecks on their Instagram grid not once, but twice, in praise of the talk show host. The garment soon sold out online.)
We shouldn't be shocked, though—Williams had her Fendi prints on all the way back in November 2018—but the question of who the mastermind putting her in all of the right looks was remained fresh on the minds of her fans and frenemies online.
His name is Willie Sinclair III, and he's been working with the host for years, first as an intern, then a wardrobe stylist assistant, and finally as lead stylist. Sinclair spoke to W about his decision to dress Williams in all black designers for the month of February, what she won't wear, and the formula for a "classic off-duty Wendy look."
How did you become a stylist?
When I was in college in 2009 I, like so many others, was obsessed with The Rachel Zoe Project. I knew I loved fashion, however I was always clear that I did not want to be a designer. Watching that show confirmed that being a stylist was a viable option. I received my bachelor's degree from the University of Wisconsin-Madison in textile and apparel design a few years later. I then moved to New York City in 2012 and attended the Fashion Institute of Technology for their one-year associate degree program majoring in communication design. While attending F.I.T., I interned in the wardrobe department at The Wendy Williams Show. I made such an impression during my semester interning that even though I didn't have enough room in my schedule the following semester, I returned to intern during the two to three hours breaks between my classes. Upon completing the program at F.I.T., I worked for a bit doing corporate women's accessory design until one day I received a call regarding interviewing for the wardrobe assistant position at the Wendy show.
When did you start styling Wendy?
I joined the styling team in August of 2013 as the wardrobe stylist assistant. I became lead stylist in August 2018.
What's your approach to styling someone for television? What do you take into consideration, especially for Wendy?
We like to consider a number of factors. What will be happening during this episode? Will Wendy be standing or sitting primarily? Who is the guest? Is there a national holiday that we can incorporate in whatever look we do?
You recently put Wendy in a lot of looks by young black designers, and it seemed to shock a lot of people once they noticed her wearing Telfar, Wales Bonner, and Pyer Moss. Why did you decide to do that?
I think people found it shocking because there is a lack of support for emerging designers—especially designers of color—within the daytime landscape. It was unexpected for Wendy to wear these highly sought-after black designers. Shortly after Wendy wore the Telfar turtleneck it completely sold out. We wanted to make it a point to do this during Black History Month as a way to support the many black designers creating beautiful fashion.
What message do you want to send with the looks you style Wendy in for her show?
I always work really hard to make sure that Wendy feels confident and comfortable in whatever she wears. It's also important that when I style her I display variety in terms of the looks and the brands as well. We never want her look to get too predictable. We want to create anticipation for the moment when Wendy walks out through the double doors and out to the stage to greet her cohosts (the studio audience).
What are your go-to colors, patterns and textures for styling Wendy?
My go-to color for Wendy is definitely cobalt blue or as Wendy calls it "show blue" (she calls it that because it's the color of our seat covers in the audience). It always looks good on her no matter what. In terms of textures, Wendy looks good in any knit fabric. She loves a good stretch fabric.
Is there anything she does not want to wear?
She doesn't particularly care for the color red. But sometimes I'm able to mix it in whether it be a deeper shade or breaking it up within a printed fabric. She also won't wear heels and we've converted to sneakers for all of her looks, which is fun.
What's your favorite look you've styled Wendy in?
By far, the look for her induction into the Hollywood Walk of Fame. She wore an archive Dolce and Gabbana fall 2011 black and white star print gown. For me, as a stylist, it was kind of a breakthrough moment in terms of critics taking note of Wendy's style evolution. On the show, I would say my favorite moment was the day she wore a full Christian Siriano spring 2020 look and Christian was the guest.
What's Wendy's favorite look you've styled her in?
You'd have to ask Wendy that! Maybe one of the "going out" looks we've done. It's a classic off-duty Wendy formula: A plunging neckline, a jacket, and a good designer bag.
For the last day of Black History Month, you styled Wendy in a custom Dapper Dan look. How did you make that happen?
It was amazing. The entire Dapper Dan team was so welcoming. I have wanted to get Wendy in a Dapper Dan original for about two years now. So back in January, when my team and I began mapping out each day for February, we knew he had to be the grand finale. We received a full tour of the atelier in Harlem and it was surreal to see all of the photos lining the walls of celebrities wearing his pieces. We got to touch the bolts of fabric and comb through numerous binders with rare Gucci fabric swatches. We even got to meet Dapper Dan himself. What I thought was going to be a short meeting turned into a 3-hour design meeting, complete with fabric selection and sketches. I feel so lucky that Wendy and I were able to collaborate on such a magnificent moment with the Dapper Dan team.
What's the biggest thing you've learned from being a stylist for Wendy?
Wendy is an inspiration and an example of what one can achieve through maintaining a dedicated work ethic and staying true to oneself. I believe she's an icon. She's a legend. And she IS the moment.
Related: Wendy Williams on Being a Black Woman in TV: "The Struggle is Real"