We're still mulling Alexander McQueen's live stream
Forget about those widespread lingerie motifs (Gaultier, Fendi) or white being the new black (Gucci, Bottega). The big trend out of the 2010 spring collections seems to be designers streaming their shows live. Ennio...
---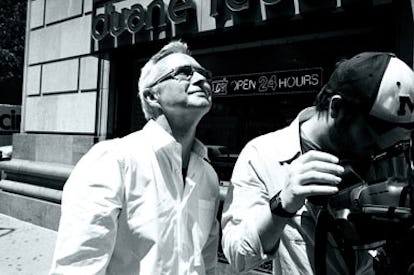 First off, did you experience any technical difficulties watching McQueen? That was our big issue. The connection was totally gone on my laptop. I got the interview and first thirty percent [of the runway show]. I wanted to see it all but couldn't!
What did you think of the way McQueen kicked things off with the Q&A before the show? He might have redefined the understanding of what luxury is about. If you look at the [casual] way McQueen was dressed and where he was interviewed— you could hear cars in the street, people talking in the background— there's a break in generation. Also, in his interview, McQueen talked about imagination, not luxury or exclusivity. I heard a new language—someone talking about luxury with a completely different set of emotions.
What do you think will be the impact? When Alexander McQueen said he wanted to bring the brand directly to his audience and not be edited down, that was powerful stuff. It was a powerful breaking down of walls. He doesn't want to be romanticized or glamorized in tabloids or the press; he wants to be heard. He's saying, 'This is how I see my world, this is how this work happened and why.'
He linked to his Twitter page, too. You know, he's got thousands of people following him and he's following zero, which is interesting. And if you look at all his tweets, they're about his personal anxieties in creating. I think that's really fascinating.
Photos: stills, WWD staff.