David Hockney Reveals iPad-Designed Stained Glass Window at Westminster Abbey
It's called "The Queen's Window."
---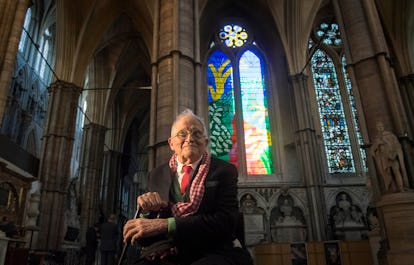 WPA Pool
Artist David Hockney has unveiled his latest work at the 928-year-old Westminster Abbey — a vibrant, stained glass window that he designed on an iPad painting app.
On Wednesday, Hockney's piece was revealed to him for the first time at the historic Abbey, the preferred church of the Royal Family and the traditional site of coronations, while visiting from Los Angeles. "I know this is a historic place and I know it's going to last," he told The Guardian of his window.
The 81-year-old artist's latest creation, dubbed The Queen's Window, is a celebration of Elizabeth II's reign featuring blue skies, a country road, greenery and Yorkshire Wolds hawthorn to symbolize the idea of celebration.
Hockney has taken to creating much of his latest work in the iPad Brushes app, but it especially made sense for this project because the iPad "was backlit, like a window." The windows were made by a team of 10 people at Barley stained-glass studio in New York.
The dean of Westminster said the Queen would enjoy Hockney's latest work. "I didn't want anything figurative or heraldic, that would have been crass, I think," John Hall told the publication. "So to have a country scene for a woman who absolutely loves the country, you get those images of the Queen driving her Land Rover in her mac up in Scotland … it is an ideal celebration. This is not a commemoration, it is a celebration." He added that while The Queen had seen a sketch of the artwork, it was challenging to gauge her excitement. "The Queen very often doesn't given you a very strong reaction," he added.
When Hall initially asked Hockney to create a window, the artist told him he couldn't take on any projects for six months; but the next day Hockney sent him a sketch to show his interest.
The Queen's Window was previously mostly blank 19th century glass.
The piece now sits in the north transept, looming over statues of former prime ministers including Peel, Gladstone and Disraeli.
Related: A First Look at David Hockney's Big, Splashy New York Retrospective at the Met