Taraji P. Henson Uses Toxic Masculinity to Her Advantage in What Men Want Trailer
Plus Erykah Badu plays a psychic.
---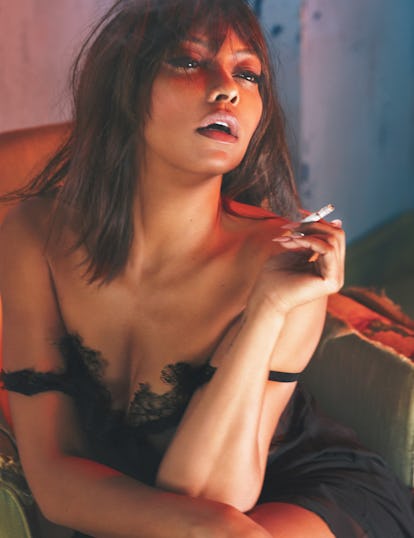 Photograph by Mert Alas & Marcus Piggott, Styled by Edward Enninful; Hair by Shay Ashual at Art Partner; makeup by Aaron de Mey at Art Partner; manicure by Mei Kawajiri for Chanel at Orme Square. Set design by Andrea Stanley and Emma Roach at Streeters.
Last fall it was announced that Taraji P. Henson would be replacing Mel Gibson in a timely remake of What Women Want, dubbed What Men Want. As it turns out, there is no one more perfect for the part.
That much is clear in the first trailer, in which Henson suits up as the feminist hero we all need. Her superpower? Using toxic masculinity to her advantage. Henson becomes blessed with the ability to overhear men's thoughts after finding out that she was passed over for her male coworker Eddie in a promotion to becoming parter—a decision she learns of when, grossly, the head of her sports agency throws a football to Eddie in the middle of a meeting, which she intercepts. "You don't connect well with men, so stay in your lane," the boss tells her.
"I'm so sick of this boys club," she later tells her friend, before visiting Erykah Badu, who plays a psychic that gives Henson a mysterious magical tea. "I can help you connect with men," Badu tells her.
Fast forward to the next morning, after a night of partying, and Henson awakens in the hospital to her male doctor's frightening thoughts: Thank God this one didn't die on me. No more drinking at work. "I feel weird after last night," she tells a coworker on her back way to the office, where her newfound power becomes all the more obvious.
Not long after, Henson realizes she can use it to shatter the glass ceiling, telling Badu, "This is not a curse, it's a gift." The gift will inevitably help her try to land her biggest client yet, played by Tracy Morgan. "I don't trust women who don't get dudes," he cryptically tells her. "Like I don't trust a man with no eyebrows or too many keys."
The film's hilarious script is one of the reasons Henson signed on to What Men Want. "One of the main reasons she did this film was to have the opportunity to remind people of her range and depth of talent," producer Will Packer told Global Grind. "I can't stress enough how important it was for her to have some levity and she wanted to laugh. People have forgotten who she really is. She's a fun, kind of silly person who has great wit and this is showcasing that." Come January 11, 2019, everyone will be reminded of that.