What's Alexander Wang really like?
While doing research for a story on Alexander Wang, we spoke to a good friend from his undergrad years, Ryan Korban, who's co-owner of Edon Manor, a hip fashion boutique in TriBeCa with a shoe...
---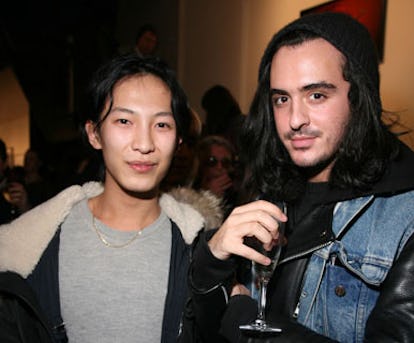 How long have you known Alexander Wang? We knew each other from the New School. He was studying fashion at Parsons and I was doing liberal arts. That was seven years ago, before he was Alexander, when he was just Alex.
What was he like back then? He lived and breathed fashion, completely and totally, from the minute he woke up to the second he went to bed. You know, we had a lot of friends in fashion design at Parsons but Alex was different.
How so? He's always been very organized, super clean, always on a schedule. He always had his black book on his desk where he would write down everything. He'd be like, "At nine o'clock, we're going to do this. At twelve o'clock we're going to do this."
Wang's office, designed by Korban.
You knew him when he used to have long, long hair. It looks like it's been growing out again lately. His hair used to be super, super long and androgynous looking, either in a bun or ponytail. I am the one who told him to grow it back out, because I always hated his short hair. You can quote me on that.
What's it like hanging out with Alex on a day off? We do a lot of driving around—he loves driving. So we drive out to Brooklyn and just kind of cruise around. He's always got the music blasting and he's singing. It's surprising, but he's a really good driver. He's screaming and the music is to the max and he's drinking an iced coffee, but he's completely steady.
You're not just Alex's old friend—as co-owner of Edon Manor, you're also a buyer. Yeah, that's another part of Alex that I see, because we sell his merchandise in the store and I really get to see how well it does. We also sell Azzedine Alaia, Givenchy, Proenza Schouler—and his brand really is the only contemporary brand at that price point that I feel, whether I knew him or not, confident putting next to Nina Ricci or Givenchy.
I hear you went to Shanghai with Alex to visit his mother. She's a really big ballroom dancer so we went to watch his mom dance. And she was so good. She would dance circles around Alex.
Wang and Korban: Patrick McMullan