Where Art and Fashion Meet: All the Art World References During New York Fashion Week
From Calvin Klein's Andy Warhol moment to Anna Sui's hippie bacchanalia, the New York Spring 2018 collections were brimming with art world inspirations.
---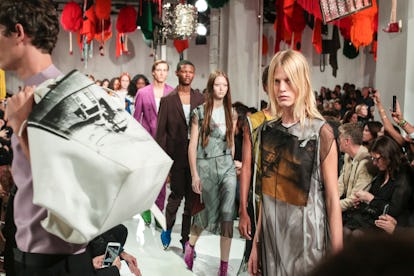 SERICHAI TRAIPOOM
In his memoir, The King of Fashion, the French couturier Paul Poiret wrote, "Am I a fool when I dream of putting art into my dresses, a fool when I say dressmaking is an art? For I have always loved painters, and felt on an equal footing with them." While the argument of whether fashion itself should be considered an art form will always be up for debate, the influence of artists and their works on fashion design is undeniable. And New York's recent Spring 2018 collections were no exception.
Several shows took place inside art venues and museums, most notably Rachel Comey's intimate showing at the Met Breuer, which she accompanied with a dinner (as she often does) inside Flora Bar; Oscar de la Renta at Sotheby's, where the models descended down the escalators; and Carolina Herrera's open-air runway show at the Museum of Modern Art's sculpture garden, surprisingly, the first time a fashion show had been staged at the space.
In other cases, museums and specific exhibitions actually played into the collections, either as jumping-off points or to extend a narrative. Anna Sui, the queen of retro-bohemia and rock 'n' roll-inspired romanticism is no stranger to the psychedelic motifs of the hippie movement, but her visit to the Museum of Arts and Design's "Counter-Couture" exhibition gave the designer some new threads to work with. Just as the show was an exploration of the handmade fashions of the '60s and '70s, Sui infused her spring offerings with craftwork and DIY details like tie-dye, embroidery and painted denim.
The designer Adam Selman drew upon the recent Georgia O'Keeffe retrospective at the Brooklyn Museum, which celebrated the artist's personal style and its symbiotic relationship to her art. Along with the artist's uniform of denim and crisp white separates, O'Keeffe's work also played into Selman's collection by way of large, painted-on irises at the hems of several pieces.
From the colorful paint-splatter embroidery at Oscar de la Renta to Johnson Hartig's reproduction of the iconic, Warhol-made Velvet Underground banana at Libertine, which appeared in beaded form on several items—most cheekily, a pair of black briefs—pop art also took center stage at other labels this season. (Movies, too, made their influence felt.) Raf Simon's sophomore outing for Calvin Klein paid tribute to Warhol's enduring legacy with two reproductions of the artist's prints—a collaboration with the Warhol estate—although it was Simons' all-American set design by the artist Sterling Ruby that perhaps left the strongest artistic impression on show-goers, if anything for its immersive, one-of-a-kind quality.
And at Coach, Stuart Vevers used subtler means to channel the idiosyncratic work of the late downtown artist Keith Haring by reviving Haring's characteristic squiggly lines, however in tonal colors that blended easily before the eye.
Meanwhile, at Delpozo, where Josep Font frequently cites inspiration from artists of all mediums, the Spanish designer translated a more general, aesthetic beauty of the Slovakian photographer Maria Svarbova's recent "Swimming Pool" series into wearable forms, most especially by way of color. An icy palette redolent of Soviet-era public pools contrasted with jolts of electric green, aquamarine, and other neon hues, for an effect that lent itself more wholly to the buoyant, calming spirit of the collection.
For Brandon Maxwell, who enlisted the Austin-based artist Jules Buck Jones on a large-scale ink drawing that appeared in embroidery on a show-stopping ball skirt worn by Karlie Kloss as the collection's final look, the collaboration was a personal one. "I try to work with people who are where I'm from," said Maxwell, who also hails from Texas and collects Jones's work. The illustration featured four animals—a mustang, jaguar, fox, and falcon—rendered in Jones' folkloric, fantastical style. "I wanted the collection to show a lot of beauty, strength, and also delicacy—Jules's work depicts that," Maxwell continued. "When you engage with other artists from different mediums, I think it can bring a lot of strength into your own work."
Overall, the art world's influence on the New York shows enhanced the spring season, and the splashes of bright, painterly colors, breezy materials and loose silhouettes reflected a feeling of optimism and joi de vivre that was in the air despite the turbulent political climate of the moment. So, perhaps the question we should ask ourselves is not whether fashion is art, but if art can be fashionable.
The Best Behind-the-Scenes Photos of New York Fashion Week Spring 2018
Inside the VFILES show on Wednesday, September 6th at Barclays Center during New York Fashion Week. Photographed by Serichai Traipoom for W Magazine.

SERICHAI TRAIPOOM
Inside the VFILES show on Wednesday, September 6th at Barclays Center during New York Fashion Week. Photographed by Serichai Traipoom for W Magazine.

SERICHAI TRAIPOOM
Inside the VFILES show on Wednesday, September 6th at Barclays Center during New York Fashion Week. Photographed by Serichai Traipoom for W Magazine.

SERICHAI TRAIPOOM
Inside the VFILES show on Wednesday, September 6th at Barclays Center during New York Fashion Week. Photographed by Serichai Traipoom for W Magazine.

SERICHAI TRAIPOOM
Kaia Gerber making her debut at Calvin Klein Show on Thursday, September 7th at the Calvin Klein headquarters during New York Fashion Week . Photographed by Serichai Traipoom for W Magazine.

SERICHAI TRAIPOOM
Inside the VFILES show on Wednesday, September 6th at Barclays Center during New York Fashion Week. Photographed by Serichai Traipoom for W Magazine.

SERICHAI TRAIPOOM
Inside the VFILES show on Wednesday, September 6th at Barclays Center during New York Fashion Week. Photographed by Serichai Traipoom for W Magazine.

SERICHAI TRAIPOOM
Inside the Calvin Klein show on Thursday, September 7th at Calvin Klein Headquarters during New York Fashion Week. Photographed by Serichai Traipoom for W Magazine.

SERICHAI TRAIPOOM
Inside the VFILES show on Wednesday, September 6th at Barclays Center during New York Fashion Week. Photographed by Serichai Traipoom for W Magazine.

SERICHAI TRAIPOOM
Inside the Adam Selman show on Thursday, September 7th at Skylight Clarkson during New York Fashion Week. Photographed by Serichai Traipoom for W Magazine.

SERICHAI TRAIPOOM
Tinashe at the VFILES show on Wednesday, September 6th at Barclays Center during New York Fashion Week. Photographed by Serichai Traipoom for W Magazine.

SERICHAI TRAIPOOM
Inside the VFILES show on Wednesday, September 6th at Barclays Center during New York Fashion Week. Photographed by Serichai Traipoom for W Magazine.

SERICHAI TRAIPOOM
Inside the VFILES show on Wednesday, September 6th at Barclays Center during New York Fashion Week. Photographed by Serichai Traipoom for W Magazine.

SERICHAI TRAIPOOM
Inside the VFILES show on Wednesday, September 6th at Barclays Center during New York Fashion Week. Photographed by Serichai Traipoom for W Magazine.

SERICHAI TRAIPOOM
Inside the Adam Selman show on Thursday, September 7th at Skylight Clarkson during New York Fashion Week. Photographed by Serichai Traipoom for W Magazine.

SERICHAI TRAIPOOM
Inside the Adam Selman show on Thursday, September 7th at Skylight Clarkson during New York Fashion Week. Photographed by Serichai Traipoom for W Magazine.

SERICHAI TRAIPOOM
Inside the Adam Selman show on Thursday, September 7th at Skylight Clarkson during New York Fashion Week. Photographed by Serichai Traipoom for W Magazine.

SERICHAI TRAIPOOM
Inside the Calvin Klein show on Thursday, September 7th at Calvin Klein Headquarters during New York Fashion Week. Photographed by Serichai Traipoom for W Magazine.

SERICHAI TRAIPOOM
Inside the Tory Burch show on Friday, September 8th at the Cooper Hewitt during New York Fashion Week. Photographed by Serichai Traipoom for W Magazine.

SERICHAI TRAIPOOM
Inside the Tory Burch show on Friday, September 8th at the Cooper Hewitt during New York Fashion Week. Photographed by Serichai Traipoom for W Magazine.

SERICHAI TRAIPOOM
Tory Burch SS18. Photographed by Serichai Traipoom for W Magazine.

SERICHAI TRAIPOOM
Inside the Tory Burch show on Friday, September 8th at the Cooper Hewitt during New York Fashion Week. Photographed by Serichai Traipoom for W Magazine.

SERICHAI TRAIPOOM
Inside the Tory Burch show on Friday, September 8th at the Cooper Hewitt during New York Fashion Week. Photographed by Serichai Traipoom for W Magazine.

SERICHAI TRAIPOOM
Inside the Tory Burch show on Friday, September 8th at the Cooper Hewitt during New York Fashion Week. Photographed by Serichai Traipoom for W Magazine.

SERICHAI TRAIPOOM
Inside the Brandon Maxwell show on Friday, September 8th at The Doubles Club during New York Fashion Week. Photographed by Serichai Traipoom for W Magazine.

SERICHAI TRAIPOOM
Inside the Brandon Maxwell show on Friday, September 8th at The Doubles Club during New York Fashion Week. Photographed by Serichai Traipoom for W Magazine.

SERICHAI TRAIPOOM
Inside the Brandon Maxwell show on Friday, September 8th at The Doubles Club during New York Fashion Week. Photographed by Serichai Traipoom for W Magazine.

SERICHAI TRAIPOOM
Inside the Brandon Maxwell show on Friday, September 8th at The Doubles Club during New York Fashion Week. Photographed by Serichai Traipoom for W Magazine.

SERICHAI TRAIPOOM
Inside the Brandon Maxwell show on Friday, September 8th at The Doubles Club during New York Fashion Week. Photographed by Serichai Traipoom for W Magazine.

SERICHAI TRAIPOOM
Inside the Brandon Maxwell show on Friday, September 8th at The Doubles Club during New York Fashion Week. Photographed by Serichai Traipoom for W Magazine.

SERICHAI TRAIPOOM