Getting Artsy
The Whitney's young crowd turned out for the musem's annual party.
---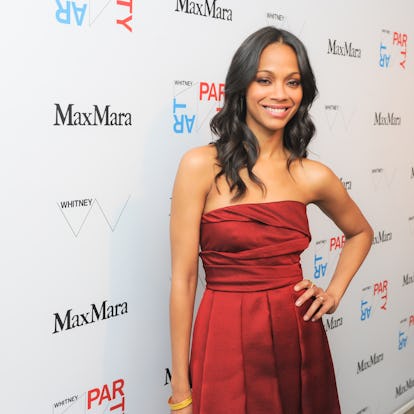 On Thursday night, the Whitney Contemporaries brought the museum's annual Art Party to the Meatpacking District's Highline stages—a venue only blocks from the institution's future home. Max Mara's Maria Giulia Maramotti, who co-hosted the affair with the actress Zoe Saldana was joined by attendees like Emmy Rossum, artist Curtis Kulig, and model Emily Ratajkowski in exploring the donated works of up-and-coming artists like Kadar Brock and E.V. Day in a silent auction powered by Artsy. A dance floor deejayed by Hannah Bronfman and her boyfriend Brendan Fallis acted as the centerpiece for the evening luring guests like artist Jacolby Satterwhite to bust a move while murmurs of tired feet, planned cleanses, and new discoveries echoed throughout the room as friends decompressed after a week saturated with events and fairs. Dressed to impress, the party was the final stop of the night for collectors, artists, and those who admire both, alike.
Zoe Saldana. Photo by BFAnyc.com.
Hannah Bronfman and Maria Giulia Maramotti. Photo by BFAnyc.com.
Emily Ratajkowski. Photo by BFAnyc.com.
Chuck Grant. Photo by BFAnyc.com.
Emmy Rossum. Photo by BFAnyc.com.
Dree Hemingway. Photo by BFAnyc.com.
Yan Assoun and Polina Proshkina. Photo by BFAnyc.com.
Stacy Engman. Photo by BFAnyc.com.