Who Do We Dress For if Not For Bill Cunningham?
With the legendary photographer gone, there's an impulse to not bother with the new generation of street style photographers, but to do so would be a disservice to his memory and the art form he perfected.
---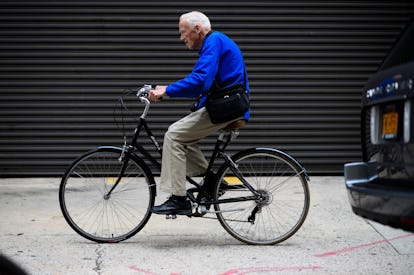 Adam Katz Sinding
As the spring collections season has unfolded, I've had a recurring thought. I'm in my closet, passing hanger after hanger and ultimately pull out a highly comfortable, fairly nondescript, ten-year-old Jil Sander dress. Then it hits me: Have I finally grown up? Have I at last matured past caring about whether my getup would land me in the crosshairs of a street style photographer's lens?
Then, just as quickly, another realization: Why bother? There was no longer that kind, salt-haired man patiently waiting outside the shows to assess the crowd as they exited, pretending not to care or be aware of his presence but secretly pining for his approval.
I had no personal relationship with Bill Cunningham. Our conversations never extended beyond, "Is that Ultrasuede, child?" (I used to wear a lot of vintage…). And so my mourning his death was shared by the thousands who grieved the seemingly sudden loss of this beloved New York fixture.
"We all get dressed for Bill," Anna Wintour said in the 2011 documentary, Bill Cunningham New York, confirming what we have all been doing for years, keeping our eyes attuned to catching a glimpse of that royal blue pop of color.
The first time Cunningham photographed me, I was completely unaware – which is, I believe, was the best way to be photographed by him. My boss at the time called me late one Saturday afternoon and left a message: "Darling, guess who's in the Styles section this weekend?"
This was pre-internet, when New York Times subscribers received their Sunday sections the day before. I was wearing a black satin Chanel skirt, a black ribbed turtleneck, copper-colored suede faux Gucci pumps and—best part—my mother's vintage camel wrap coat. I clipped it out. My sister sent me her copy, as did my best friend. I had just been dumped by a boyfriend, so this little milestone could not have come at a better time. It took every ounce of self restraint not to call the ex that night and scream, "You realize you just dumped a woman who was in the Styles section?? Wise move, pal!"
A few years later, Bill caught me again, unawares again, this time in a Courreges-like ensemble. The first time, you feel lucky. After the second time, you can't help but begin to get cocky. You've become a member of a certain sorority, and you muse to yourself about what will catch his eye next time. Then, when he passes you by that next time, that cold slap in the face reminds you that you were merely a visitor to the Cunningham Club, not a charter member.
There are fewer pangs of momentary sadness less superficially stinging than when Bill thinks the better of it. More than once, he'd spot me, kneel a bit, take aim, then change his mind. "Fury, thy name is Cunningham!" I wrote in a piece for Women's Wear Daily (a sister publication to W at the time) back in 2004. I made a joke of it, but on the inside I shed a tiny tear.
The current generation of street style photographers are a super friendly bunch, and any who stop and ask if they can photograph me make my day. More often than not, though, they are patiently waiting for me to pass so they can capture the person walking behind me. I turn around to assess the object of their attention. Sometimes, I agree. (That person has style!) Other times, I scratch my head. They're going crazy over a woman wearing jeans, boots and a knapsack. What am I missing here? I can hear that faint Miranda Priestly monologue about the cerulean sweater circling my head. Whatever…
Jeans were what I was wearing the last time Bill Cunningham photographed me, and it wasn't during fashion week, nor was it on Fifth and 57th Street. I was at the Union Square Market one Saturday morning with my husband and our dog, Remy. With my jeans, I wore my late mother's poncho and a pair of Dansko clogs, but my standard poodle was probably the reason he stopped.
"It's nice to see you here," I said, as he came over and touched the 40-year-old poncho. "My mother knit this."
"It's marvelous," he replied. ("Mah-velous")
Now that fashion is a ubiquitous term and social media has made street style stars of everyone, we must never forget that we have Bill Cunningham to thank for this wonderful animated art form, and so it's our responsibility to keep it alive even if he's not around anymore.
Keep dressing to impress the aspiring Bill Cunninghams out there, or even, the Bill you remember.
"The best fashion show is definitely on the street," he said in the film. "Always has been, always will be."
Role Call: 7 Models Sound Off on the Season's Cinematic Trends